Special-Interest Clubs
---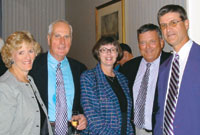 At the Council of One Hundred's semiannual meeting in October, members continued their tradition of establishing career mentoring relationships with young alumnae and female undergraduates. Those in attendance heard from Barbara Stanny, author of Secrets of Six-Figure Women: Surprising Strategies to Up Your Earnings and Change Your Life (Harper Collins, 2002), and Susan RoAne, who wrote How to Work a Room(Harper Collins, 2000).

More than 300 members of the John Evans Club and their guests turned out for Waa-Mu performances in the spring, and 124 attended the club's July summer theater event, an outing to see Grand Hotel at the Ethel M. Barber Theatre. Meanwhile, members on both coasts showed their Wildcat spirit at planned festivities before away games against the U.S. Air Force Academy in Colorado Springs and the U.S. Naval Academy in Annapolis.

NUEA (Northwestern University Entertainment Alliance) East gave its filmmaking members a chance to show their work and meet other industry professionals at its first NUEA Film Festival in October at the Den of Cin theater in New York City's East Village. The club is also beginning a new program to support members' artistic projects in film, theater, new media and music.

Members of NUEA West in the Los Angeles area can keep current with local alumni entertainers by sending their news via e-mail to nueawest@yahoo.com for posting on the club's Web site at www.nuea.org/West.

NUMBALUMS (Northwestern University Marching and Band Alumni Organization) can check out the club's new Web site at www.numbalums.org for access to the group's membership database and online event registration. News of club activities — including the annual Waa-Mu excursion, which attracted 85 NUMBALUMS, family and friends back to campus last May — and archival photos are also on the site. Lee Stevens (WCAS78) is the group's new president, and he succeeds Pete Friedman (C79).

For the latest information about NAA Clubs, visit www.alumni.northwestern.edu/clubs.