Helping Others One Wheel at a Time
Lars Clausen (GMcC84)
journeyed across the country on a unicycle to raise funds for a good cause.
---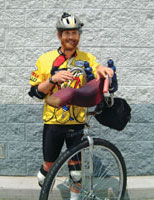 Their matching highlighter-yellow biking shirts make them stick out like Mohawk haircuts at a GOP convention. The cartoons on their chests look like the bicycling funny papers.

"We didn't get much corporate sponsorship, except for these," says the redheaded, red-bearded Lars Clausen about the shirts. "Most of our support came from people who wanted to make a difference or were just intrigued by the ride."

The "ride" is Clausen's unicycle journey across the United States and back again. Clausen (GMcC84) and Robert Martin, his biking companion, had been riding for 66 days before arriving in Chicago one day last summer and rode for 33 more before completing the first half of their journey at the Statue of Liberty in August.

A Lutheran pastor, Clausen took his unicycle jaunt while on a sabbatical from his ministry at Michigan State University. His father taught him to ride the one-wheeler when he was 10.

Clausen's ride, which he called "One Wheel — Many Spokes," set several Guinness world records, including one for the longest distance traveled on one wheel.

But Clausen's ride was about more than records. As of October it had raised approximately $150,000 for a people he met while pastoring in Nome, Alaska, in the mid-1990s — the Inupiat Eskimos. "In Nome the Inupiats' 12,000-year old culture [with a 108-year-old Lutheran tradition] meets Burger King," Clausen says. "Like most native cultures, Inupiats live on the fringe."

The money raised benefited the Seward Peninsula Lutheran Endowment Fund, a fund for Lutheran congregations of Inupiats. "It helps these people have the resources to make their own economic decisions," Clausen says.

Though it was Clausen's first long trip on a unicycle, he had crossed the United States before, bicycling across the country alone in 1986. "I found out how kind and caring people could be," he says about that trip.

After that journey Clausen put aside his engineering pursuits, which included stints at Northwestern and the University of California, Davis. The cross-country bike ride and a year building windmills in Denmark touched him deeply, and he decided to enter the ministry.

On this trip, besides Martin, Clausen was accompanied by his wife, Anne, his son Kai, his daughter KariAnna, and Martin's wife and two children. The families followed the cyclists in a motor home, coordinating the trip from the road. "Riding alone was a great experience, but sharing this with family and friends was wonderful," Clausen says.

While many people give up on dreams of even driving from sea to sea, Clausen began his trip less than a year after conceiving it. "People dream of doing things their whole lives, but life gets in the way," he says. "Once you get there and fulfill your dreams, it's an interesting, new perspective on possibilities."

Clausen's ride helped others have a new perspective on their own dreams.

"I was talking about the trip at the University of Montana in Missoula," he says. "A student said that he'd felt tied down his entire life. He was so inspired that he's joining the Peace Corps."

With all of that unicycling, one would have expected Clausen to do a lot of falling.

"I didn't fall much," he says. "But luckily, every time I did, I landed on my feet."


— Gregory Presto (J04)


Read about Clausen's adventure at www.onewheel.org.