Features:
Northwestern Network Supports Young Alumni
Get in Touch and Get Together
Club News:
Regional Clubs
National Clubs
School News:
Dental
Feinberg
Kellogg
Law
Travel Essay:
A Norman Invasion
Close-ups:
Hey There, Brown Bear!
Judging Jackie
On Bass
Feinberg
---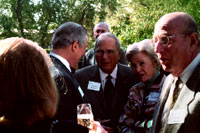 Photo by David Darakjian

Feinberg School of Medicine dean Lewis Landsberg presented an update on the school to the more than 50 alumni who attended a brunch at the Biltmore Resort in Phoenix in February. Former dean Harry Beaty also attended the event, which was hosted by Donald Buffmire (WCAS44, FSM48) and Jane Enkema Buffmire (WCAS45) and David Sanderson (WCAS55, FSM58). Landsberg also visited Feinberg alumni in Minneapolis, Nashville and Seattle.

Jack Snarr (FSM67), associate dean for student affairs, was the honored guest at the reunion ball, the culmination of Feinberg's alumni weekend in Chicago in April. The school recognized Snarr for 30 years of leadership.

In May Feinberg alumni welcomed and congratulated approximately 170 new members at its annual Commencement weekend luncheon.

For the latest alumni news from the schools, visit www.alumni.northwestern.edu/clubs/school_assoc.html.



---