Making a Film in Black and White
Recent graduate and filmmaker Osato Dixon (C04) tells his story of growing up different in his newest film. by Kate Johnson
---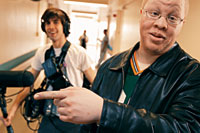 Photo by Jasper Chen (McC04)
January snowflakes flutter around the massive brick of Circle Urban Ministries on Chicago's West Side. Inside, a crew of Northwestern film students bustles to set up sound, light and camera equipment. Across the hall, Osato Dixon (C04) stands before 19 schoolchildren, who are all dressed in uniforms of black pants and navy blue sweaters with crisp white collars.
The children are tired, and they grow a little rambunctious while throwing paper wads, bouncing basketballs and flipping coins, as a schoolhouse scene requires.
"I picked you guys because I know you can do this," booms writer and director Dixon. He has learned their names and paid individual attention to each of the young actors - he has earned their respect. Co-first assistant director Andy Garland, a senior in the School of Communication, pulls Dixon aside and points to his watch. After much rehearsal it is time for actual filming."God is a good God, amen?" he asks his cast. With eager faces, the students reply in delighted unison,"Amen."
Dixon, an aspiring filmmaker, is a June 2004 Northwestern graduate from Baltimore. He is one of four children of Nigeria-born parents. As a student, he was hard to miss on campus, and not only because of the determination evident in his every step. He was born with albinism, a rare - one in 54,000 - condition for African Americans. Herein lies the inspiration for his film Even If I Told You.
Dixon recalls the first time his albinism made him feel like an outcast."I remember when my younger brother was born, and my noticing I wasn't like him. I didn't even want to look at him, or at myself. I would look at pictures of my family and think it would all make so much more sense if I weren't there," he says."That was the first time I really felt different."
Dixon was"always so fascinated by what motivated the characters" in the Bible stories his mother would read to him and his siblings, especially the tales of biblical brothers Cain and Abel or Jacob and Esau. In his latest script revision for Even If I Told You, Dixon"realized that this is also a story about brothers - specifically about me and my younger brother."
In Dixon's script, Otis, an 11-year-old African American albino boy feels like"his life doesn't matter," as one character says. Creating in his mind a"normal-looking" double for himself - one that looks more like the kids around him - Otis envisions happier days.
The film came into existence through Studio 22, a committee funded by the School of Communication as a co-curricular program for the Department of Radio/Television/Film. About 300 radio/television/film students study cinema and broadcast, working toward"an understanding of the history, theory and criticism of media," according to department chair and professor Lawrence Lichty."The department also hopes to give students an opportunity to experiment on their own and make media in different contexts," says Lichty.
The film was funded primarily by a $5,000 Studio 22 major grant (but additional money came from various fundraisers, grants and Dixon's own pockets). In spring 2003 Dixon and other Northwestern film students created production packets that included a script, tentative shooting schedule, treatment and résumé. Studio 22 chair for 2003-04 and Communication senior Erik Neinstedt, of Kinnelon, N.J., was part of the student board that chose Dixon for one of the grants and says that of the many projects reviewed,"Osato kept it simple, because that's how Osato is. It was a good, strong pitch."
One major cost was flying in the director of photography (or cinematographer) from Los Angeles. Saul Herckis (C01) was a senior at Northwestern when Dixon was a first-year student and now works in Los Angeles as a gaffer, or light designer. His credits include gaffing for Mary-Kate and Ashley Olsen's The Challenge and gripping (carrying out the gaffer's instruction) for Judge Joe Brown and The Sixth Sense. (The grip deals with anything electric or related to lighting on set.) To rent Herckis' steadicam cost $1,200 for Dixon's six days of shooting, not to mention the nearly $3,000 cost of film and processing.
Back at Circle Urban Ministries, Dixon introduces Herckis to the actors, who sing"Happy Birthday, Mr. Saul." As they finish their scene, Dixon proclaims,"Give yourself a hand. That was beautiful! I was crying - did you see me? I was actually crying in the corner."
Two weekends later, Dixon returns from the set on his last day of filming at 2:21 a.m. Both exhausted and exhilarated by the day's events, he exclaims,"I've been lucky. I have the best group of people working for me."
One member of that group is the casting director, Communication junior Adam Sobel, whom Dixon says has,"taken on more responsibility than anyone I've ever worked with."
Recalling the winter days on set where Dixon would work closely with his autobiographical character (played by twin African American albino boys from Chicago's South Side), Sobel, of North Little Rock, Ark., says he admired"Osato's ability to communicate with actors. That's something you don't usually see at a student level, and it is certainly something you don't learn in classes.
"It was so interesting to see the evolution of a script, from words on a page to a meeting of actors and crew," Sobel continues."Osato really breathed life into the script, and I am glad to have witnessed that process."
But Even If I Told You is a manifestation of years of thought. In addition to his childhood introduction to storytelling, Dixon says he came to film through the visual arts, where he found refuge in images.
"When I was a kid, I didn't fit into the world I was given, so I decided to create worlds of my own," Dixon says."My visual arts background of sketching, painting and photography gave me the desire to communicate truth through the medium of film."
Dixon recently received a first-time directors fellowship through Urban-American Filmmakers Workshop's Fox Searchlab Program (through Fox Searchlight Pictures, a division of Twentieth Century Fox). The fellowship gives filmmakers grants to complete a short film with the hope of shooting a feature film that Fox Searchlight will also produce.
This film, like Even If I Told You, deals with issues of racial identity and albinism.
In the fall Dixon will continue his production studies in film at Columbia University, where he plans to major in directing. He plans to pursue projects that allow him to create stories and scripts addressing social change.
Just a few days before Commencement, Dixon sat in a near-full Ryan Family Auditorium for the June 5 campus premiere of Even If I Told You and other Studio 22 films. The night ended with applause, handshakes and pats on the back for Dixon, who sees his film as part of his continuing effort to"get to the human essence of a struggle.
"For a lot of people, albinism is not close. It's a distant concept," Dixon says."I think there really is a universal human truth that can help us understand others who are different and, by extension, ourselves."
Kate Johnson (J05), of Pendleton, Ind., is an editorial intern at Northwestern magazine.
Did you enjoy this story? If you have any questions or comments, please e-mail the editors at letters@northwestern.edu.
---