Holy Cannoli! It's Goodbye to Rocky, Devo and Ralphie
Alex Thomas' graduation ends his comic strip in the Daily Northwestern, but his characters live on in books.
---
During his first week in college, Alex Thomas (WCAS03) walked into the newsroom at the
Daily Northwestern
unannounced, confident the editors would love his work and take him on board. After all, he had been a hotshot cartoonist in high school.
Instead, they politely told him the student newspaper already had a political cartoonist — and didn't need a comic strip either. Rejected but undeterred, Thomas turned his energy to sketching cartoons for his dorm's newsletter. He named his comic strip "Bottom of the Food Chain," after the position he felt he was in as a first-year student drawing comics for a newsletter posted on the bathroom stalls.
From the Willard Hall newsletter, "Bottom of the Food Chain" graduated to nyou, the weekly entertainment magazine on campus, and then to an everyday staple on page 2 of the Daily (he gave the paper another chance) until Thomas' graduation in June.
Thomas, an art theory and practice major, drew a strip every evening for the next day's paper. "It defined my day," he said. "Everything else was secondary."
He had been used to drawing comics under pressure. During high school in the Chicago suburb of Northbrook, he produced cartoons at literally a moment's notice for the school newspaper. If there were space for a cartoon in an issue, he'd get a call an hour before deadline.
"I would freak out and go insane trying to find an idea. In retrospect, I realize what a dumb situation that was for a cartoonist — weird size, no time, dumb content, and I had to make up a joke that related to the article the cartoon was near," he recalls. "At the time,
I thought it was great."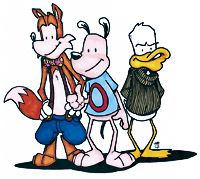 When Thomas continued cartooning at Northwestern, he immersed himself in a fictional world of three college friends: Rocky the beagle (based on Alex himself), Devo the duck and Ralphie T. Fox. Snapshots of Thomas' own life crept into the strips: cartoon professors bore a striking resemblance to actual Northwestern professors; the sophisticated Ralphie and the cynical Devo were based on real-life friends; and the main story about Rocky's love interest, Suzanne, was inspired by actual events in Thomas' life.
In addition to "Bottom of the Food Chain," Thomas drew political cartoons three times a week. The Daily put few restrictions on content, and Thomas most often addressed U.S. politics, the war in Iraq and student issues but usually stayed away from Evanston politics and Associated Student Government–related topics.
In the beginning, Thomas says he got a lot of "hate letters," probably because "when I first started, my cartoons were really bad and dumb and uninformed because I was dumb and uninformed." Then he began listening to National Public Radio obsessively and came to rely on it both as a source of news and as fuel for comics. "Especially after Sept. 11, I never was short for an idea," he says.
Thomas also led a busy life outside of cartooning. He played the drums for the band Sandpiper Air, which headlined Dance Marathon and Suitcase Party. (Rocky plays the drums, too.) He was in a four-person theater ensemble, Live Action Cartoonists. And he taught cartooning classes at an Evanston nursing home.
Next for Thomas is the improbable (for an art theory and practice major and cartoonist) step of medical school. When he enters Rush Medical College in Chicago in the fall, science will demand most of his time, but Rocky, Devo and Ralphie will never be far from his thoughts. While the future of his strip is still undecided, its past lives on the Internet (hamlin.foobert.net/botfc) and in three books published this summer. Loyal readers can take hope in Rocky's very last comments: "The End? This is only the beginning."
-- Esther Chou (J03)