NAA Celebrates Distinguished Alumni
This spring's Northwestern Alumni Association Awards Celebration honored 20 alumni for continuing contributions to their university, their professions, their country and their world.
---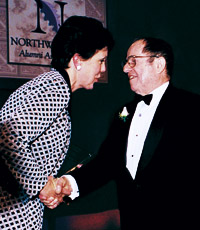 NAA executive director Catherine Stembridge (GC00) congratulates Alumni Medalist Arthur Pancoe as he receives his award.
Photo by Jim Ziv
Continuing one of the University's most elegant traditions, the Northwestern Alumni Association Awards Celebration this year drew more than 400 alumni and guests to downtown Chicago in April to honor 2003 NAA Alumni Medal winner Arthur Pancoe (G51) and 19 Alumni Merit, Service and Service to Society award recipients.
University President Henry S. Bienen and his wife, Leigh Buchanan Bienen, mingled with recipients and guests at the black-tie dinner and ceremony at the Ritz-Carlton Hotel. The 71st annual event, which included an often-poignant visual presentation of scenes from recipients' lives, recognized alumni for their professional achievements, volunteer efforts on behalf of the University and impact on their communities and on society at large.
Pancoe received the Alumni Medal, the association's highest honor, for his philanthropic endeavors and a lifetime of success as an investment banker, medical research analyst and advocate for environmental and defense issues. As senior managing director of Chicago-based Bear, Stearns & Co., Pancoe researches clinical drug studies and medical journals to identify potential breakthrough medicines, such as the heart drug Cardizem and the anemia drug Epogen, which are on the market, and the pain medication Pregabalin, which is awaiting U.S. Food and Drug Administration approval.
In the 1960s and 1970s Pancoe took highly public stands against the Sentinel antiballistic missile system and the construction of nuclear power plants in the Chicago area, and he was a forceful proponent for the use of now-standard catalytic converters in automobiles.
At the ceremony Pancoe, who studied mathematics at Northwestern, acknowledged the professors who introduced him to the methods and theories that served as the basis for his life's work. He also recalled how uncalculated events, like being chosen during World War II by New Trier High School to skip his senior year to attend what is now the McCormick School of Engineering and Applied Science, influenced his personal development on campus and later in life. "Serendipity has played a major role in my good fortune," he told the audience. "I know it's not scientific, but I'm a great believer in it."
Pancoe and his wife, Gladys, are the primary donors to the new Arthur and Gladys Pancoe–Evanston Northwestern Healthcare Life Sciences Pavilion, designed to advance biomedical research by integrating basic science discoveries with clinical investigation. The couple also endowed the Arthur and Gladys Pancoe Professorship in Mathematics in 1997. The chair is now held by Zhihong Jeff Xia (G88).
Also at the awards celebration, Philip Harris (WCAS80), University trustee and awards committee chair, presented Marlene Goodfriend (WCAS65, FSM66, 69), a pediatric psychiatrist with the University of Florida Health Science Center in Jacksonville, the NAA Service to Society Award for her work on behalf of children in developing countries and medically underserved parts of the United States.
Earning Merit Awards were Charles Busch (C76), actor, playwright and screenwriter; Wendy Chamberlin (SESP70), U.S. Foreign Service career officer and former U.S. ambassador to Pakistan; Gary Dunckel (D73), dental educator and dental director of the Salud Family Health Center in Commerce City, Colo.; Nancy Dussault (Mu57), stage and television actor; Hayden Glatte Jr. (WCAS57, FSM61), a retired endocrinology specialist with the Medford (Ore.) Clinic; Frances Mecklenburger Lehman (WCAS40), past president of New Prospect Foundation, and her son, Kenneth Lehman (G70), managing partner of KKP Group LLC; Louise Love (SCS76, G79, 84), Roosevelt University associate provost; Philip Marineau (KSM70), president and CEO of Levi Strauss & Co.;
Joel D. Marvil (McC, Nav57), retired president and CEO of Ames Rubber Corp.; Charles Modlin Jr. (WCAS83, FSM87), a renal transplant surgeon with the Cleveland Clinic; and Paul Sagan (J81), president of Akamai Technologies.
Service award winners were Betty Hahneman (FSM52, GFSM55, 56), Feinberg School of Medicine volunteer; Lori Marr Nerenberg (McC82), McCormick and NAA volunteer; Kenneth J. Porrello (McC78, KSM82), McCormick volunteer; Sandra Lynn Riggs (C65), Mary and Leigh Block Museum of Art and Alumnae of Northwestern volunteer; W. Ronald Sims (C58), John Evans Club chair and reunion co-chair; and Lauren Jill Young (GJ93), co-president of the Medill Club of Greater New York.
— Michele Hogan
To view biographies of this year's awards recipients, visit the NAA Website at www.alumni.northwestern.edu/awards.