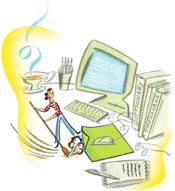 Illustration by Steven Salerno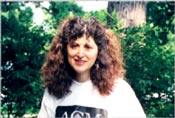 A Writer's Way — Around Housework
Alumna finds absolutely nothing uplifting about ordinary housework, unless she can toss it off with a bit of creativity.
---
by S.L. Wisenberg
Most writers I know are very good at procrastinating. The luckiest ones get out their frustrations through housework. After a wasted day of not writing, they can at least take pride in their shiny kitchens and sparkling bathrooms.

Unfortunately I am not thus inclined. When I've finished a full day's dance of avoidance with the computer screen, all I have to show are a bunch of crumbs — on the kitchen counter, dining room table, desk and the paths in between. And maybe a slew of newspapers and books in disarray.

Maybe I shouldn't be so hard on myself. After all, I have successfully avoided becoming the wraith Virginia Woolf referred to as the "Angel of the House," a woman who makes sure all is neat, clean and proper in her domestic domain but does not develop herself as a person, especially an artist.

I was raised in some ways like a boy when it came to indoor chores (I had no outdoor ones). School was important, college and a career were important, cooking was a hobby and someone else always changed the sheets, made the bed, vacuumed the floors.

Yet the lowliest chores — sweeping, washing dishes, cleaning the toilet — are the very tasks in which the most evolved among us find the deepest meaning. I'm always reading about some big important monk who swept the floor every day or a disciple seeking the meaning of life and being handed a dishrag. It's easy to find transcendence in redwoods and sunsets; the trick is finding it in stacking the laundry — and giving it your full concentration.

I appreciate these holy-person-and-dishes stories, but I still have trouble with the mundane, the tedium of a diet and daily sit-ups, the regularity of bill-paying and, yes, making the bed.

However, I enjoy the more glamorous household tasks — cooking without recipes, decorating for parties, arranging my ceramic mugs and bowls for display, making small shrines — where I can leave my personal stamp.

At one time in the '80s, I actually enjoyed making the bed, but my way. We were in our 20s, and my boyfriend would get up before I did. His bed was a simple affair — mattress on the floor, no top sheet, a blanket. I would pull the blanket up and smooth it out and then commence to decorate — place an issue of the New Yorker somewhere in the middle, add a few carefully arranged seashells, a few pennies, whatever he had around that inspired me. This activity appealed to my intellect — the centerpieces were always aesthetically placed and always contained a hidden meaning or joke. Something only I could do.

I am not proud of this weakness of the ego. If I were a better person, I would have made the bed in a competent but anonymous manner and been done with it. Once, in the '90s, my sheets were in such a shambles that I messed them up even more and put an egg beater on top of them. Maybe not bad as conceptual art, but it didn't answer the question: What about the bed?

I like riddles that end conceptually, impossibly. I ended one short story with: "What would you do if you were inside a brick house with scissors and a piece of paper? Answer: Cut the paper in half. Two halves make a whole. Crawl out of the hole. That is art." But that is not useful advice. At some point you must live like other people. Somebody's got to turn that squalor into a clean, well-lighted place, and you're the only one home. I've heard that Flaubert advised writers to live like a bourgeois so they could save their wildness for their art. (I think he had live-in help.)

Oddly enough, I like the mundane chores that come with the writing life: buying stamps and office supplies, filing, revising, editing and revising again. It helps if I save some of the revising for my neighborhood nonsmoking café, where I like to sit at the middle table next to the wall, facing the window.

There I don't even mind busing the dishes myself. And I don't mind performing that one never-ending chore that most everyone loathes — paying bills — as long as I'm sitting at my table with a single decaf skim cappuccino and conversations to overhear and friends to greet now and then. I think I could even grow to like housework if I could do it in the café.

Sandi Wisenberg (J79) of Chicago is the author of Holocaust Girls: History, Memory and Other Obsessions (University of Nebraska Press, 2002). She is a visiting scholar in gender studies at Northwestern University.