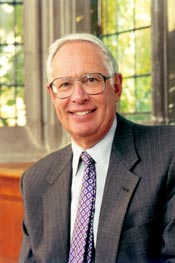 Dear Northwestern Alumni,


We will soon welcome one of the largest and, by many measures, brightest groups of incoming undergraduate students to the Northwestern campus. The start of every academic year marks a time of renewal, and I am particularly optimistic about Northwestern's prospects for the coming year for several reasons.

The first, as I mentioned, is the outstanding quality of our students, both those who are entering for the first time this fall and those who are already here. The incoming undergraduate class will have a mean SAT score of 1379, among the highest in Northwestern's history, and its mean high school class rank stands at the 94th percentile. The School of Law, the Kellogg School of Management and The Feinberg School of Medicine report similarly strong entering classes this fall, as do our other graduate programs.

At the undergraduate level we admitted fewer students this year, but the number who accepted our offers of admission increased. In our graduate and professional schools, we also had significantly more applicants in almost every program. Some of this increase at the graduate and professional level may be attributed to weakness in the job market, but I believe it also reaffirms the value of a Northwestern education at all levels.

The new students this fall will join an already remarkable group of young men and women who make up Northwestern's student body. Many are gaining recognition for their academic achievements, as an increasing number of our students are receiving prestigious national and international scholarships. Others, of course, will soon join you as successful Northwestern graduates who are both dedicated professionals in their chosen fields and contributing members of their communities.

Faculty

Another cause for my optimism is the truly stellar faculty members we have here at Northwestern in all of our colleges and schools. The faculty's passion for teaching and research continues to inspire our students, just as I hope it did when you were a student here. For example, we all were very proud in June when Mary Zimmerman (C82, GC85, 94), a professor of performance studies in the School of Communication, received a Tony Award for the direction of the Broadway production of her play, Metamorphoses. The play was first produced here at Northwestern, and many other alumni were involved in the production.

While other faculty may not have received anything as well known as a Tony Award, many of them have earned important recognition for achievements in their respective fields, be they chemistry, medicine, journalism, engineering, music, education or many others. Yet most of these faculty members continue to be teachers as well, sharing their research findings and expertise with their students. I think the balance between research and teaching is something that Northwestern traditionally has managed well, and it continues to be a hallmark of the collaborative culture that distinguishes Northwestern from many other research institutions.

Building Northwestern

The construction of new research and teaching facilities on both campuses is one thing that has enabled us to attract and retain some of the best faculty in the country. This fall we will open two important new research and teaching buildings: The McCormick Tribune Center, which will provide state-of-the-art facilities for broadcast journalism and new media, and the Center for Nanofabrication and Molecular Self-Assembly, where cutting-edge research in the exciting new area of nanotechnology will be conducted.

In addition we will open in just a few weeks our newest addition to undergraduate campus housing, the Benjamin W. Slivka Residence Hall. Home to the residential college of science and engineering, Slivka Hall will provide comfortable new rooms for approximately 140 students as well as a "cybercafé" coffeehouse that undoubtedly will attract students from all over campus. The addition of this residence hall will enable us to provide on-campus housing for virtually all undergraduates who want it, thereby ending the annual housing lottery in which 200 to 300 undergraduates found themselves forced to live off campus.

Campaign Nears Completion

These wonderful new facilities, along with those still under construction, are the direct result of the success of Campaign Northwestern, the University's $1.4 billion fundraising campaign. We enter the final year of the campaign having raised $1.34 billion. I am confident that when the campaign closes Aug. 31, 2003, we will have achieved our overall goal. The remarkable generosity of our alumni and other friends of the University has been gratifying to me personally, as well as to the institution. In the course of my extensive travels for the campaign, I have met so many alumni who have been wonderfully supportive of our campaign goals.

We have been less successful, however, at increasing the percentage of alumni who give annually to the University. Therefore, I hope that our alumni who have not yet made a gift to Northwestern will do so in this final year of the campaign. Your support, regardless of size, is important in helping maintain the strength and quality of Northwestern.

For those who have not visited the University recently, I urge you to attend homecoming or your class reunions to see the many changes that are occurring on both campuses. If you are not able to return to campus, I hope to see you in the coming year at the many other alumni events around the country. Again, thank you for your support and continued interest in Northwestern.


Henry S. Bienen
President