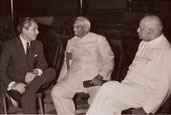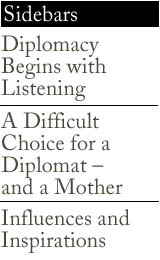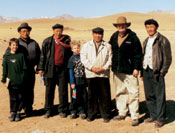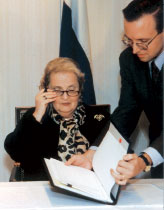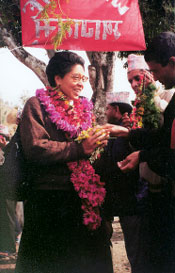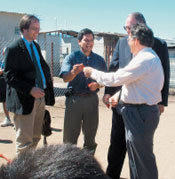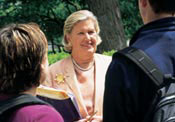 While people in the United States were watching the Persian Gulf War on television, Kevin Briscoe (WCAS87) only had to look outside to see it unfolding.

He was a political officer at the U.S. Embassy in Kuwait and happened to be on duty the night of Aug. 1, 1990, when Iraq invaded Kuwait. "I quickly got a taste of what it's like to serve in a war zone when artillery shells started landing across the street from the embassy compound, leaving gaping holes in the side of a residential high rise," he recalls.

After about three weeks, the Iraqis agreed to allow some 150 embassy staff members (excluding the ambassador and several others) and their dependents to evacuate Kuwait by passing through Iraq to the safety of Jordan. But when the group arrived by automobile in Baghdad, they were detained. Women and minor dependents were allowed to leave the country three days later, but about 50 embassy staffers were not.

Calling the group the Kuwait "exiles," Briscoe says they continued to work in the Baghdad embassy under these difficult circumstances. He himself became the embassy's official "greeter" for the daily parades of Iraqis demonstrating against the United Nations sanctions.

"I came to the job in August 1989 as a green junior officer and left in September 1991 with experiences to last a lifetime and valuable on-the-job training in a 'trial-under-fire' situation," he says.

Briscoe is one of a number of Northwestern alumni who have chosen a career in the U.S. Department of State's Foreign Service or with the U.S. Agency for International Development, which helps countries recover from disaster, escape poverty and boost agricultural output and trade. And he's not the only one who found himself in a perilous situation.

Eddie Deerfield (J50) arrived in Kampala, Uganda, in 1980 as the U.S. Embassy's public affairs officer. While Uganda's ruthless president, Idi Amin, had been recently overthrown, Deerfield quickly learned that the country was still in a state of anarchy. Only minutes after he was dropped off at the U.S. Embassy, his driver was shot and killed, and the official vehicle was stolen. Deerfield and his wife were also attacked in their home at 3 o'clock one morning.

"I drove the gang off with gunfire from a .38-caliber revolver issued to me before arriving at post," recalls Deerfield. "There were two coups followed by a tainted election during my three-year assignment."


---

Sometimes Foreign Service officers are front-line witnesses to the devastation caused by natural disasters and warfare. Ian Kelly (G79), currently the press attaché at the U.S. Embassy in Rome, was posted in Belgrade, Yugoslavia, in 1991 and 1992.

"It was frustrating and heartbreaking to watch the country slip into civil war," he recalls. Then he was posted in Ankara when Turkey experienced an earthquake in 1999. "It was horrifying to look at the 'pancaked' apartment buildings and know that entire families were entombed there," he says. "It was also awe-inspiring to watch American and Turkish search-and-rescue teams work tirelessly and meticulously side by side to find survivors."

Geoffrey Martineau (WCAS89), who worked as a campus pastor — including one year at Northwestern — and as a missionary, is now the chief of the fraud prevention unit at the U.S. Embassy in Guatemala. He recalls convincing two women, an American and a German, to return to Guatemala for the trial of a man accused of robbing and raping them in a hotel. "Testifying in the trial, which took extraordinary courage on their part, turned out to be incredibly healing for them and helped sentence him to the maximum penalty by law," he says. "There are elements to consular work that really make a huge difference in a person's life."

The responsibilities of Jill Nystrom (G94) as chief of U.S. Citizen Services at the U.S. Embassy in Caracas, Venezuela, can be as ordinary as issuing passports, but she doesn't spend all her time behind a desk. When an elderly U.S. citizen, a man who lived in a remote town in southeastern Venezuela, died leaving no identification and no information about next of kin, Nystrom took on the role of detective. "After spending two hours in the tropical sun, I found his hut — there really is no other word for it — and got permission from the local police to go through what was left of his possessions," she recalls. "It was a depressing experience on the one hand — filthy bats flying in my hair, dark and hot — but I found a piece of a back of an envelope with a name on it, and using Yahoo! later on, I found his next of kin in the States.

"It turns out he had been a Foreign Service officer in the late '40s, early '50s, and chose to get lost." But once Nystrom found what she was looking for, her workday wasn't over. "I went back into town and expected to go to my room at the hotel, but when I got there, I was greeted by a mentally ill World War II veteran and had to assist him," she says. "You never know what's coming your way — but the challenge is the same as the satisfaction. And my biggest discovery is there is really nothing I can't get through."


---

Many Northwestern alumni in the Foreign Service or USAID have always been interested in the cultures of countries around the world and have wanted to work abroad since they were children.

Steven Rice (G90), who has been posted in Damascus and Havana and is currently a foreign service officer responsible for Israel's political and military portfolio at the State Department in Washington, D.C., remembers exactly when he decided to go into the Foreign Service.

It was in 1972, when he was 5 years old and on his first vacation with his family. They traveled by car from his hometown in Wyoming to New York City and Washington. "Thanks to both cities, I acquired an interest in government and the international," he explains. "It was quite eye-opening that a Chinese restaurant in Manhattan did not serve milk (to my mother's disappointment and my delight), and I was fascinated by the incredible diversity of the Big Apple."

For Jonathan Addleton (J79), who is a USAID mission director in faraway Ulaanbaatar, Mongolia, it was his own experience living abroad as a child that contributed to his interest in international relations. His parents, who came from Georgia, were Baptist missionaries in Pakistan, where Addleton was born and grew up. He described living at the crossroads of two cultures and two major religions — Christianity and Islam — in his memoir, Some Far and Distant Place (University of Georgia Press, 1997). "One of the greatest gifts my parents ever gave me," the book concludes, "was an ability to cross an ever-increasing number of boundaries and still not be bound by them, to travel the world and still maintain a sense of who I was and where I came from."

Those who want to become Foreign Service officers need not only the desire but perseverance and patience. Although the State Department is still making efforts to shorten the selection process, which once lasted two years or more, it now takes at least a year to pass the written exam, the oral assessment, the background investigation and the medical clearance. (USAID has a different selection process.)


---

While being in the Foreign Service may sometimes entail putting oneself and one's family in harm's way, the rewards are many.

Although Briscoe found himself in a fair amount of danger during the Gulf War, in postwar Kuwait he was involved in monitoring human rights violations and the refugee situation on the border and did what he could to help the government become more democratic. "I finished out my two years exhausted but immensely grateful for the experience," says Briscoe.

In spite of the violence Deerfield encountered in Uganda, among other accomplishments he was able to create a cultural center and help refurbish the national theater, where he directed an all-Ugandan cast in a production of The Skin of Our Teeth.

"You occasionally have a chance to participate in big world developments, though on a small scale," says David Kostelancik (WCAS86), deputy counselor with the U.S. mission to the Organization for Security and Co-operation in Europe. Events in which Kostelancik, has played a role include the Kurdish refugee crisis in 1991 and the 1999 negotiations at the Serb-Albanian peace talks in Rambouillet, France.

Karen Turner (WCAS77) is deputy assistant administrator in the Bureau for Asia and the Near East. She has personally witnessed the positive impact of USAID programs, whether it was a coffee project in East Timor that allowed local farmers to earn significantly more for their beans or the distribution of Vitamin A in Bangladesh to reduce sickness and death in children.

Glenn Pearce-Oroz (WCAS91), the USAID urban and municipal development officer in Tegucigalpa, Honduras, can point not only to programs that may eventually promote democratic practices on a local level but also to another project that financed the construction of nearly 70 water and sanitation systems in Honduran cities and towns.

Families also benefit from the enriching experiences of being immersed in a wide array of cultures, since a Foreign Service officer moves from one country to another every two to four years. Addleton sometimes takes his young children along with him on site visits in Mongolia. During a ceremony on a trip to the countryside with one of his sons, the boy was given a sheep. As is the custom, the animal was left behind to be cared for by the herders who offered the gift.

Nystrom's three children speak English and Spanish. "My kids are getting a great education — in and out of school — and we live in an apartment in Caracas in the hills with perfect views of both the sunrise and sunset," she says. "Plus, we get to learn inventive driving strategies that have nothing to do with rules and everything to do with the size of your horn."

As for the person pursuing a career in the Foreign Service, Lisa Gisvold (WCAS92), a consular officer at the U.S. Embassy in Caracas, describes some of the highlights.

"I am living the life I have always imagined," she says. "I don't take for granted the absolutely breathtaking view from my apartment of the Avila Mountain and downtown Caracas. Or the beautiful macaws that fly by my living room window. Or the wonderful friendships I have made with Venezuelans."

Phyllis Oakley (WCAS56), who retired from her post as assistant secretary of state for intelligence and research with the State Department in 1999, still keeps in touch with friends she and her husband made years ago when he, also a career diplomat, was posted in Sudan. "We had so many young Sudanese friends, and we were accepted into their circles," Oakley recalls. "We would end up playing Monopoly in the garden, where it was cool until 12, 1 and 2 in the morning, and laughing. We had a deep friendship and understanding."


---

Still, nearly everyone agrees that it is not always easy living far from the United States and moving from one country and culture to another with a home leave of only four to five weeks every two years.

"The adjustments of foreign assignments fall most heavily on the family," explains Shaun Donnelly (G71), who became a Foreign Service officer in 1972 and was named ambassador to Sri Lanka and the Republic of Maldives in 1997. "The diplomat arrives in a new country and goes right to work in an American environment at the embassy," he says. "It's the spouse and the kids who really face the foreign culture — an international school and running a household. It ain't easy."

While the rule that prevented husbands and wives from working in the Foreign Service was discontinued in the early 1970s, the new reality can't always easily be put into practice. Kostelancik's wife resigned from the service to stay home with their three young children and will return to diplomatic work when the children are older. "Her sacrifice has enabled me to devote time to my career," he says. "Long hours at work and travel have cut into the time I can spend with the kids."

In Rome, Kelly adds, "My wife, Francesca Huemer [Mu79], whom I met at Northwestern, has had to give up any thought of a full-time career. Two-career couples find it nearly impossible to maintain two careers."

When officers and their families are stationed abroad, they, of course, leave behind some of the simple, everyday pleasures of U.S. life. Kelly misses domestic sports, especially Chicago Cubs games at Wrigley Field. Nystrom mentions the cereal Lucky Charms and the International House of Pancakes while Gisvold also longs for North American food and much more.

"I miss veggie burgers. I miss shopping at [the former] Fresh Fields. I miss Starbucks' hot chocolate with whipped cream. I miss shopping at the Politics and Prose bookstore in Washington, D.C. I miss running on the Capital Crescent Trail, and I miss the change in seasons," she says.

But Gisvold echoes the sentiments of other Foreign Service officers who are posted thousands of miles from the United States when she says that most of all she misses being close to the people she cares about. "While my friends and family are very good about keeping in touch by phone and e-mail," she explains, "there are days when I would prefer a conversation over a cup of coffee or a hug from a loved one."

Briscoe found it difficult living in countries where citizens didn't enjoy the fundamental rights that are the cornerstone of U.S. society. "What I most missed about the United States while overseas were the freedoms that we too often take for granted, including free speech, free worship and free assembly," he says. "I was disturbed and at times angered by the level of repression in Saudi Arabia, where non-Muslims are forbidden to practice their own religions.

"As for Iraq, there was no question that I was living in a police state. While I could freely wander through Baghdad in my spare time, no residents dared to speak with me or any of my colleagues for fear of being questioned by the Iraqi secret police.

"These experiences left me with an even deeper appreciation of the marvelous freedoms that Americans have by birthright or citizenship, thanks to the dedication and sacrifice of previous generations."

---

Those freedoms seem all the more precious and vulnerable since the terrorist attacks of Sept. 11. Not only did the tragic events of that day give Foreign Service officers deeper insights into how citizens of other countries perceive the United States, they also brought an increased sense of urgency to their work. The Mongolians on the USAID staff donated more than $3,000 in relief funds to send to the United States after the airplanes hit the twin towers and the Pentagon, Addleton reports.

By complete happenstance Russell Freeman (L64), who was named U.S. ambassador to Belize by President Bush, presented his credentials to the government of Belize on Sept. 11.

"The governor general, the prime minister and the other officials offered their condolences on this horrible tragedy as well as their support and their commitment against terrorist attacks," he says. "The embassy also received many notes and expressions of condolences and support. Belizeans came to the embassy and tied bouquets of flowers on the iron fence surrounding the chancery."

Freeman, who practiced law in Fargo, N.D., for more than 30 years before his appointment, adds that since Sept. 11 every other U.S. embassy has tightened up requirements for granting visas to the United States, increased security measures for embassy personnel and focused efforts on encouraging other governments to support the United States and other members of the international community in condemning terrorism. And the last action extends to approving and implementing United Nations resolutions against terrorism and money laundering to finance terrorism.

The attacks, however, also underscored the negative opinions of the United States that others hold. "I think for many people it came as a shock that there are regimes out there that don't love us as we think they should," explains Oakley, who taught a course called Current Problems of American Foreign Policy in Northwestern's political science department in the spring quarter. "I think many of us felt that we have not done as good a job as we needed to in understanding what some of these currents were."

Rice was on the sixth floor of the State Department in Washington when the twin towers were hit and had to evacuate the building after the Pentagon was attacked. During the following weeks Rice and a colleague designed a systematic way to consolidate a vast amount of information that made it possible to track the responses of Middle Eastern governments to the United States' campaign against terrorism.

"Secretary of Defense [Donald] Rumsfeld said it was the primary document on which he relied during his visit to the region last autumn," says Rice. "As a result ... I feel a unique connection and take a great deal of pride in all that we have accomplished with our friends and allies overseas since the Sept. 11 attacks.

"It goes to show that a boy from Wyoming, who in 1972 saw the twin towers in the final stages of their construction, can contribute to filling the gaping holes that their destruction in 2001 left behind for us all. It also reaffirms what we already know: Events in faraway places can have profound effects elsewhere in our increasingly interconnected world."

Nancy Davies Maes (WCAS61) is a freelance writer based in Chicago. In 1961 she studied in Aix-en-Provence, France, on a Fulbright grant and later taught at the University of Lille in France on a Fulbright Fellowship. She lived in France for about nine years.