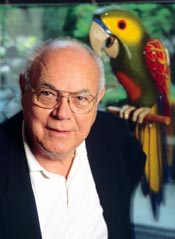 Photo by Andrew Campbell


Don Schultz's Agora Inc. office in Evanston is a compact yet comfortable place, though his hectic travel schedule keeps him from enjoying it much. "I just returned from a week in Moscow and a week in London. Next week I'm headed to Helsinki," Schultz says.

A number of larger-than-life-sized papier-mâché parrots dot the room, like a big three-foot, brightly colored charmer named Wakeem. On a table sits a 1903 land rights certificate sent to Schultz's grandfather, Edward, by U.S. President Teddy Roosevelt. For a global integrated marketing company like Agora — yes, it's named after the Greek marketplace where Socrates and Aristotle taught — one might expect a huge, shiny oak desk or something equally grand. But Schultz, professor emeritus in service at the Medill School of Journalism's Integrated Marketing Communications program and one of the founders of his field, prefers a casual and slightly cluttered six-foot folding table. His wife, Heidi (KSM78), an executive vice president at Agora and former publisher of Chicago magazine, occupies a neat-as-a-pin office next door. "She's the really organized one here," says their program manager, Kate Monte.

There are awards on almost every shelf — Distinguished Advertising Educator for 1992 (American Advertising Federation) and Sales Marketing Executives Association Educator of the Year for 1996 — to name a couple. Sales and Marketing Management magazine listed Schultz as one of its 80 most influential people, alongside such names as Franklin D. Roosevelt, Bill Gates and even P.T. Barnum. That's pretty heady company for a guy born in Wewoka, Okla. (pop. 3,850).

Yet Schultz insists that a Northwestern faculty recognition honor is the one that means the most to him. "Being recognized by my peers is the most gratifying experience because those people know me and my work better than anyone else."


---

A specialty that only dates back to the 1980s, integrated marketing communications focuses on maintaining a consistent marketing message throughout a mix of advertising, public relations, sales promotion and direct marketing rather than relying on only one tactic as the answer to a communications problem.

In addition to his status as an IMC guru, Schultz is also a marketing communications and brand valuation strategist. Brand valuation considers the price a corporate brand might bring on the open market as well as that brand's intangible value to a company.

Schultz is an acclaimed author (10 books translated into six languages and hundreds of articles) and a "great mentor to students," says former student Ashwin Ravindranath (GJ01).

Under Schultz's nurturing over the last two decades, IMC has continually expanded its parameters. "Don has been a catalyst for a new concept," says Philip Kotler, S.C. Johnson & Son Distinguished Professor of International Marketing at the Kellogg School of Management. "Instead of just advertising, he has always said all those other [communications] vehicles were just as important. Someone who is skilled in all aspects of communication will choose the best mix — and hence the term IMC."

Schultz's teaching, too, is legendary. "It was like a chess game," says Dave Nash (GJ97), a marketing manager of analysis, research and impact at Boise Cascade Office Products in Schaumburg, Ill. "Don was always a couple of steps ahead of us."

Nash recalls a Kodak case study where the class investigated a decline in the U.S. film market share. "He really challenged our thinking as he showed us how integrated marketing techniques could actually drive business and shareholder value," Nash says.

As a teacher, Schultz can be intimidating. "The case studies were really tough, and my classmates and I still talk about his final exam in marketing, which was a killer," says Alan Cubbage (GJ78, 87), Northwestern's vice president for University relations. "But he was also a great mentor, always willing to take the time to talk with you."

"Is there anyone who doesn't know Don Schultz?" asks Martha Rogers, a partner with Norwalk, Conn.-based Peppers and Rogers Group and one of Schultz's professional colleagues. "People listen when he talks."


---

Pioneering is in Don Schultz's blood. His maternal ancestors emigrated from England in the 1700s and eventually migrated from Maryland to Kentucky and on to Texas and Oklahoma. Schultz's father was born in a sod house in western Oklahoma.

Carl "Doc" Schultz was a gasoline distributor in Wewoka, a career that spanned 50 years. "I grew up wiping car windshields," his son recalls. Schultz's mother, Loretta, taught grade school in Wewoka for 30 years.

Since Schultz stands 6 feet 6 inches, it's no surprise he was a defensive end on his high school football team. "We were all big and slow," he remembers, laughing. "But our school was primarily focused on athletics. I had no idea what I wanted to do with my life. I just went to school." Schultz wound up at University of Oklahoma, where he tried chemical engineering and geology. "But I didn't want to spend my life beating on rocks," he says. "I took a marketing course with John Mertes, who'd worked at a big New York advertising agency. He said I had a flair for advertising and eventually became my mentor. He started a cross-disciplinary program so we could take both marketing and journalism/advertising courses. I graduated in 1957 with a bachelor's degree in business and a minor in journalism."

Schultz was working for his father and waiting for the military to draft him when a friend introduced him to the publisher of Drilling magazine. "He hired me to write copy and also wrote to the draft board telling them I was in an industry vital to the nation," Schultz says. "The draft board said it sure didn't want to negatively impact the oil industry, so I never went into the military."

Schultz became a magazine publisher before being wooed away to be advertising director of a newspaper chain based in Tyler, Texas. "I was there about five years. My wife and I had two sons, and we were living pretty well," Schultz says. In the mid-1960s, another friend called with an opportunity in Dallas. "Next thing I knew, Morris Hite, another Oklahoman, at the Tracey-Locke advertising agency [now TLP], says, 'We want you to come here to work on the Borden Milk accounts in the region.'" Schultz accepted.

He flourished at Tracey-Locke, and the Borden account grew. "One day we got a call from New York that Borden wanted us to handle its entire national account, based on our experience with the Southern division, which was the most profitable." But Borden was headquartered on Madison Avenue in New York City, and Tracey-Locke was in Dallas. So Schultz moved his family to New York in 1969, just around the time his third son was born.

"So here I am, this Okie, maybe 28 or 29, with a 48th-floor Park Avenue office. And they ask me to manage all the Borden accounts and bring everything together."

Although he made it work, Schultz began to reflect on the passion he felt was missing in his life. "Executive vice president was the next level, with president after that, but I knew I wouldn't enjoy doing the things presidents do," he says. "Besides, I wasn't a good enough golfer. The more involved I got at the senior level, the further I got from advertising. I was running a bunch of branch offices, which wasn't a whole lot of fun." Before long Schultz had decided to cash in his chips at Tracey-Locke and return to school for a master's degree.

Schultz pared his choices down to the University of Illinois at Urbana-Champaign and Michigan State. "U of I had a very good program, but my middle son looked at me and said 'Daddy, do we need to live in the middle of a cornfield?' That's how we ended up in East Lansing. It had so many trees," Schultz says. "I fell in love with teaching and have never regretted my decision. I was awarded a master's in advertising in 1975. Six months later I knew I wanted to finish my PhD and remain in teaching."


---

Despite all the geographical and career-related movement of those early days, Schultz is now enormously thankful that everything succeeded in bringing him to a profession he loves. "I enjoy learning more than just about anything else," he says. "I also love the ability in the academic community to change the way you're looking at something, to change what you're studying or what you think is important."

Schultz's first teaching experience demonstrated an almost pragmatic genesis for his theories on integrated marketing communications. "Michigan State had an interdisciplinary PhD program at the College of Communication Arts and Sciences, with telecommunication, journalism, advertising, mass communications and stuff nobody else in the country, nobody else in the world, was doing," he says. "We were looking at the impact of advertising on children. We had a National Science Foundation grant to train firefighters using interactive cable television. We had this tremendous group of people in the mid-'70s working on all the new technologies, all the predecessor stuff for the Internet.

"Intellectually the kinds of things we could do were incredible. One point I always struggled with was the client question 'How do we know this advertising stuff is working?' Essentially, we'd tell them to trust us. You can't see the effects, but they're there. I was very curious how advertising worked. With supermarket scanner data, for the first time, we saw the interaction of advertising dollars spent, price reductions and store display. And to me that was an enormous breakthrough.

"So it was the effects of advertising and new technology that I was interested in. In fact my PhD is on mass media impact, focusing on advertising response functions. I always tried to look at what's next. Traditional advertising theory, for instance, says you have to see things two or three times before they're effective. The work I did said the first exposure is the most valuable. With the next exposure you get less return, and then it flattens out pretty quickly. This was my PhD dissertation, which was roundly regarded as a guy trying to destroy the advertising business because agencies make money by getting you to spend more money on media. If you tell them the results flatten out early and you ought to stop spending, that makes agency people very cranky."

After earning his doctorate in 1977, Schultz accepted a teaching job with Northwestern's advertising program partly because of its reputation and partly because of the persuasive powers of Vernon Fryburger (GJ39), head of the program at the time.

Making his mark right away, Schultz helped phase out the undergraduate advertising program to focus on the first group of 50 graduate students. The faculty of five came from the graduate advertising program. "I started teaching and had a great time," he says. And in his personal life, it was around this time that Schultz, who had divorced his first wife, met Heidi Magnuson, who, with her extensive background in publishing, is a natural professional partner above and beyond the emotional ties that bind them. "She's the brand genius at Agora," he says. Indeed, Heidi Schultz brought extensive marketing communications, research and branding experience with her to the company.

She sees her life with Schultz from an interesting point of view. "Traveling with Don offers us a unique perspective on the world and an opportunity to see the evolution of marketing firsthand in both advanced and emerging economies — and from both an academic and a corporate standpoint," she says.

"You can see the pattern," Schultz says about the twists and turns in his career. "I started in advertising, moved into scanner data and into sales promotion because of the availability of data and the huge potential for data analysis. Then the direct marketing people wanted help building their knowledge base. I said, 'OK, here's advertising and sales promotion and direct marketing, and I have the electronic background from Michigan State.' "

In the middle 1980s Richard Christian (KSM49), then a recently retired executive from Marsteller Advertising and Burson-Marsteller Public Relations and now a professor emeritus at Medill, joined Schultz, who was chair of the advertising department, to start an extremely productive collaboration at Medill. The two set up a direct marketing and a corporate communications track, which resulted in a request and a grant from the American Association of Advertising Agencies. "Dick and I put things together," says Schultz. "We thought we were very limited if we only looked at advertising.

"Ed Bassett, the dean at that time, approved the original IMC curriculum that I wrote on my dining room table in 1988," he remembers. "He, Dick Christian and I sat down with [former Northwestern president] Arnie Weber and said, 'We're going to fold all this stuff together into an integrated marketing communications group.' IMC originated at Medill and stayed at Medill."

Communicators today are regularly challenged to demonstrate the value of their tactics and strategies. Schultz believes, however, that integration will soon be driven by the financial experts because marketing communications practitioners have little idea how businesses are run.

"They understand marketing and communications, but CEOs want to talk management," he explains. "They're saying, 'Put what you marketing people do in relationship to what this business does and how it operates.' So if management doesn't want to learn marketing, communicators have to learn management. This is why [advertising] agencies are having so much difficulty. They often don't understand how their client organizations work overall since they interact primarily with the marketing and communication people."

The IMC program, however, teaches how marketing relates to business operations. "Don encouraged us to link marketing communications investment to incremental shareholder value," says Ravindranath. "Marketing communications is not an intangible cost but rather a tangible investment."

As for IMC's future, "we're trying to move away from working with data to working more with people," Schultz says. "We are in the process of putting together a program on people performance and measurement to look at employee motivation and the impact of the employee on the success of the firm."


---

"I wish I had more control over my curiosity," Schultz muses. "I take on a lot more than I can do because everything sounds so interesting. Then I wake up and wonder how I'll get it all done. If you look at the kind of things I do, it's an entrepreneurial kind of spirit, I guess. But even though it looks like I'm all over the lot, most of the things I do and am interested in are interconnected."

Others in his field respectfully but strongly disagree with the negative part of Schultz's self-assessment. "Don is energetic, insightful, brilliant and generous," says Rogers. "He's always looking for that next horizon. Many people are comfortable sitting on their past achievements, but Don keeps redefining his view of creation."

Shekar Swamy (GJ80) is president of RK Swamy/BBDO India and Schultz's co-instructor each fall in a course called Global Marketing Communications. To Swamy, Schultz is "a challenger. He challenges his students, he challenges prevalent practices in marketing and communications and he challenges his clients to think differently. He even challenges the audiences in his seminars to provoke new thinking."

Adds Kotler: "He has a very strong presence and a wonderful sense of humor. As I have grown to know him better my opinion of Don's contribution has grown, giving me more precision to my own thinking on IMC. I think that is a major contribution."

Currently Schultz is focused on developing IMC concepts, approaches and programs in China, Russia, India and other emerging economies. Often one of his three sons will ask him when he's going to retire. His answer is always the same: "When it stops being fun and stops being interesting, I'll go sit under a palm tree in Australia. Until then I guess I'll just keep on following my curious streak."

Robert P. Mark (GJ95) is a graduate of the IMC program and a principal at Evanston-based Mark Communications Inc., an IMC company that specializes in the aviation industry.