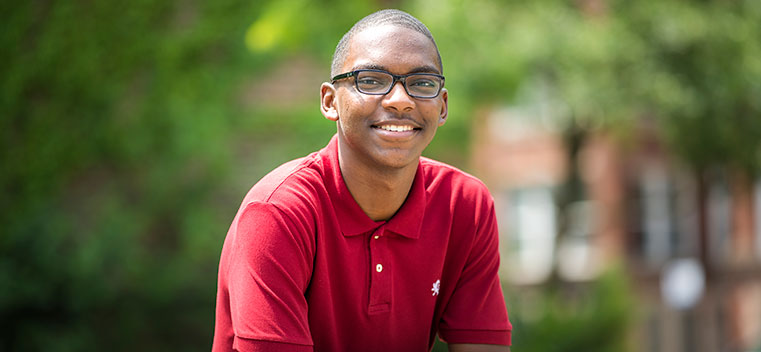 Julian Starks is a rising senior at Kenwood Academy and, thanks in part to the Northwestern Academy, is looking ahead to college on the East Coast next year. Photo by Michael R. Schmidt.
Finding New Paths
Story Tools
Share this story
Related Articles
Sean Hargadon is senior editor of Northwestern magazine. Erin Karter is a writer and media relations specialist in Global Marketing and Communications at Northwestern.
Tell us what you think. E-mail comments or questions to the editors at letters@northwestern.edu.
Find Us on Social Media
The Northwestern Academy for Chicago Public Schools increases college opportunities for underrepresented high school students, who learn to find their voices in a community of like-minded learners.
by Sean Hargadon and Erin Karter
Madison Jackson had just finished her first year of high school when her mother's cancer took a turn for the worse.
In August 2014, after many months of chemotherapy, Wanda Jackson, 52, was discharged from the hospital to spend what time she had left at home with her family. When she died three weeks later, everything in 15-year-old Madison's life came to a screeching halt.
Though she would continue to struggle with grief and anger, Jackson soon found herself thinking less about the injustice of losing a parent at such a vulnerable age and more about injustices suffered by African Americans, women and other minorities in the United States.
"Before she passed away, my mom told me she wasn't worried because she had planted a seed in me that would eventually grow," Jackson said recently from the Chicago home where her mother's memory inhabits every room.
"My mom would be proud that I am getting ready to start college and focused on what I can do to bring about change," she said. "I think she would tell me to 'keep the flower blooming.' "
A resilient young woman with a supportive family, Jackson went on to excel in high school. She will leave her West Rogers Park home in the fall to attend the University of Illinois at Urbana-Champaign.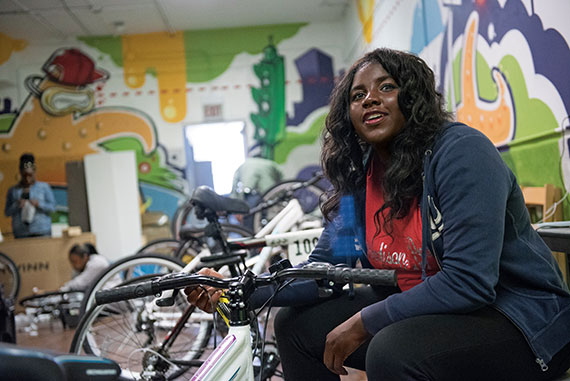 Madison Jackson fixes a bicycle at Starfish Learning Center in Rogers Park, where she regularly volunteers. Jackson, a graduate of Chicago Math and Science Academy, is headed to the University of Illinois at Urbana-Champaign. Photo by Alex Garcia '89.
Jackson's success is due in part to the Northwestern Academy for Chicago Public Schools, a college preparation and enrichment program launched in 2013 for academically motivated students from non-selective-enrollment high schools who qualify for the free or reduced lunch program.
She is among 48 CPS students headed to 23 prestigious institutions around the country — from Northwestern to Brown University to Colorado College (see the full list). They are Northwestern Academy's first graduating cohort and a powerful indication of what's to come. (See "Northwestern Academy Grads Heading to College.")
***
The goal of the Northwestern Academy, run by the School of Education and Social Policy, is to prepare Chicago high school students from limited financial means and first-generation college–bound backgrounds for highly selective colleges and universities. Preparation is provided through individualized and group experiences focused on academic enrichment, college counseling and leadership development. According to 2008 research on "undermatching" from Melissa Roderick at the University of Chicago's Consortium on School Research, only one-third of CPS students gain acceptance to the most selective college possible, based on their high school qualifications.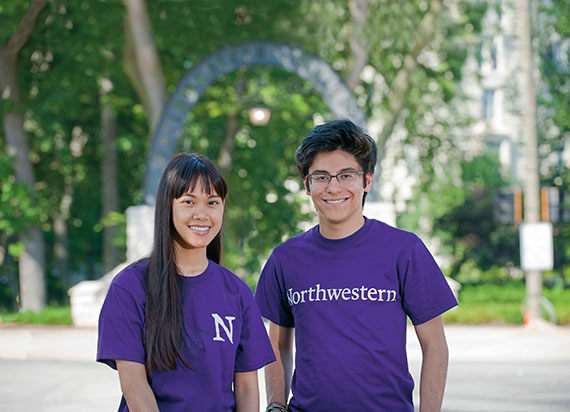 Christine Ngo and Andrew Duarte will be first-year students at Northwestern in the fall. The Northwestern Academy "helped me to see I had the potential to get in here," Duarte says. "They helped me feel like I actually belonged at a school like this." Photo by Bruce Powell.

The program, according to recently retired School of Education and Social Policy dean Penelope Peterson, grew out of conversations between Chicago Mayor Rahm Emanuel '85 MA and Northwestern President Morton Schapiro. Emanuel wanted to create opportunities for high-achieving CPS students who just missed qualifying for the district's 11 selective enrollment high schools, which provide academically advanced students with an enriched college preparatory experience. Schapiro wanted to increase the number of CPS students who enrolled at Northwestern. (That number has more than doubled since he started as president in 2009. The incoming class includes 127 CPS grads.) The Academy developed as part of the University's Good Neighbor, Great University program, which provides need-based financial aid to any qualifying Chicago or Evanston high school graduate who enrolls at Northwestern.
"There is nothing we do at Northwestern that makes me prouder than the Northwestern Academy for CPS students," says Schapiro. "When you see that every single student who graduated this year will attend a four-year college — including two who are coming to Northwestern — it shows how important the Academy has been in opening the doors to opportunities for these incredible students from Chicago Public Schools."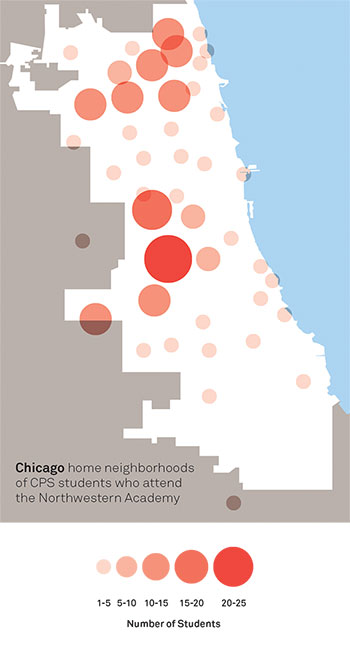 The more than 260 students in the Northwestern Academy, chosen through a rigorous application and selection process, come from around 40 non-selective-enrollment CPS schools (see the neighborhood map at left). Almost all the students in the Academy come from low-income families, and four out of five are the first in their family to go to a four-year university or college. The program, which is free to participants, costs around $6,000 per student, funded by Northwestern.
The Academy is all about expanding opportunities, says director Cassandra Geiger. It offers complementary academic and cultural enrichment for the students while also supplementing their academic and college advising from CPS, where counselors sometimes serve as many as 500 students. The Academy also acts as a resource for the parents as they navigate — many for the first time — the college admission process.
Students attend summer classes taught by CPS teachers in reading, writing and math at the Academy's state-of-the-art headquarters in Abbott Hall on Northwestern's Chicago campus (see "Academic Grounds"). The Academy also sends students to summer institutes around the country and makes the most of Chicago's cultural offerings.
Lorena DeLeon says the Academy is a "sanctuary," a place where she can be with students who have similar dreams and goals.
An aspiring novelist, DeLeon is a rising senior at George Washington High School, a 1,700-student school in the largely Latino community of East Side near the Illinois-Indiana border. In her school, she says, "it's hard to find students who are dedicated and motivated and striving for college." At the Academy she's surrounded by people who have "the same passion for their future. You're with this group of people who have the same kind of mind. Through them, you see yourself."
INDIVIDUALIZED ATTENTION
Chicago Public Schools faces myriad challenges in providing individualized college counseling to the tens of thousands of students who enter high school every year. 
Anna Rodriguez, an adviser with Northwestern Academy, spent nine years as a CPS teacher and counselor. At Curie Metropolitan High School, her caseload included approximately 350 students.
"It's a huge challenge," says Rodriguez, who works with 60 Academy students. "Being a CPS counselor can be incredibly overwhelming. You are responsible for college counseling in addition to the students' general well-being. You have to put out a lot of fires and respond to emergencies throughout the course of the day. There was not much time left for college counseling most days."
According to CPS data on the class of 2015, 57.9 percent of graduates enrolled in two- or four-year colleges. A 2016 study by the University of Chicago's Consortium on School Research found that approximately 18 percent of ninth-graders who started high school in 2015 would graduate from four-year colleges within 10 years. That figure is not far off the national average, which is 22 percent. The report also found the rates at which students from neighborhood schools enroll in four-year colleges fall well below selective enrollment and charter high schools.
MYTHBUSTERS
Northwestern Academy adviser Ian Williams, who grew up in the suburbs of Atlanta, shares a similar background with many of the Academy students — an underrepresented minority student from a low-income background. His spare Abbott Hall office has few frills, but his University of Chicago diploma sits front and center — as both decoration and motivation. 
Going to college "is a route that I think is very understated in many communities because of what we see in the media," Williams says. "I have a very intimate understanding of what these students need to do now to start leveraging their joy, hard work and ambitions."
Academy director Geiger, a Chicago native who was the first in her family to attend college, can also relate to participants, who are not "the highfliers, and they aren't in the middle of the pack. They are in that in-between, and with just enough boost, they can do so much more."
Renita Washington, a rising senior who had tested out of the math curriculum at Gary Comer College Prep, worked with Geiger and Williams and her high school to develop a plan for her and other students who want advanced math courses to take an introductory statistics class at Harold Washington College.
"Renita is someone who has been very resilient," Geiger says of Washington, who was homeless during parts of middle school and high school. "She has been through so much in her short life, but she just keeps going. We've coached her on how to go get what she needs."
Washington, who now lives in South Shore, is president and founder her school's Gay Straight Alliance/ Social Justice Club and hopes to study women's and gender studies at Bowdoin College, Bates College or College of Holy Cross — all liberal arts schools that offer generous financial aid and are test optional and LGBTQI friendly.
The Academy counselors spend a lot of time debunking myths about the college admission and financial aid application processes, emphasizing the importance of information literacy and dependable sources.
"We're finding we sometimes have to start totally with the basics," Geiger says. "Some of these kids are top in their class in a particular neighborhood school that is performing well, but they don't know what a bachelor's degree is. They don't have that vision or concept.
"We can't do everything for everyone," she adds. "But if we can clarify [this process] for even one student, then there's one more person who can make a sound decision. We're ultimately helping them navigate this process."
ON THE ROAD
Many students in the Academy have never considered schools beyond familiar Chicago-area institutions. To break the local-only mindset, the Academy organizes campus tours of colleges throughout the Midwest and on the East Coast for students and their families.
The Academy sent Julian Starks, a rising senior at Kenwood Academy High School, and his mother to tour Trinity College, Harvard University, Tufts University, Bowdoin College and other elite East Coast institutions.
"It truly has been a wonderful eye-opening educational experience for both of us," says Rosita Starks. "I've always known Julian has so much to offer, but he needs the right place and the right opportunities. Northwestern Academy has opened our eyes to so many opportunities."
Rosita and her husband, Joshua, moved their family from Chicago's Auburn Gresham neighborhood, one of the city's most impoverished communities, to Kenwood two years ago so Julian would be closer to school.
"In Chicago, and especially my old neighborhood, a lot of kids never get the opportunity to leave the city," Julian says. "If you see poverty your whole life, that's what you come to expect."
The Academy pulls out all the stops to make sure students make an informed decision about their college destination. Just a few days before the deposit deadline last May, Lake View High School valedictorian Magdalena Sotelo had narrowed down her college choice to two schools, Colorado College and Occidental College, but she had not visited Occidental's Los Angeles campus.
"She would say, 'What if?' " Geiger recalls. "So we got her on an early morning flight. She spent the day there and then we got her on a red-eye back home. She knew then."
Sotelo is headed to Colorado College in the fall.
TEACH YOUR PARENTS
Danny Rodriguez's mother thinks Harvard is the "American ticket."
"That's obviously false," says Rodriguez, a rising senior at Amundsen High School whose two older brothers both went to work in the restaurant business after high school. "She doesn't know what goes into applications. It makes it a bit stressful because I will be the first to go through it.
"My mom is a little bit concerned because she really wants me to stay local," he adds. "I have to teach her that there are other options. I have to teach her that it isn't about what the best school is but about which one is the best fit for me."
Many families, like the Rodriguezes, who are new to the process have a hard time getting past the sticker shock.
"[When I first started at the Academy,] I was really worried about having to pay for college," he says. "I come from a family of immigrants, and we have been working hard to get to where we are today. I wanted to go to college, but I also didn't want it to bankrupt us."
It's hard to convince parents that a school with tuition costs of $60,000 per year can, with financial aid, actually be cheaper than a school that lists tuition at $8,000, Williams says. "The published financial aid on the website isn't always what it turns out to be," says Peterson, who adds that Geiger and her staff know "which universities provide financial aid and how much they support their first-generation students.
"That's the kind of knowledge a college-educated parent knows. But [most of] these parents haven't gone to college, and they usually don't have anybody to ask. That's what Cassandra and her advisers can provide."
SUMMER LEARNIN'
Alexa Bucio spent part of summer 2016 living and learning on Northwestern's Evanston campus as part of In Focus: Bioscience Research, a Northwestern program led by Laura Panko, assistant professor of instruction.
"I don't live that far away from Northwestern. It's just a 30-minute ride, but [the Academy was] nice enough to allow me to stay on campus and live there for two weeks," Bucio says. "They wanted me to gain that college experience of living in a dorm and sharing it with another person."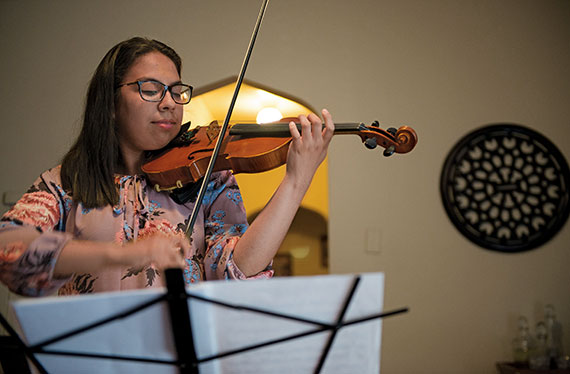 Alexa Bucio picked up the violin at age 10 and honed her skills through the Chicago-based People's Music School. This summer she traveled to Central Europe on a three-city tour with the Chicago Youth Symphony Orchestra in June. The following month Bucio participated in the Los Angeles Philharmonic's weeklong National Take a Stand Festival, which included a final concert at Walt Disney Concert Hall, led by LA Philharmonic music director Gustavo Dudamel. Photo by Alex Garcia '89. 
The Academy encourages and financially supports students' summer institute experiences. Last summer, during the three-week Carleton Summer Science Institute at Carleton College, Magdalena Sotelo explored cancer research, geology and chemistry. "I noticed a lot of students there had an extra step," she says. "My roommate, her father was an oncologist, and she knew everything that was going on in the [cancer research] class. I know that these students have had more opportunities than me."
Williams says he sometimes has to convince parents of the benefit of attending a summer institute, "getting them to understand that for more affluent, more in-the-know families, this is a regular, everyday expectation. In terms of building whatever type of capital you have less of or less access to — social or academic — you can start to supplement some of that by having these experiences. Not only that, but when you do a summer program, you get a sense of what college life is like, even if it is just a little taste. The goal of getting to this place in the clouds called college is no longer in the clouds. It is within hand's reach."
THE WORLD'S A STAGE
The Academy's curriculum includes an improv component that is focused on self-assessment and professional engagement — how to make eye contact and shake hands, how to network at a party and how to remember people's names, follow up on emails or phone calls and take small talk to the next level.
Along the way, students — many of whom admit they were extremely shy before the program — learn to find their voice, speak up and advocate for themselves.
"It's helped me grow so much and gain confidence," Alexa Bucio says of the Academy. She put her newfound communication skills to use when she prepared for a 10-day tour of Central Europe in June. She visited Prague, Belgrade and Budapest with the Chicago Youth Symphony Orchestra, her first excursion across the Atlantic.
"The trip was not cheap," she says. "Everything I have gained from the Academy — communicating and asking questions and not being shy — it really allowed me to go on this trip. I had to find a way to fund this trip. I had to request a scholarship from a music school that I attend. I had to speak with the CYSO about my financial needs. It really helped that I was able to express what I needed."
Deborah Lee '02, Bucio's private violin teacher for the past two years, first met Bucio seven years ago through a People's Music School program at Hibbard Elementary School. (The People's Music School, led by Jennifer Matsuzawa '97, offers free music programs to Chicago-area children. See Matsuzawa's My Northwestern Direction column, "Northwestern Teaches Anything Is Possible.")
Bucio thrived in that program and worked her way up to become a principal in the Lincoln Park High School Symphony Orchesta. Lee admires her pupil's tenacity.
"Alexa is very good at taking advantage of opportunities that are presented to her, and she's been able to participate in these empowerment programs, like Northwestern Academy, that have changed her," says Lee, who earned Northwestern degrees in economics and violin performance. "She's found her voice."
Bucio, a Lincoln Park grad who lives in Chicago's Albany Park neighborhood, plans to study chemistry and violin performance at the University of Illinois at Urbana-Champaign.
"I have the highest hopes for her, but it's going to be a big transition," Lee acknowledges. "I think she's more than capable, and if she is as tenacious as she's been about getting what she needs, then she's going to be great."
THE ESSAY
The Academy helped Christine Ngo, one of two students who will join the Northwestern community as first-year students in the fall, become a better writer.
The Mather High School graduate spent countless hours writing and rewriting both her essay and personal statement, which are required as part of the Northwestern application. It was a grueling exercise that required extensive research about the University and a great deal of personal reflection.
What Ngo learned about Northwestern further convinced her that it would be a perfect fit.
"[Northwestern University] does not point toward one route, they encourage exploration of numerous fields of interest outside my major," reads Ngo's essay. "It is a university where I can debate the connotation of a Picasso painting while observing the brain's activity when a subject breathes in a particular manner."
As Ngo, who intends to study psychology while pursuing her interest in the arts, mastered the art of the dreaded college essay, she found her voice in the process.
"When I started high school, I really only talked when I had to," says Ngo, who grew up speaking Vietnamese at home. "But now I am very outspoken, and I know that has a lot to do with the essay writing. I rarely wrote about myself until the college application process. It helped me discover who I am and what I value.
"I'm so grateful," she adds. "Without Northwestern Academy I might still be hiding underneath a rock."