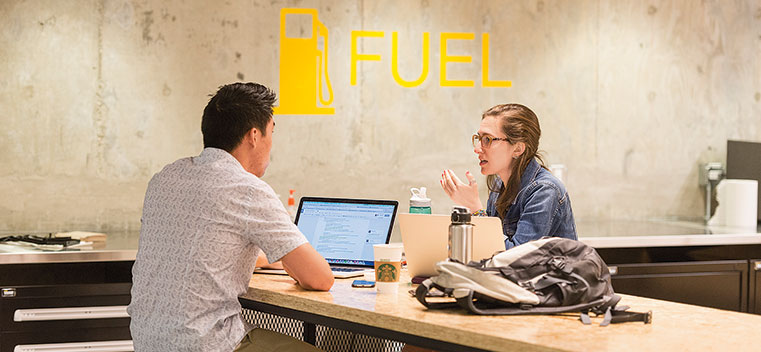 The Garage, a new student workspace on the Evanston campus, is just one example of how Northwestern is supporting innovation. Photo by Jim Prisching.
Update: The Campaign for Northwestern
Story Tools
Share this story
'WE WILL' CAMPAIGN SUPPORTS INNOVATION THROUGHOUT NORTHWESTERN
From creating revolutionary medical breakthroughs to launching successful startups, Northwestern excels at innovation.
But innovation isn't possible without investment. That's why one of the goals of We Will. The Campaign for Northwestern is to support innovation throughout the University, in whatever form it might take.
Some resources that support innovation at Northwestern are clearly visible, like The Garage, a new student workspace at the north end of the Evanston campus. The facility enables students to collaborate on a range of entrepreneurial projects under one roof, 24 hours a day. (Read more on The Garage.)
Other crucial support for innovation makes it possible for the University to recruit and retain the best faculty and help students turn their ideas into reality.
"Our success at innovation has been propelled by our faculty hires and our investments in key research," says Alicia Löffler, associate vice president for research and executive director of the University's Innovation and New Ventures Office, which oversees the transfer of Northwestern's inventions to the marketplace. "Plus, we're attracting top-quality students who really want to change the world."
Northwestern aims to pioneer innovation in every school across all disciplines, from the hard sciences to the creative arts, while producing inventive leaders who create breakthroughs in their respective fields.
Much of that is already occurring in the University's classrooms and laboratories. For example, Narrative Science, a Chicago startup that develops software to turn data into easily readable narrative reports, began as a research project involving professors and students from Northwestern's engineering and journalism programs.
Likewise, the undergraduate and graduate students who enroll in NUvention classes offered by the Farley Center for Entrepreneurship and Innovation learn how to build a product and a company, sometimes resulting in the creation of a new business.
As Northwestern continues to encourage innovation across campus — and as federal funding for research becomes more difficult to obtain — support from donors has become even more critical, says Peter J. Barris '73, a vice chair of the University's Board of Trustees and chair of the Board's innovation and entrepreneurship committee.
"We're taking instruction beyond the traditional classroom so entrepreneurial students can learn by doing," Barris says. "It's an exciting time to be a part of innovation and entrepreneurship at Northwestern."
All gifts to the University count toward We Will. The Campaign for Northwestern. Please make a gift every year of the Campaign at wewill.northwestern.edu.
THE IMPACT OF CONSISTENT GIVING
Donors who make a gift to Northwestern every year have a tremendous collective impact on the University. Their generosity fuels the momentum that is advancing the University, helping to expand Northwestern's positive impact throughout the world.
Donors who give to Northwestern in three or more consecutive years are recognized through membership in the NU Loyal giving society. Three current NU Loyal donors — David Mumford '76; Gina Tabachki '83; and Khari Shelton '15 — recently shared their reasons for supporting Northwestern every year.
Join them today by making your gift at wewill.northwestern.edu. All gifts, to any area of the University, count toward We Will. The Campaign for Northwestern.
WHY THEY GIVE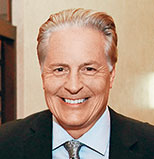 David Mumford '76
NU LOYAL: Mumford, who majored in radio/TV/film at the School of Communication, comes from a proud Northwestern family. His father, Earl '54 MD; his brother, John '78; and his sister, Kristin '85, all graduated from Northwestern. His son, Drake, is a sophomore in the Weinberg College of Arts and Sciences. David Mumford made his first gift to Northwestern in 1978, and he has earned silver status in NU Loyal by giving to the University for five consecutive years. He's also a member of the Northwestern University Leadership Circle, the University-wide giving society.
BEST NU MEMORIES: Walking along the lake on beautiful spring days, tossing a Frisbee around with his friends and taking radio, television and film classes that helped launch his career in the entertainment industry.
"From the beginning, I knew I owed Northwestern a debt of gratitude, because that diploma got me my first job. But that diploma has also been a great calling card ever since I graduated. It stays with you for the rest of your life."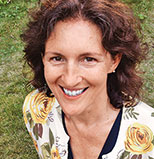 Gina Tabachki '83
NU LOYAL: Tabachki made her first gift to Northwestern in 1983, the year she graduated from Weinberg College with a bachelor's degree in art history. Although her first gift was only $10, she has given to Northwestern every year since, earning her platinum status in NU Loyal. Tabachki is also a member of the Northwestern University Leadership Circle.
BEST NU MEMORIES: Enjoying records in the listening room at Norris University Center, browsing in Deering Library and walking among the spring flowers in various shades of purple.
"It's human nature to say, 'I can't afford a large gift, so my donation doesn't matter.' But over the course of my lifetime of giving, I know I've made a significant impact on Northwestern."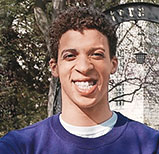 Khari Shelton '15
NU LOYAL: Shelton, who majored in theater at the School of Communication, was a member of the executive board for the Class of 2015 Gift. He also held several positions with Dance Marathon and the Dolphin Show's executive board, volunteered as a Wildcat Welcome peer adviser and served as the artistic director and co-chair of Purple Crayon Players, a student-run theater and community service group.
BEST NU MEMORIES: Every late night spent with friends who reminded him how incredibly grateful he is to have attended such a dynamic school with so many brilliant, compassionate people.
"I give back to many of the student groups I was involved with because I believe in student excellence and innovation. These student groups created communities in which I met some of my best friends, and I want to ensure that future students have access to even better student-led opportunities."