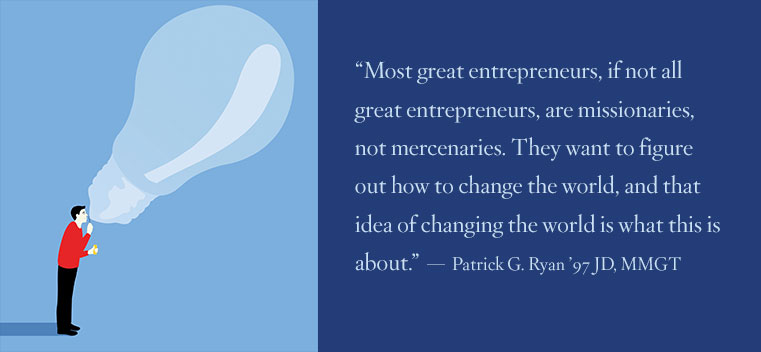 Illustration by Anna Parini
The Garage Opener
Story Tools
Share this story
Incubator brings student innovators together to develop bold ideas.
Bobby Powers and his sharEd co-founders had a smart idea: to develop a sustainable model for providing high-quality early education materials at a low cost to under-resourced communities in developing countries. By renting sharEd's monthly learning units, teachers and schools will have access to thousands of dollars worth of curricula and materials for just a few bucks each month.
Now Powers and his partners have a place to bring their idea closer to reality: sharEd is one of 19 teams that spent nine weeks in a summer accelerator at The Garage, a new on-campus incubator that brings together innovators from across the University.
"This is a space where students from across the University will be able to come and shape their ideas." — Alicia Löffler
"We're spending the whole summer doing product development here in The Garage," says Powers, a dual-degree graduate student in the Kellogg School of Management and McCormick School of Engineering and Applied Science. "The accelerator gives us access to this awesome space to work in — a space where we can really be collaborative and creative — as well as mentorship in the startup realm on how to approach sales and marketing, how to develop our brand."  
The Garage, a student-focused center where ideas, not companies, will be built, is located on the second floor of the new north campus parking garage. It is a 24/7 hub where students can experiment with entrepreneurial ideas and learn the importance of failure on the way to success.
"This is a space where students from across the University will be able to come and shape their ideas," says Alicia Löffler, executive director of Northwestern's Innovation and New Ventures Office. "Every single student from across Northwestern is welcome to come and explore."
The Garage developed after members of the Board of Trustees' Innovation and Entrepreneurship Committee noticed the large amount of innovation happening in Evanston. "When we really looked at the serious entrepreneurial activity that was happening organically, it was amazing to us," Peter J. Barris '73, managing general partner of New Enterprise Associates, said at The Garage dedication in June. "We went to work on helping to create an environment that fosters this activity, that brings out the best of it."
Located near Kellogg, McCormick and multiple research institutes, the flexible 11,000-square-foot space includes large areas for workshops and classes. It has a prototyping area, privacy booths and offices, a 3D printer for testing ideas, video conferencing capabilities, a next-generation classroom, group and individual workstations, lounge spaces and a stocked kitchen.
The Garage also offers mentorships, programming and resources to help groups develop and accelerate ideas, as well as a special partnership with Chicago incubator 1871. The ventures program will be The Garage's signature offering. Selected student groups will go through a quarter-long personalized boot camp to move ventures toward market. Students will work with alumni mentors from Chicago and around the world via videoconference.
The Garage will also host design team meetings, workshops, seminars, special speakers and social events for nonresident groups, as well as classes for NUvention, the Farley Center for Entrepreneurship and Innovation's program to expose students to the entrepreneurial life cycle. In September, Löffler named entrepreneur and ex-Googler Melissa Crounse the first executive director of The Garage. Crounse, who brings with her a decade of work experience in Silicon Valley, will oversee programming.
"The Garage is a place where you can think about a project you've worked on and say, 'Could we make this a company?'," Patrick G. Ryan Jr. '97 JD, MMGT, a member of the Board of Trustees and founder and CEO of INCISENT Labs Corp., said at The Garage dedication in June. "Now most people hear that and say, 'Oh, make money.' But most great entrepreneurs, if not all great entrepreneurs, are missionaries, not mercenaries. They want to figure out how to change the world, and that idea of changing the world is what this is about."
For their part, Powers and his sharEd team are excited to get started. "With product development, it's very important to have a physical space like The Garage to help visualize and prototype your product, to have the walls to just put pictures up or to meet to brainstorm." The group plans to launch a pilot of the service at the end of the fall.