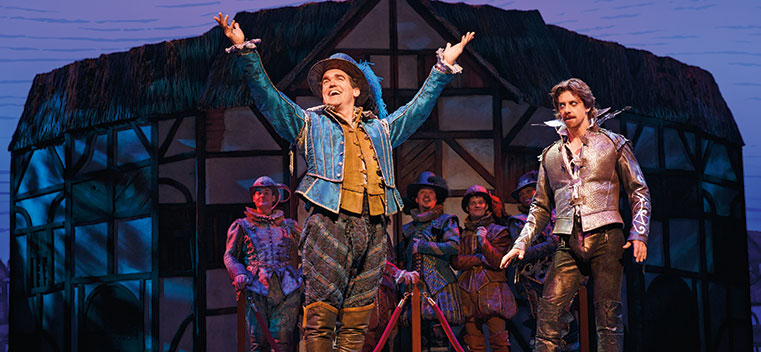 Something Rotten! stars Brian d'Arcy James, left, as Nick Bottom, and Christian Borle, who plays Shakespeare. James was nominated for a Tony Award for best leading actor in a musical. Photo by Joan Marcus
The Life of Brian
Story Tools
Share this story
Related Articles
Watch Something Rotten! stars Brian d'Arcy James and Christian Borle perform on The View.
Richard Harris '76, a Washington, D.C., freelance writer, was a senior producer for ABC News Nightline and director of afternoon programming and news anchor at NPR.
Tell us what you think. E-mail comments or questions to the editors at letters@northwestern.edu.
Find Us on Social Media
From Something Rotten! On Broadway to the movie Spotlight on the big screen, Brian d'Arcy James has proved that he is a versatile actor, a talented song and dance man and one of the nicest guys in show business.
Two days before this year's nationally televised Tony Awards, director and choreographer Casey Nicholaw put the cast of the hit Broadway musical Something Rotten! through their paces. It was a full camera rehearsal at Radio City Music Hall for the coveted opening production number, a rare opportunity for a Broadway show to strut its stuff before more than 6 million people.
It was also a chance for the show's star and one of the most versatile actors on the New York stage, Brian d'Arcy James '90, to reintroduce himself to the country.
The curtain rises on Renaissance London. Nick Bottom, a struggling playwright and Shakespeare wannabe, has asked a soothsayer to peer well into the future and predict what audiences will want to see in the theater so he can one-up the Bard. "The biggest, most fantastic thing in theater," says Thomas Nostradamus, "will be … MUUUsicals."
But Bottom is unimpressed and breaks into song:
"Well, that is the … Stupidest thing I have ever heard.
You're doing a play, got something to say
So you sing it? It's absurd!"
It's ironic then that James, who has become synonymous with the hit Broadway musical, would play a character so skeptical of this futuristic thing called a musical:
"Who on earth is going to sit there
While an actor breaks into song?"
After four takes, the six-minute showstopper, cleverly embedded with references to more than two dozen famous musicals, was close enough to flawless. And Nicholaw took a moment to kvell over the man who carries much of the show on his back.
"Oh my God, Brian brings so much to the table," says Nicholaw, as James pulls off his tap boots nearby, unaware he is being showered with accolades. "He's a smart actor who makes so many good choices and is totally adept at the dance, which you never expect from a leading man," says the Tony-winning choreographer. "He's awesome, a complete triple threat."
And for good measure, you might throw in a few of the other superlatives friends and colleagues use to describe the 47-year-old Saginaw, Mich., native: "humble," "humane," "lack of ego," "great work ethic" and the phrase you hear almost reflexively when you first say Brian d'Arcy James: "the nicest guy around."
"As nice as he is, he's not a Pollyanna," suggests Christian Borle, who received the 2015 Tony for portraying a sly Shakespeare opposite James' Nick Bottom. With a twinkle in his eye, Borle says, "Brian actually has a little bit of a wicked streak in him. Nothing nasty, but in our private moments, he knows he can release the gasket and get something off his chest."
When the two actors first toured Broadway's St. James Theatre, James refused to exercise his prerogative as the lead to pick his preferred dressing room. "Being greedy," Borle recalls, "I told Brian I would put in a bar in the larger dressing room, and he said, 'Just take it.' Nobody does that. Nobody but Brian d'Arcy James."
Apparently, nice guys don't always finish last. James is in such demand these days that he faced an embarrassment of riches and "the toughest professional decision of his career" last spring.
Would he remain as King George in the hot off-Broadway musical Hamilton, what he called "a gem of a role in an extraordinary piece of theater," or take a flier on dancing omelettes and a journey into the absurd as the lead in the original musical Something Rotten!?
Omelettes and absurdity won out, but as workshops started, James had to rush to Boston to shoot a scene for the upcoming feature film Spotlight, his first major movie role (watch the trailer).
It's all adding up to another breakout year for someone who first took the stage at age 13, belting out Billy Joel tunes, and is now drinking from what Broadway actress Susan Blackwell, the irreverent host of Broadway.com's "Side by Side," calls "the fire hose of glory." Though James cautions, "Fire hoses have a pretty decent pressure."
It has been the most pressure of James' 27-year career, especially one four-week stretch in June without a day off. "Exhausting but thrilling," James says. Mere mortals might say "grueling." Among James' secret weapons: a personal trainer to help him conquer 16 performances in a row without a break, each requiring the limber James to command the Something Rotten! stage for no less than 100 of the show's 120 minutes.
Add to the mix a spate of interviews, the rehearsal and the Tonys broadcast itself — what for James is really three shows in one: working the red carpet, quickly changing into his Renaissance garb to perform that opening number and then changing back to his tux so the three-time Tony-nominated actor (Sweet Smell of Success [2002], Shrek the Musical [2008–09] and Something Rotten!) could take his seat to see if, as some predicted, he would be named best leading actor in a musical. (He wasn't, though winner Michael Cerveris from the musical Fun Home gave James and the other nominees a shoutout, saying they "did things he could never do.")
And just to ensure he had no time off at all, James committed to a series of Monday night appearances (his usual day off), including a benefit reunion performance with his colleagues from the NBC TV musical drama series Smash (2012–13).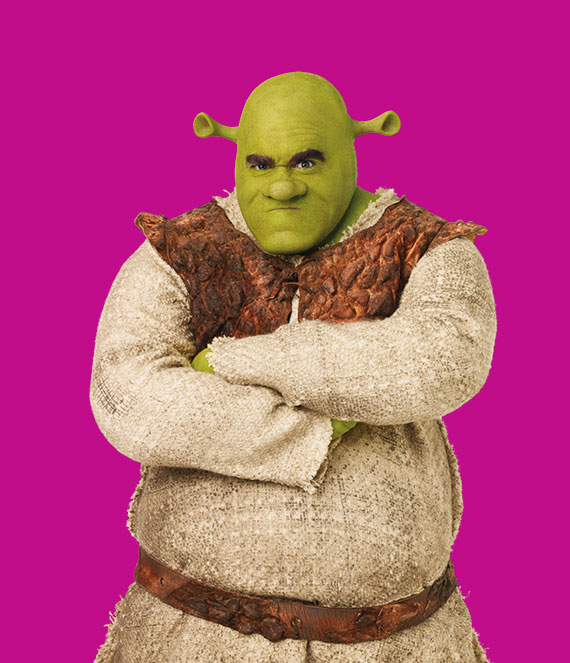 Brian d'Arcy James played the title character in the original Broadway cast of Shrek the Musical in 2008–09. Photo by Andrew Eccles. Watch as costume designers transform James into a monster.

***
In his dressing room, just offstage after a Wednesday evening performance — his second that day — James seemed more relaxed than spent when greeting 91-year-old fellow Northwestern alumnus Sheldon Harnick '49, the Fiddler on the Roof lyricist, and his wife, Margery.
It's remarkable enough to receive raves from the likes of Dame Helen Mirren, who's been among the celebrities spotted at Something Rotten!, but equally flattering to have the legendary lyricist stop by, effusive in his praise for both the show's lyrics and James' performance.
One look around his dressing room and it's clear James wants to surround himself with reminders of the people who helped him along the way. There's the picture of his namesake and uncle, the late actor Brian Kelly, who starred in the 1960s television series Flipper and advised James "never act with a fish," and the prized family heirloom on a shelf, a typewritten note James' grandfather prepared for his father that James treasures: Polonius' advice to Laertes from Hamlet — "to thine own self be true," words that James actually speaks and sings in his current production and may also speak to James' authenticity as an actor.
By the time James emerges from the stage door onto 44th Street, it's past 11 p.m., when the nightly throng of fans, behind stanchions and velvet rope, erupts with excitement, waving Playbills and posters for autographs and hoping for selfies with the star on their smartphones. Then on to his Upper West Side apartment for a quick night's sleep before a 7:30 a.m. call at the ABC studios off Central Park West, where he gets wired up for a camera rehearsal for a segment of The View to tape that afternoon (see the entire interview and performance).
It's a scene where his character, Nick Bottom, has an idea for a play that could vault him past the Bard to fame and fortune.
James fills the studio with song:
"No more Mr. Anonymous
No more world that is Nick Bottom-less
My name will be synonymous
With being on the top."
James shed his anonymity long ago but might as well have been singing about himself. Bottom is excited that he will finally be able to support his family, an uncanny echo of how James answered this question in his freshman acting class at Northwestern: "What do you want to achieve as an actor?" James remembers writing: "I want to be an actor so I can make enough money to support my family and send my children to college."
Nearly 30 years later, with his actress wife, Jennifer Prescott, and 13-year-old daughter, Grace, James is on his way to doing just that, though he also wonders where "the wild passion of an artist's spirit" was in his answer.
That question came from theater professor emeritus Bud Beyer '65, James' acting teacher and mentor during James' four years at the School of Communication, who recalls "an astonishing clarity" in James' work from the beginning — "there were no rough edges, and he had this incredible humility, with a very strong sense of morality."
After his students graduated, Beyer didn't make a habit of trekking to New York to see them perform. But he made an exception for James, surprising him during his first Broadway production, Blood Brothers (1993–95).
"I went to the show to see Brian because I knew he was going to be someone incredibly special." There, Beyer presented his former student with a Swiss Army pocketknife. 
"What an incredible metaphor," James says, welling up. "He gave me the tools for life. Here's this guy who spent four years of his life teaching me how to act and then comes to New York and gives me tools to put in my pocket. Bud is the reason I'm here. I didn't know I wanted to spend a life in the theater until I started studying with Bud Beyer."
One of Beyer's admonitions has stuck with James throughout his career. "Your job is auditioning," Beyer reminded his students.
"Actors feel auditions are the torture chambers you have to get through to get to the work on the other side," Beyer explains during a recent phone interview from his home outside Chicago. "If you get work out of an audition, that's the icing."
"I didn't spend four years learning how to act just to do musicals, as much as I enjoy them. I didn't want to just eat pie for the rest of my life. I want to play dynamic, interesting, flawed, crazy and normal people." — Brian d'Arcy James
James says he's taken the advice to heart, preparing for his auditions, though occasionally they turned into humbling moments, such as his audition for Disney's stage version of The Hunchback of Notre Dame. "I was singing the signature song, a big bombastic thing, perhaps uncomfortably loudly for the size of the rehearsal room, so I tacked on the phrase 'really loudly' to the end of the song. Needless to say, the auditioner wasn't amused, and I didn't get the part."
Nor was Mike Nichols enthralled when James unsuccessfully auditioned for Spamalot by singing a song from the TV show Hee Haw.
A critical moment in James' coming of age onstage came just after his 20th birthday, between his sophomore and junior years at Northwestern, when he was cast as Claude, the lead in the 20th anniversary production of the '60s rock musical Hair at Chicago's Vic Theatre. The role meant that he had to leave school for the fall quarter to go pro in the musical revival, which was adapted from a production he performed at the University.
Michael Butler, who brought Hair to Broadway nearly 50 years ago and at age 88 is about to stage his 30th production of Hair, picked James for the lead role because "he had an extraordinary character. Claude is the key to Hair. I look for a really good actor who can sing, and Brian did a wonderful job." Even the Chicago Reader, the alternative weekly, which panned the 1988 production, singled out James' Claude "as the only credible character in the show."
Dominic Missimi, who directed both the campus and professional productions of Hair and worked with James on the Waa-Mu shows, says "there have been several times in my teaching career when I look at the performer in front of me and go, 'Oh my God, this person is special, not like other people.'" That happened James' freshman year, when he appeared in a major role in The 1940's Radio Hour.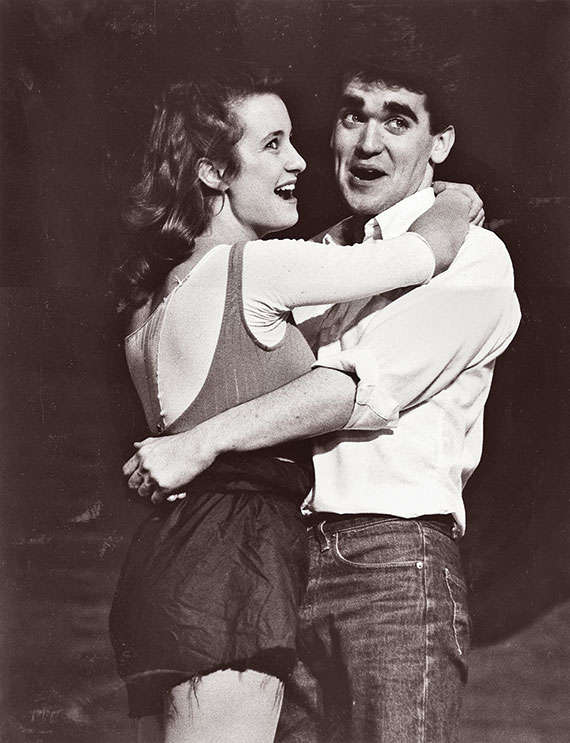 James' Northwestern credits included With a Twist, the 1987 Waa-Mu Show, which also featured Susan Bachman Rovner '88. See more photos from James' days as a Northwestern theater star. Photo courtesy of the School of Communication.
"Brian's magnetism, his personality and his utter professionalism were remarkable for an 18-year-old boy," says Missimi, professor emeritus of theater (see "The Indomitable Dominic," summer 2010). "I swore he was an Equity actor." Missimi, the founder and former executive director of Northwestern's American Music Theatre Project, says, "The best thing I've told Brian over the years is, 'If I ever had a son, I would like nothing better than for him to be exactly like you.' All the more reason I'm so thrilled to see him recognized as one of our hottest talents on Broadway."
Even before James arrived at Northwestern he had landed community theater gigs during high school. A 16-year-old James took the stage of Saginaw's Pit & Balcony and wowed Jim Gaertner, who was holding auditions for a production of Annie. "I looked at my musical director and asked, 'Do you see what I see? We have to find a role for him.'" And they did, as Rooster, and during the three-week run, James' dad didn't miss a single performance. "I told his dad to quit buying tickets and just sit in the back with me," Gaertner recalls.
Thomas James' support for his son's passion for performing went beyond parental attendance. He would pass on newspaper clippings of upcoming auditions, including one for Joseph and the Amazing Technicolor Dreamcoat in nearby Midland. There, Dean Badalato, who was in the original company of A Chorus Line and had ties to Midland, ended up directing James, an 11th-grader, as the lead in the professional production.
Badalato told the Saginaw News that "this kid could have a Broadway career if he wanted to." For James, it was a transformative moment, the first time any professional had given him a public thumbs-up. "It made a huge impression on me," says James. And nearly 30 years after that experience, James invited Badaloto to the opening of Something Rotten!.
For the kid from Saginaw, who channeled Billy Joel at 13, took on Annie at 16 and immersed himself in what he calls "the science of acting" at Northwestern, there appear to be no barriers in the theater world or across any media that will hold Brian d'Arcy James back.
Few actors avoid being typecast. James has spent his professional life making sure he won't be. And his manager, J.B. Roberts '89, once his pledge trainer in the Sigma Chi fraternity at Northwestern, expects James to have a long and varied career.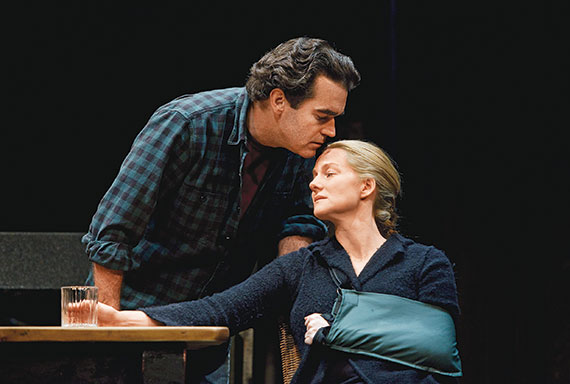 Brian d'Arcy James and Laura Linney in Time Stands Still during the production's 2010 Broadway run. Photo by Joan Marcus.

"There are very few people who can play an investigative reporter in the film Spotlight, be Shrek on Broadway and play opposite Laura Linney in Time Stands Still [2010–11]," one of James' favorite roles.
As was the 65-minute monologue he pulled off in the one-man Conor McPherson play The Good Thief, a performance the New York Times' Ben Brantley called "exquisitely calibrated."
James sees himself first and foremost as an actor who happens to sing and dance, not the other way around. "I didn't spend four years learning how to act just to do musicals, as much as I enjoy them," says James. "I didn't want to just eat pie for the rest of my life. I want to play dynamic, interesting, flawed, crazy and normal people."
James has also dabbled in cabaret at New York's 54 Below, though he felt slightly exposed and says he prefers to do his singing while hiding behind a character onstage.
On James' career bucket list: produce theater (taking a page from his days co-chairing the Waa-Mu Show), do Shakespeare in the Park at the Delacorte Theater in New York's Central Park and turn a music album into a theatrical production.
For James, any professional success is fueled by family support. James' mom, Mary, attended opening night of Something Rotten!. And his sister Anne James-Noonan, who teaches acting at Winnetka's New Trier High School, was part of the family delegation that accompanied James to this year's Tonys.
A bulging résumé and raft of awards often equal a swellhead, but James' wife, Jennifer (whom he met when the two appeared in a 1994–95 Lincoln Center production of Carousel), swears "there's not a diva bone in Brian's body." She says all of his siblings — including Kate, a comedy writer and performer in Chicago, and Andrew, a senior portfolio manager at the University of Chicago — share a common trait: They're positive and confident. "Remarkably," she says, "Brian has never stopped working as an actor, never had to wait tables in the early years," even if it meant acting in corporate shows to put money in his pocket.
If Prescott has one regret, it's that more people didn't see her husband's performance as the hard-drinking Irish businessman in another off-Broadway Conor McPherson play, Port Authority, which New York magazine listed among the most unforgettable performances of 2008, citing James' "transformative range."
Sadly, Thomas James didn't live long enough to see his son take Broadway by storm, garner Tony nominations or play the East Room of the White House in 2010, singing Irving Berlin for President Barack Obama '06 H, the first lady and their guests: "Blue skies smiling at me, nothing but blue skies do I see…"
Brian d'Arcy James still gets emotional, thinking about his dad, "especially now that I'm a father and getting the chance to share things with my daughter." Thomas James has been gone more than 20 years, but a note he shared with his son many years ago remains one of Brian's prized possessions. It tells you what a few encouraging words from a father to a son mean and how they can motivate.
"As long as they are your career goals, you will always succeed," the note reads. "And the word 'your' is underlined a couple of times," says James.
"I'm very lucky that I had that kind of guidance and that shove into the water."