---
by Elizabeth Canning Blackwell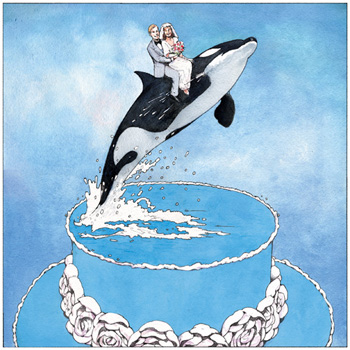 Illustrations by David Chelsea
All Amy Sutherland wanted was to drum up some publicity for her book.
A Boston-based writer, she had spent a year observing the Exotic Animal Training and Management program at Moorpark College in Moorpark, Calif., an experience she recounted in her book Kicked, Bitten, and Scratched: Life and Lessons at the World's Premier School for Exotic Animal Trainers (Viking, 2006). Like every modern-day author, she knew her publishing company would only do so much to promote the title; it was up to her to generate interest and sales.
In the course of writing the book, Sutherland (GJ87) realized that the dynamics she had witnessed between trainers and animals paralleled the ways she related to her husband. The more she took the trainers' advice to heart — for example, by reinforcing the behavior she wanted and ignoring the behavior that drove her crazy — the happier she and her husband seemed to be.
It had the makings of a fun story, Sutherland thought. She wrote a short essay about her experience and submitted it to the New York Times' relationship column, "Modern Love," via e-mail. "There's not a lot that's funny in the New York Times," she says. "I thought the humor would either kill the piece or make it rise to the top."
What she never expected was to become an Internet sensation after the Times published her essay. Sutherland's piece hit a nerve, eventually becoming the most viewed and e-mailed Times story of 2006. And it led directly to her latest book, What Shamu Taught Me About Life, Love, and Marriage: Lessons for People from Animals and Their Trainers (Random House, 2008), an engaging mix of memoir, self-help and animal psychology that manages to be both laugh-out-loud funny and deeply moving.
Sutherland is a tall, slim woman with a straightforward manner and self-deprecating sense of humor; as a writer, she's accustomed to observing, not being the object of observation. But she's taken her success — and media appearances — in stride, grateful to the wives, husbands and parents across the country who found inspiration from her insights about animal training.
"You have to be very simple and direct with an animal," Sutherland says. "The trainers boil it down to the basics. The techniques weren't anything I hadn't heard before, but they got through in a new way." Advice such as "be nice to your spouse" may have seemed obvious in retrospect, but it was only after seeing those lessons enacted with animals that Sutherland felt inspired to make real, lasting changes.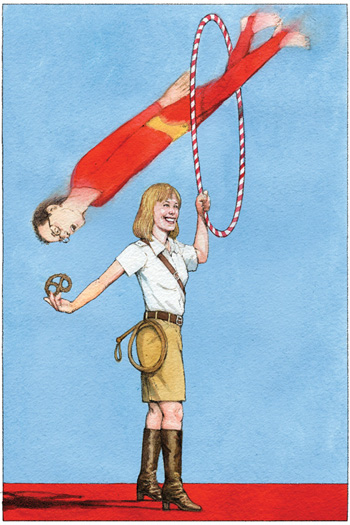 Although Sutherland never expected her animal-training research to affect her personal life, this isn't the first time she's found her life transformed by a new, captivating experience. After serving as the editor of her high school paper in Cincinnati, she entered the University of Wisconsin–Madison, intending to major in journalism. Then she signed up for a study abroad program in France. "I really loved Paris, and I had a little trouble coming home," she laughs. Sutherland worked as an au pair and then tried to find another part-time job, unsuccessfully. She finally ran out of money and had to go home.
By the time she returned to the States, however, she had missed the start of classes at Madison. She switched to the University of Cincinnati and changed her major to art history. "It was a way to keep Europe alive for me," she says. And it turned out to be good training for her future career: "It's a really good degree for a writer," she says. "You learn a visual language, how to look at something and describe it."
She worked for a few years as a freelance art critic, waiting tables to pay the bills, before deciding to "speed up" her career by applying to the Medill School of Journalism for a master's degree in journalism. Asked about her favorite classes, she smiles and says "Everything!" Somewhat to her surprise, she enjoyed the nitty-gritty of reporting: covering Evanston City Council meetings and Chicago's Department of Education. "I found I had a capacity to work that I didn't know I had," she says.
Inspired by the "great old-school newspaper reporters" who had been her professors at Medill, she decided to follow the same career path, going on to jobs at the Burlington Free-Press in Vermont and the Portland Press-Herald in Maine. Along the way she met and married her husband, Scott Sutherland, a fellow journalist, and eventually they moved to Boston.
She also wrote her first book, Cookoff: Recipe Fever in America (Penguin Compass, 2003), an inside look at the competitive cooking circuit. A few years later, intrigued by animal training philosophies after adopting a new puppy, she ended up doing the research for Kicked, Bitten, and Scratched.
But nothing prepared her for the sudden glare of the media spotlight. Sutherland went out to buy the Times on the morning her column was published; when she got home, her husband greeted her with the words, "The BBC just called."
"The next week was insanity," she remembers, as requests for interviews from television media and magazines flooded in. "I was obsessed with my e-mail."
To capitalize on the attention — at the prodding of her agent — Sutherland also started working frantically on a new book proposal, the one that would become What Shamu Taught Me About Life, Love, and Marriage. The movie rights were sold, and writers from the Sex and the City TV series are currently working on a script (with Naomi Watts slated to star).
Again and again, Sutherland has been asked what her husband thinks about the book, given that he (and his shortcomings) are used to comic effect. "I have five or six different answers, depending on what kind of mood I'm in," she says. "If I'm feeling flip, I'll say, 'I stopped nagging and started bringing him beer and chips! Who could object to that?' If I'm feeling philosophical, I'll say, 'We're always training each other, whether we realize it or not.' "
Indeed, one of the main points of her book is that all human interaction is training to some degree. Nag incessantly, and the object of your nagging learns to block it out. Reward good behavior appropriately — by giving your spouse or child what they want and not what you think they want — and you reinforce that behavior.
Toward the end of the book Sutherland writes, "Trainers and their animals showed me how to look at the world anew." Though she has yet to decide on her next project, she doesn't think she's finished writing about animals. "The training school was a magical experience," she says. "For a year, people asked me, 'Do you want to walk the wolf? Hang out with a baboon?' I miss that. I'm ready to write about animals and not the animal named Amy Sutherland. I don't find myself nearly as interesting as I do the rest of the world."
Elizabeth Canning Blackwell (C90) is a freelance writer in Skokie, Ill. Since reporting this story she has begun using Sutherland's training techniques with her 2-year-old twin boys, whose behavior often resembles that of exotic animals.
Tell us what you think. If you have any questions or comments, please e-mail the editors at letters@northwestern.edu.