---
by Tim Warren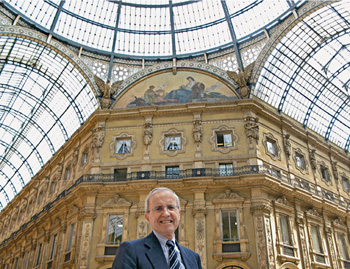 MILAN, Italy — Dan Peterson is a rock star.
He's an improbable one. Peterson is 73, with gray hair turning white, and he's got those wire-rimmed glasses that any average guy might wear. He's all of 5 feet 6, and if you were to see him on this fall night at a basketball arena in northern Italy, he'd look like somebody's grandfather: Here, son, take this 10-euro note and get us some drinks before the game, will you?
But Dan Peterson (SESP58) is "The Coach," a legend in European basketball and particularly in Italy, his adopted home. You win five Italian championships and a couple of European titles, plus become a television icon as a basketball commentator and much-imitated pitchman for Italian commercials, and you're not going to be just another guy in the stands.
Peterson has barely walked into the gym before he's besieged by well-wishers, some of whom remember watching his Olimpia Milano teams play; they won back-to-back European championships before he retired in 1987 for a life as a TV commentator and basketball columnist. Former players pop out to give him a hug, catch up on things. Coaches, both former and current, approach him reverently.
In the stands, people nudge each other. Some point excitedly. Others start intoning the punch line from one of his most popular commercials: "Mamma, butta la pasta!" (Mamma, throw on the pasta!) That commercial, along with one for Lipton Tea, can be viewed on YouTube, with this working-class kid from Evanston chattering away in Italian.
This is, surprisingly, one of Peterson's rare appearances at a Milano game since he retired more than two decades ago, when he capped off a glorious career in Italy with a championship team featuring Americans Bob McAdoo and Mike D'Antoni (now coach of the New York Knicks). "I thought it was best not to come to the games so people wouldn't compare me with the current coach or the team with my teams," Peterson says.
But there's more: The team he helped build into a European dynasty has struggled in recent years, and it pains him to see what it has become. The team's demise was apparent at this game against Efes Pilsen of Turkey. Milano, with several key players injured, played miserably.
After three quarters Peterson headed for the exits. Never shy about being in the limelight, he clearly enjoyed the attention he had received. But first and foremost he is a coach, and in the car he admits, "I've gotten to the point in my life where I just won't watch bad basketball."
Mostly, Peterson has taught Europeans for 3½ decades about good basketball. "Dan has influenced an entire generation of us about basketball," a young Italian basketball writer tells me later. "We are his children, so to speak." His impact has spread beyond the Italian border: In 2007 he was voted one of the 50 most influential figures in European basketball, and he was the only American among the 10 coaches named.
While still coaching in Italy, he started doing TV commentary on NBA games and then expanded his analysis to include European and Italian league games. Today Peterson's got a full schedule with the cable and satellite network Sport Italia. He generally does five NBA games a week, plus regular 15-minute segments on the NBA. He's cut back on running clinics but still writes frequently for newspapers and magazines.
Peterson says he always wanted to coach, noting wryly, "I figured out pretty early I wasn't good enough as a player." He has studied the game passionately for more than six decades, and his knowledge of coaches, both American and European, is encyclopedic. And what he has taught Europeans is what he grew up with and reveres still: the basketball of the Midwest.
"Growing up, I could watch Ray Meyer at DePaul," he says a few nights after the game over dinner at a seafood restaurant near his apartment in Milan. "You had Loyola and all those basketball doubleheaders at the [Chicago] Stadium. And in the Big Ten, there were top coaches at almost every school. For somebody such as myself, it was a great opportunity to study what they did and why."
(Even in announcing, Peterson has drawn on his roots — his trademark phrase "Butta la pasta!" was inspired by Bob Elson, the longtime Chicago White Sox play-by-play guy. "When the outcome was apparent, Elson used to say, 'Momma, put the coffee on the stove — this game's over,' " Peterson says. "I just stole it from him.")
Encouraged by Jack Burmaster, the legendary coach at Evanston Township High School, Peterson coached youth teams at the Evanston YMCA before getting a degree in education at Northwestern. "I loved Northwestern," he says. "I was very familiar with the campus, having grown up nearby. Plus Northwestern was in the Big Ten with all those other great basketball teams. I made a lot of lifelong friends there."
Peterson got his master's in sports administration at the University of Michigan, then spent a decade as an assistant or head coach at several colleges. In 1971 he decided to accept an offer to coach the Chilean national team as part of a two-year stint with the Peace Corps.
"I was at the University of Delaware, doing OK, but thought I wanted to do something different," Peterson says. "It was — and I loved it. I loved Chile and I loved coaching international basketball. But the political situation was pretty scary. [President Salvador Allende was killed and his government overthrown in a military coup in September 1973.] When it got to seeing bodies in the streets on a regular basis, I figured it was time to leave."
Through his coaching contacts in the States, he heard that a team in Bologna, Italy, was looking for an American coach. He left for Italy and never looked back.
"When I got to Italy, I didn't know all the answers," Peterson says. "I got my teeth kicked in a couple of times. The Italian coaches were great coaches, and I learned from them."
He says it took only a few years for him to decide Italy was where he would make his mark. Asked if he regrets not coming back to the States, he pauses for a moment.
"Sure, I would have liked to have coached in the NBA," he says. "But who knows? They know me well enough in the States."
He recounts the story of returning to the United States in 1986, after Milano had won its second straight Italian championship. In Los Angeles he ran into Pat Riley, who was then coach of the Los Angeles Lakers.
"Pat said, 'Dan, is that you? Did you win it again?'"
When Peterson allowed that he indeed had, Riley replied, "Damn — back to back."
Sitting back in his chair at the restaurant, Peterson gives a slight shrug and says, "You know something? If you do good work, people will recognize you. Believe me, I have no regrets."
Tim Warren is a freelance writer in Silver Spring, Md.
Tell us what you think. If you have any questions or comments, please e-mail the editors at letters@northwestern.edu.