---
by Walter Garschagen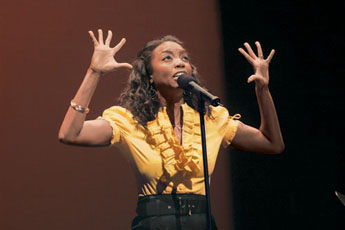 "Bring your dad! Bring your mama! Steve Colbert might bring Obama!" were the campy lines belted out by Broadway star Stephanie D'Abruzzo (C93) and television, film and stage actor Richard Kind (C78) during the opening number for the Northwestern Alumni Association's "A Night with Northwestern in New York: Expect the Unexpected" last March.
Obama (H06) didn't show up, and neither did Colbert (C86), but more than 640 alumni and friends of the University did. And they enjoyed a night of show-stopping performances put on by Northwestern's elite group of theater alumni.
D'Abruzzo and Kind were joined by well-known performers including Brian D'Arcy James (C90), the lead in the musical Shrek that is set to open on Broadway in December; opera singer and actor Mary Beth Peil (Mu62) from the show Sunday in the Park with George; and actor Sally Murphy (GMu84), featured in the Tony Award-winning show August: Osage County.
They performed for a nearly packed house at the Hudson Theatre in midtown Manhattan. With a significant turnout from the under-30 set, it became the biggest audience for a Northwestern event in New York in recent history.
Sprinkled with surprise performances, unannounced guests and original pieces, the event, directed by Jen Bender (C01), resident director of Broadway's The Lion King, showcased the full range of talent among Northwestern alumni working onstage or onscreen. Attendees experienced musical numbers, comedic performances and video segments by some of the best in the business.
"It's hard to imagine a more original lineup," Sarah Pearson, vice president of the Office of Alumni Relations and Development, said of the performance. "We're quite unique in this set of strengths, and the event was a celebration of the contribution Northwestern alumni are making to Broadway and the region."
Tony Award-winning actress (for her role in Aida in 2000) and Grammy nominee Heather Headley (C97) closed out the night with a surprise performance of "Mine" from The Legend of Stagecoach Mary, a new musical developed by alumni Curtis Moore (Mu95) and Thomas Mizer (C93).
After the show alumni and performers reunited and reminisced in a celebration on the upper floor of Planet Hollywood in Times Square.