About the GCAA®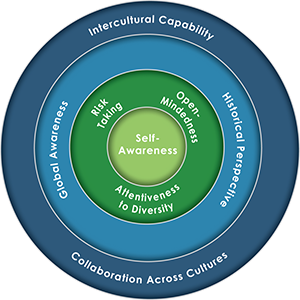 The GCAA® objectively measures the cultural knowledge, interpersonal skills, attitudes, and self-awareness that are critical for global readiness.
It evaluates individuals who work with international constituents and who
interact with diverse populations and is used for personal development purposes relating to global workforce demand and global citizenship. GCAA® assesses both
Internal Readiness
(self-awareness and attitudes) and
External Readiness
(cultural knowledge and interpersonal skills).
What to Expect
You will take the assessment at your own leisure and pace.
You will then meet for a 60-minute small group debrief session with our certified facilitators, Jennifer Gerrard and Janka Pieper, to discuss your results and jointly explore ways to improve your readiness as needed and continue your intercultural learning journey.
For Fall Quarter 2022, we have three session dates available:
Thursday, Dec 1 | 11am-12pm
Thursday, Dec 8 | 11am-12pm
Thursday, Dec 15 | 11am-12pm
If you are interested in signing up for one of the three "Global Readiness Assessment" sessions, please fill out this form by Friday, November 18.
*The assessment and debrief sessions are intended for Northwestern staff members, who have already participated in one of the Navigating Global Workshops. If you haven't been able to join one of them but would still like to participate in a Global Readiness Assessment session, please email the facilitators, Jennifer Gerrard or Janka Pieper.