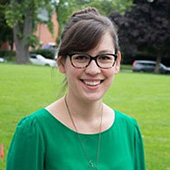 Mel earned her bachelor's degree in Anthropology from the University of California, Irvine, in 2008. After graduating, she worked at UC Irvine for two years in housing/visitor services. She then moved halfway across the country with her cat to pursue a master's degree in Higher Education, which she received from Loyola University Chicago in 2012.
During graduate school, Mel worked in both student conduct and academic advising, and while doing so realized how much she enjoys helping students succeed in college and work toward pursuing their goals.
In case you were wondering, her favorite animal is a hippopotamus. She's not sure why. Most of the things Mel does in her spare time are related to food; she writes a food blog, cooks and bakes regularly, and enjoys exploring the food options in Chicago's many unique neighborhoods.