Serious Play
Our team engaged with Dean of the School of Communication, E. Patrick Johnson, and his team to review and refresh the overall marketing and communication strategy for his school. Our team did extensive in-person and digital research to develop a new integrated marketing and communications platform, including a fully redesigned website and a refreshed alumni magazine.
Communications Platform
We created a comprehensive communications platform and positioning statement to bring consistency, clarity and specificity to all SoC marketing and communications efforts.
As Dean Johnson put it in his introductory note to the SoC community:
We're excited about our new identity as a School. We've identified the factors that make our SoC a leader in the communication arts and sciences and leveraged them to better communicate our unique approach.
We distilled this into two simple but powerful words: Serious Play.
And we have punctuated these words with a defining statement:  
The Northwestern School of Communication is a lab for artistry, expression, and experimentation.
 Performing at the highest levels, in a lab or on the stage, means hard work, training, critique, rigor. Everything we do is an experiment. The freedom to try, to stumble, to fall, and then joyously rise again is essential to all learning and growth. Our serious yet playful collaborations, research, and scholarship create profound impact in the real world.
Website
We created a fully redesigned digital experience that weaves the key storytelling themes throughout the site that convey a clear, unified voice, showcase the school's unique strengths and align with the communications platform.
We created more visual multimedia and interactive features to engage site users. We also improved the presentation of SoC faculty with enhanced bio pages and robust directory. All while improving navigation and access to information through architecture improvements, new page layouts and search engine optimization.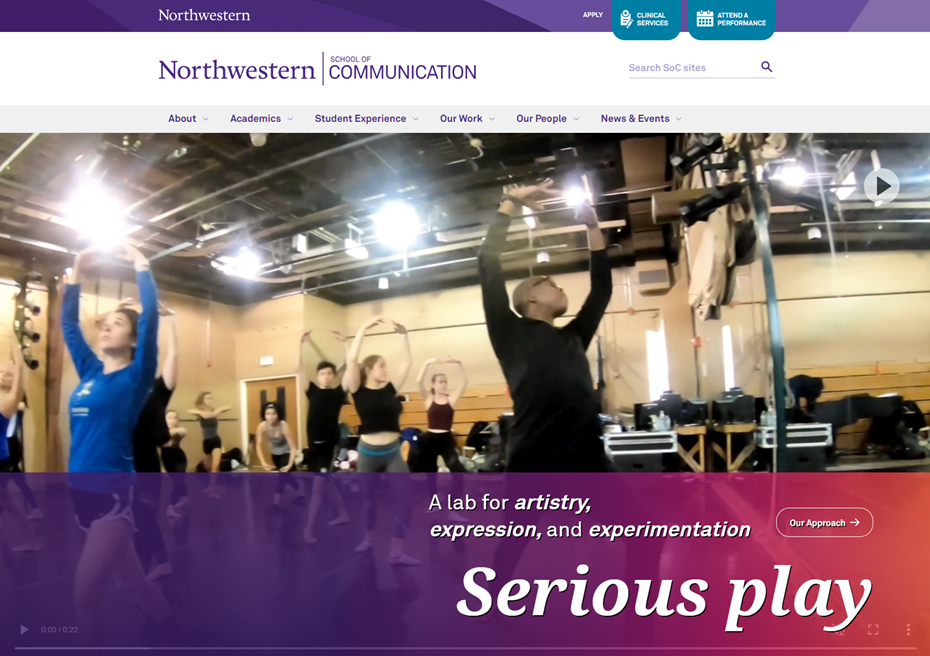 Print: refreshing Dialogue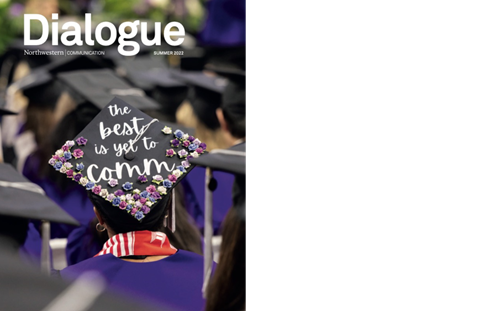 Our team helped the school's alumni magazine, Dialogue, embrace a new, contemporary identity and reflect one School of Communication.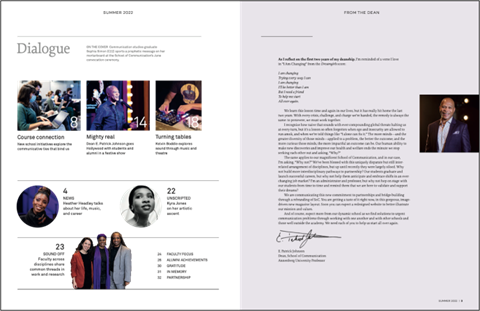 The redesign includes a more image-driven layout with more photo spreads, white space and graphics. Previous "walls of text" are now shorter features, a news brief "ticker," and varied, easily read storytelling formats.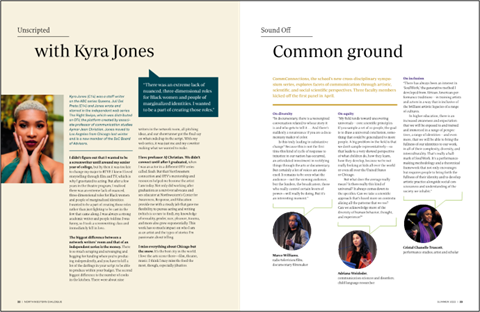 The concept of "Serious Play" is exemplified by faculty, students and alumni with increased student and alumni representation.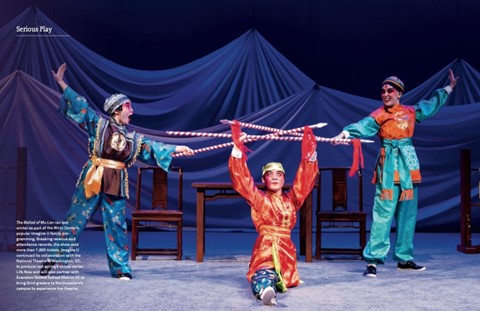 Video
Results
Dean E. Patrick Johnson on DEI in academia
Northwestern School of Communication (SoC) Dean E. Patrick Johnson wrote a Leadership Note sharing his thoughts on progress made—and how far we have to go—on diversity, equity and inclusion in academic communities. OGMC promoted the piece across all channels, including a co-post on Instagram with SoC. Altogether, the posts reached 134.1K and had 1.8K engagements.