Querrey InQbation Lab
Northwestern received a transformative gift from Kimberly K. Querrey ('22, '23 P), chair of the Innovation and Entrepreneurship Committee of Northwestern's Board of Trustees, to create a dedicated space on campus for technology transfer and start up accelerator. The space is a home for Northwestern's highly entrepreneurial faculty to contribute to innovation through commercialization of sophisticated scientific discoveries as well as to bring economic growth and opportunities to the Evanston and Chicago communities.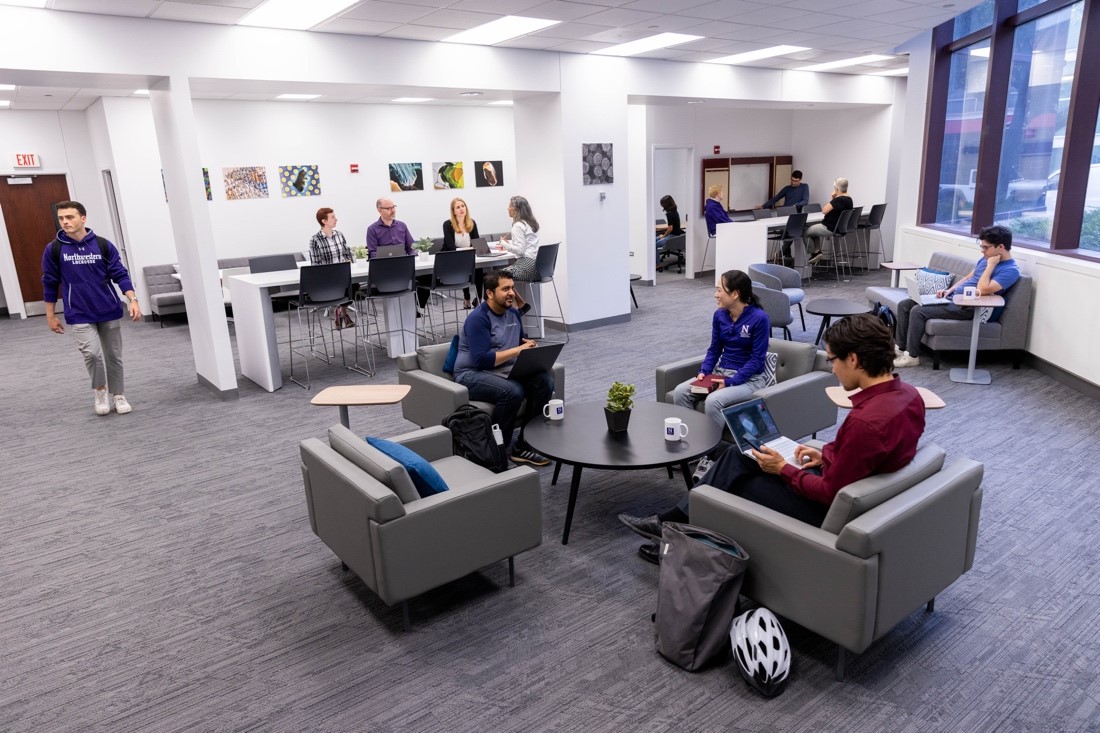 Naming
Our team met with stakeholders across the University to develop not just a memorable and ownable name, but a full communications platform including a distinctive look and feel, and a unique visual hook.

Colloquially, the space may be referred to as "The InQbation Lab," "The Q Lab" or simply "the Q."
Platform
Our team created a positioning statement and theme line to bring consistency, clarity and specificity to all InQbation Lab communications:
The Q in our name stands for Querrey thanks to Kimberly Querrey's vision and support. The Q also stands for the critical questions we explore here, in our quest to advance science and improve health. In fact, the letter Q does not appear on the periodic table of elements – symbolizing our pursuit of the unknown. Finally, Q is for inQbation – where ideas, companies, people and products are incubated and accelerated. The Querrey InQbation Lab is
where Questions become solutions.
Design
In addition, our team developed a range of assets including social media lockups, environmental designs, custom animations and more.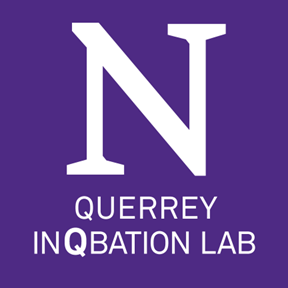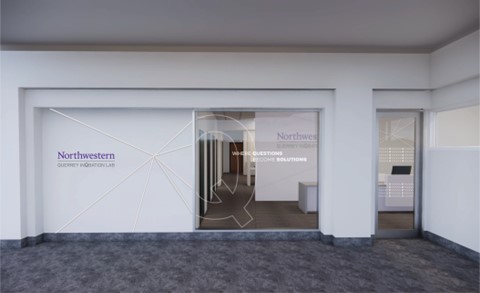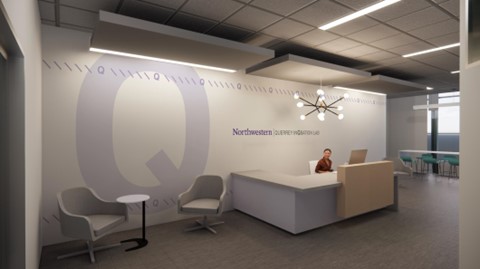 Digital
Our team worked to create a new website that would clearly define the Q Lab's purpose and convey its strengths as an incubation space. The team also worked to design a visually innovative product that could distinguish the InQbation lab from its peers.
Highlights of the site include the home page, which includes a brief hero animation using the platform to define the lab, as well as in an interactive scroller highlighting its resident teams. Other custom graphics showcased the Q Lab's space, Evanston location and resources to the community.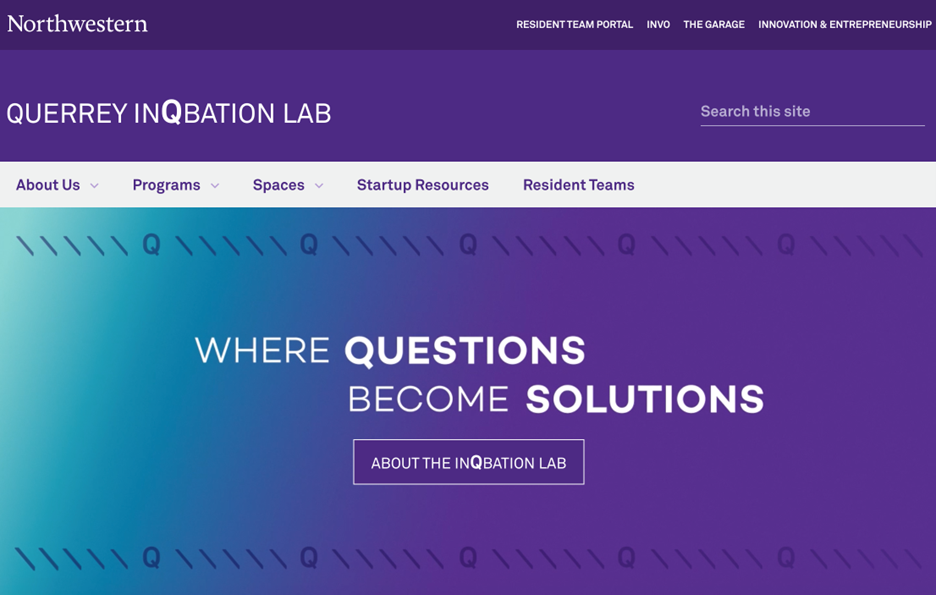 Hero Animation:
Media
Our team crafted a detailed news story and a press release about the accelerator and those who helped bring it to life, as well as the impact it will have on faculty work and research. The release featured interviews with Illinois government officials, donors and researchers who will work in the new space. We also created a press kit including images of the new space for journalists to use.
We also pitched the story to high-profile local and business outlets, who highlighted Northwestern's impact on the innovative spirit of Chicago. Top mentions include the Chicago Tribune.
WBBM radio broadcasts
Social Media
Gift:
On August 19, 2021, Northwestern announced plans for a multimillion-dollar technology accelerator in downtown Evanston. Our team shared the news on Facebook, LinkedIn and Twitter.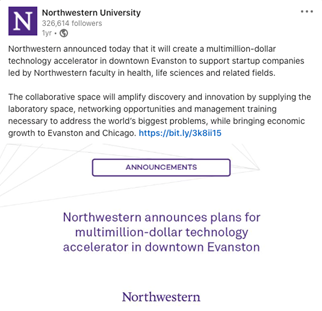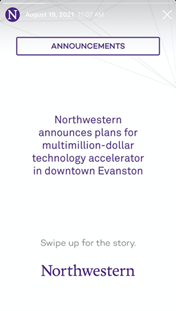 Naming:
Northwestern announced the naming of the Querrey InQbation Lab, and our team shared the news on Facebook, LinkedIn and Twitter.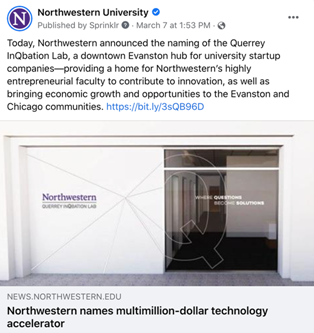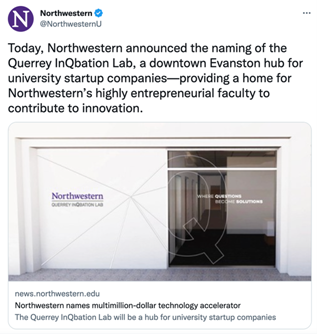 Results
Gift:
3800 UPVs for NN story
Altogether, the posts reached 163.7K and had 1.7K engagements.
Naming:
Across social channels, the posts reached 137.4K and received 615 engagements.
1954 UPVs for NN story