Prison Education
NPEP is the only degree-granting program in the state providing a full liberal arts curriculum—humanities, fine arts, social sciences, and STEM courses—to incarcerated students in Illinois. Our team produced a Northwestern Magazine feature story, award-winning short documentary film, and generated positive media coverage.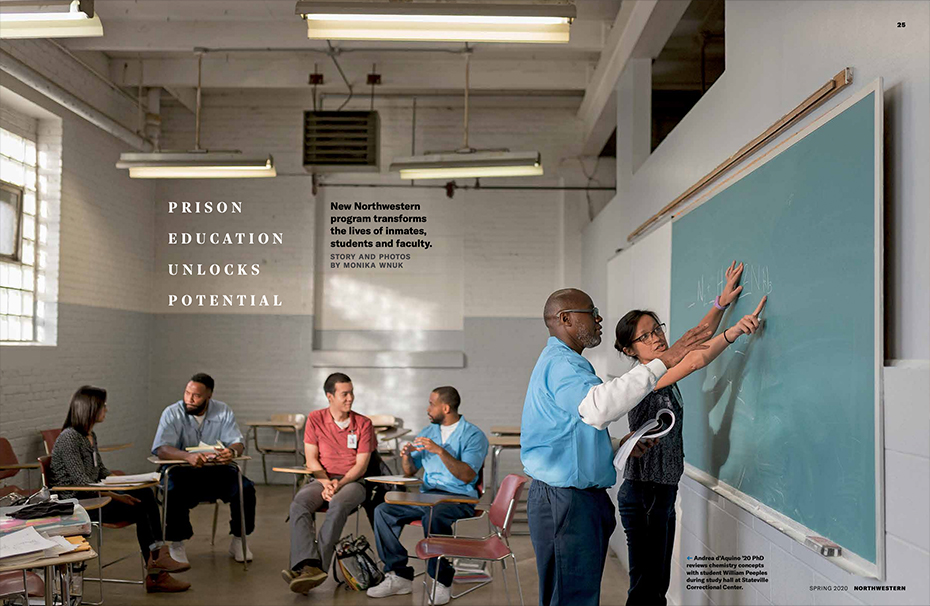 Video
This film was largely shot in one day inside Stateville Correctional Center, a maximum-security prison in Crest Hill, IL, near Chicago. The primary goal of the film was to allow people in the outside world to hear from, and see, our incarcerated students. 
PSA
We internally reedited the video with a new message to fit with our overall "Take a Northwestern Direction" campaign and used it as part of our rotation of PSAs on the Big Ten Network during televised Northwestern athletic events in 2021-22. The PSA also included a custom URL to encourage exploration of the digital feature story on the magazine site.
Media Outreach
Our team has produced two news release and interactive press kit, including b-roll, photos and video. These assets were used by many media outlets including WBEZ Chicago and WTTW Chicago.
Media Coverage
Northwestern's incarcerated students are among our most vulnerable community members. The media team has worked closely with NPEP as well as our communications partners at the Illinois Department of Corrections to thoughtfully facilitate media visits to the prisons so the students in our program can tell their own stories. An example of this is the story featured by The 19th about the expansion of the program to Logan women's prison.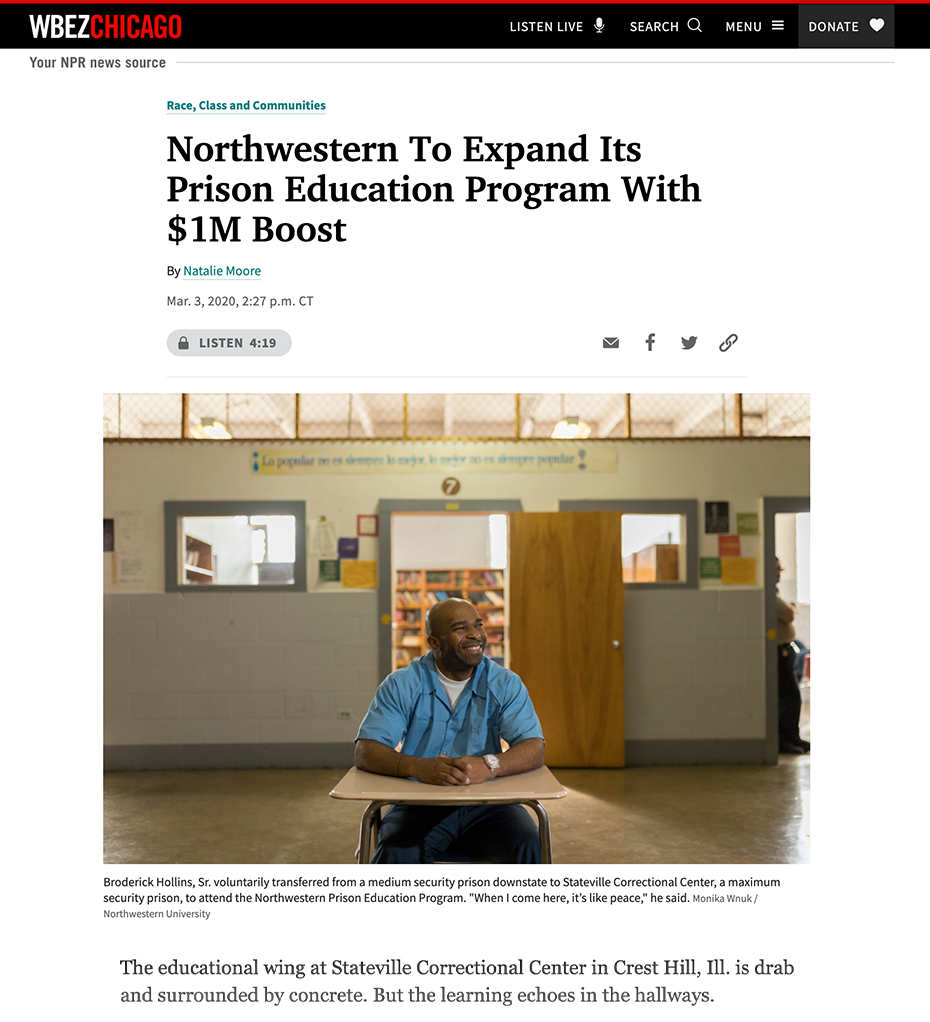 Additional Coverage:
Social Media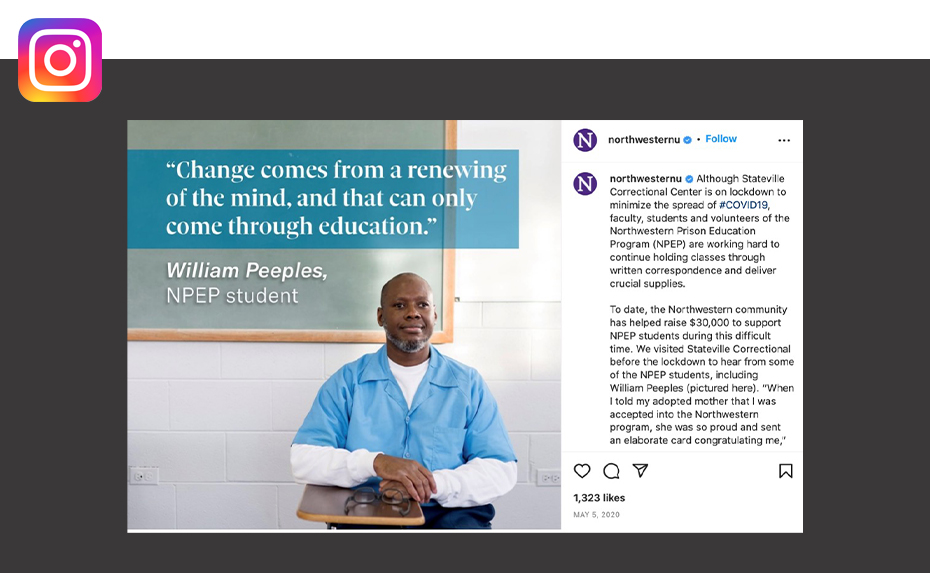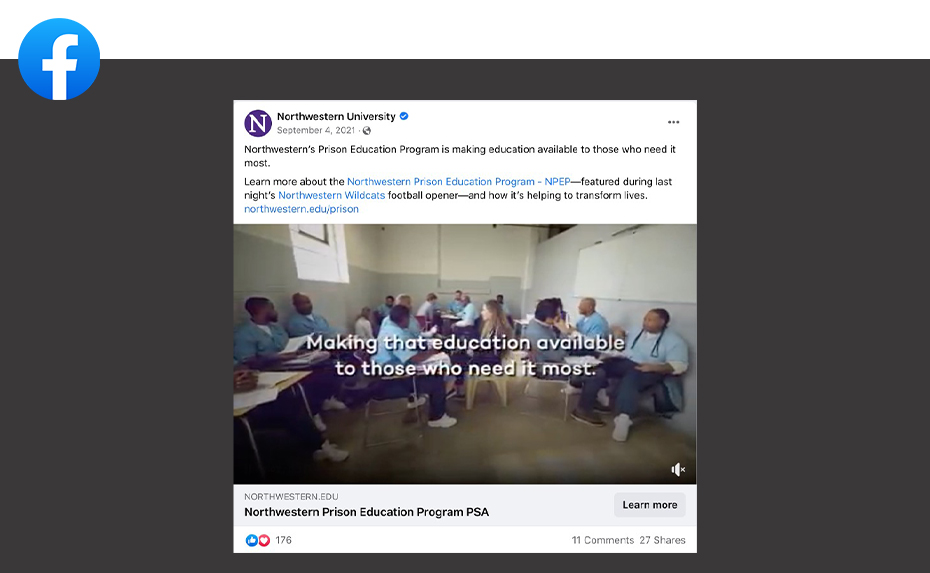 Results
A comprehensive social media campaign to promote the magazine feature story included outreach to a carefully curated group of thought leaders, organizations, and relevant partners, all of which drove a reach of nearly 900K on Twitter alone. 12K impressions and a 3.13% click-through rate on Instagram stories were both above benchmark. Among those who shared, top influencers included State's Attorney Kim Foxx (11K followers), Vera Institute (53K followers), Chicago Humanities (12K followers), and Profs. Laura Nirider (55K followers) and Steve Drizen (22K followers). 
And while driving traffic was not the goal of the broadcast PSA, our team set up a custom URL for viewers interested in learning more. The first weekend the PSA aired, it drove 818 redirect hits. During our football and basketball seasons on BTN, the URL garnered 1,672 hits overall. In its first year of publication the feature story on the magazine site received more than 7k UPVs with nearly a 4:00 average time on page. 
The mini documentary premiered at a staged reading of plays written by NPEP students produced by The Goodman Theater in Chicago. Following that high-profile public premiere, it now complements the digital version of the magazine feature, and serves as an introduction video for NPEP on their site. Prof. Lackey uses the film for outreach, fundraising and awareness purposes.
In 2021 the mini documentary won the Grand Gold Award for Video, the highest award from The Council for Advancement and Support of Education (CASE), the global nonprofit association dedicated to educational advancement professionals.