Priya J Harjani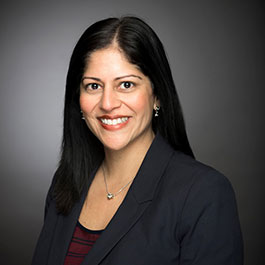 Priya J. Harjani joined Northwestern University's Office of General Counsel in 2004 and currently is the Associate Vice President & Deputy General Counsel. She has previously held the positions of Assistant General Counsel, Associate General Counsel and Senior Associate General Counsel. Prior to joining the Office of General Counsel, Ms. Harjani was an attorney at a large law firm in Chicago, where she concentrated in commercial litigation.
Ms. Harjani received her undergraduate degree from the University of Illinois at Urbana-Champaign, where she double-majored in Psychology and Speech Communication and graduated Summa Cum Laude. She received her law degree from Northwestern University Pritzker School of Law. She is licensed to practice in Illinois and the District of Columbia.
Ms. Harjani's principal areas of responsibility in the Office of General Counsel are labor and employment counseling and litigation matters. Ms. Harjani also advises on a variety of other issues, including union matters, community relations, regulatory and compliance matters and athletic-related issues. She is a member of the National Association of College and University Attorneys (NACUA) and teaches a graduate level course titled "Law and Ethics" in Northwestern University's School of Education and Social Policy.
---
Priya J. Harjani
Associate Vice President & Deputy General Counsel
p-harjani@northwestern.edu

---
Jennifer A. Sotak
Administrative Assistant
jennifer.sotak@northwestern.edu
847-467-1373