Welcome to the website for One Book One Northwestern 2012-2013. This year's book, Never a City so Real, by Alex Kotlowitz provides an introduction to the city, but less as a tour of the place and more a chronicle of its soul. Through a collection of vignettes about Chicago's diverse people and neighborhoods, the book gives readers a much richer understanding of the city. Never a City so Real provides insight into Chicago's rich history and culture, while also touching on a wide variety of challenging issues such as neighborhood integration, politics, urban poverty, immigration, and public housing. Most of all, it brings to life the diverse people and neighborhoods that make this city so great.
Information about the 2013-2014 One Book selection can be found here.
Read. Reflect. Engage.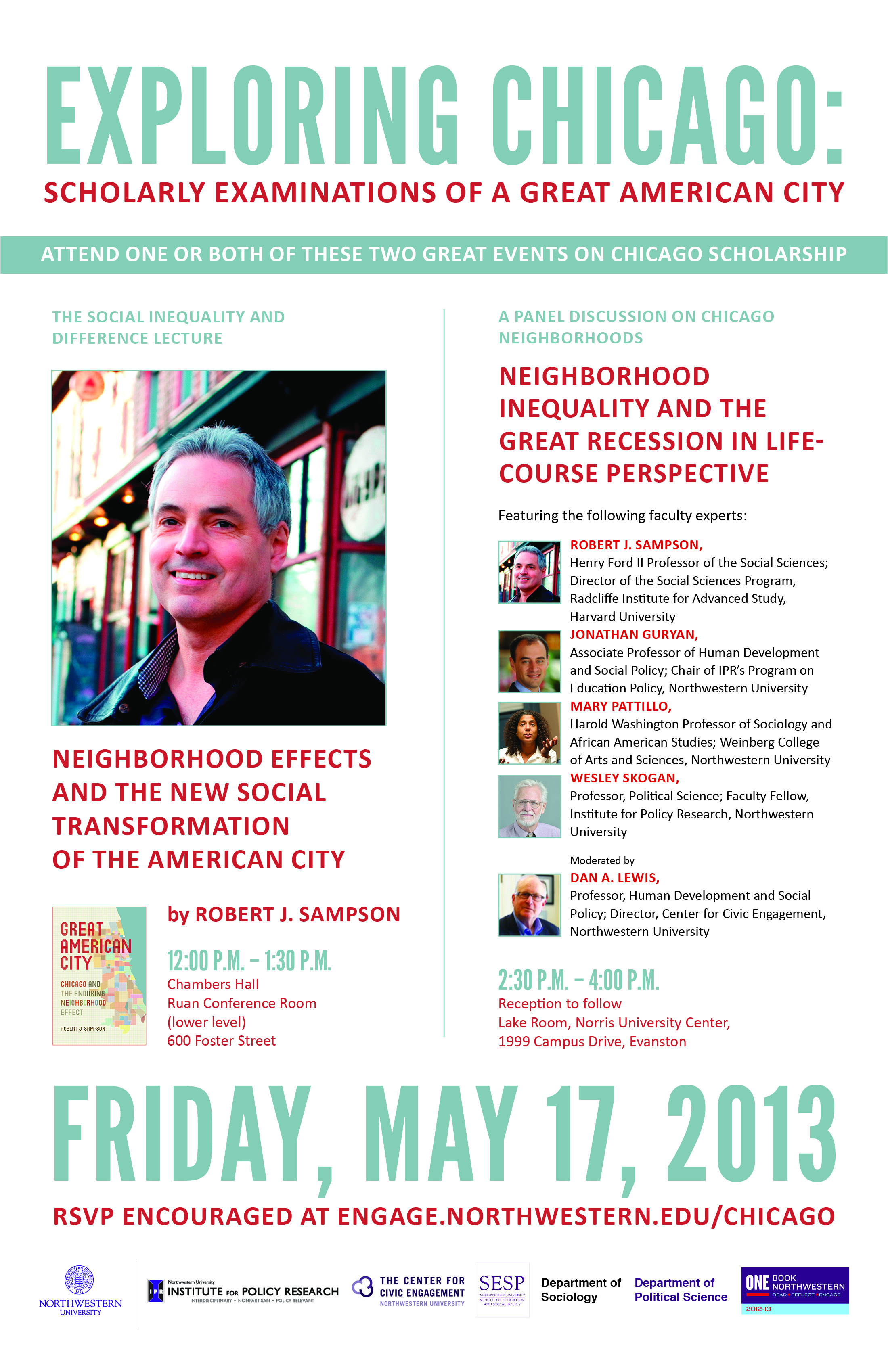 Robert Sampson -- Exploring Chicago: Scholarly Examinations of a Great American City

-Neighborhood Effects and the New Social Transformation of the American City
Friday, May 17th; 12:00 PM - 1:30 PM; 
-Neighborhood Inequality and the Great Recession in Life-Course Perspective Panel Discussion
Friday, May 17th; 2:30 PM - 4:00 PM;

More Information Here
RSVP here
-----
 Upcoming Events:
Stage Adaptation of Never a City So Real: 
Click Here to RSVP for Stage Adaptation

-----


Congratulations to our Photo Contest and Film Contest Winners! 
Photo Contest: 
1st Place: Joanna Rogowski
2nd Place: Crystal Kim
3rd Place: Kalina Silverman
**Photos can be seen in the top moving banner 
Film Contest: 
T-1st Place: Kaitlyn Laabs and Eryn Rogers
T-1st Place: Miranda Viglietti
2nd Place: Dan Tham, Ashley Gates and Yoonie Yang
3rd Place: Matt McDonald and Jack Foster
Videos of submissions can be found here.
Thank you to all who participated! 
Meet our Fellows
One Book Administration

Dan A. Lewis


Professor
Human Development/Social Policy
Director
Center for Civic Engagement 


Robert Donahue

Associate Director
Center For Civic Engagement 


Nancy Cunniff

Project Coordinator
One Book One Northwestern 
Become Involved
Recurring
| 7:30 PM - 9:00 PM
Recurring
| 7:00 PM - 9:00 PM
June 9, 2013
| 2:00 PM - 4:00 PM
Get the news