---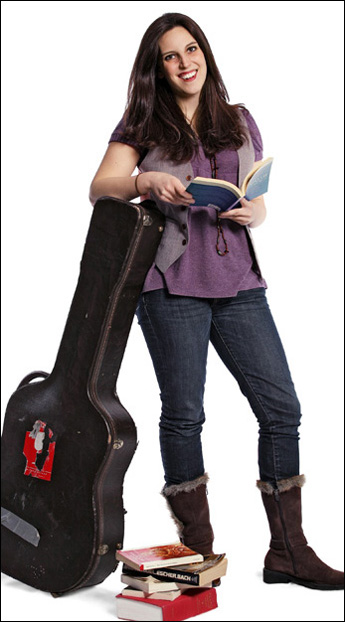 "Actively choose to work on who you want to be, not merely what you want to do. Because the 'what you're going to do' is just naturally going to follow."
That's a fitting mantra for a philosopher or a songwriter, and Amber North is both.
North, an aspiring philosophy professor, is an indie/folk rock singer-songwriter. She was just getting her music onto college radio stations when she started at Northwestern. She wrote and recorded her second album, No More Boxes, in July 2006, and her songs are available on iTunes.
North, from the Seattle suburb of Snohomish, Wash., says she takes her guitar with her wherever she goes — or she just finds one. The summer after freshman year, the philosophy and international studies major attended the Global Institute for Leadership and Civic Development program in Prague. There, surrounded by about 30 students from all around the world, North found a guitar in a closet, used a SIM card from a student's phone as a pick and started to play. For hours North's music created an atmosphere where students from opposite sides of the planet were able to connect. It was here she realized that music is a universal language.
But Prague wasn't enough. North wanted to explore the world, especially Vietnam because it was a country so deeply ingrained in U.S. cultural history. After winning the Freeman-Asia award, she traveled to Vietnam in the fall of her junior year with the School for International Training's Viet Nam: Culture and Development program. During her studies in Vietnam, North says, she finally accepted her love for philosophy.
"If I tell people I'm studying philosophy, there's kind of a laugh, and then there's a 'Well, what are you going to do with that one?'" she says. "It's something I struggled with through much of college. But then I realized that philosophy is the foundation for all the big questions we ask as individuals and as a society."
Living in Ho Chi Minh City and Hanoi, North realized that there is a practical side to philosophy: Everything from policy to national identity to scientific theory formation is rooted in philosophical principles. So in Vietnam she conducted independent research and wrote "The Scholarship of Vietnameseness," a paper on how the rewriting of Vietnamese national history is shaping youth identity. Her work, rooted in philosophy of history and critical theory, made her realize that even in Vietnam she was drawn to the philosophical questions.
Having embraced her love of philosophy, she spent last summer at the University of Colorado at Boulder's Summer Seminar in Philosophy, discussing the philosophy of science. In her senior year she wrote a thesis on how different ontological lenses affect our approach to scientific explanation.
In February she won a Gates Cambridge Scholarship, a full-tuition award for students already accepted into the University of Cambridge, where she'll study philosophy, with a concentration in philosophy of science. She was also named one of Glamour magazine's Top 10 College Women in 2007 for the success of her music and her work in philosophy.
In addition, North was one of 20 scholars nationally to win a 2007 Beinecke Scholarship for her work in analytic philosophy. The award provides an additional $34,000 for graduate study. She plans to use the scholarship to pursue a doctorate in philosophy and eventually become a professor. Along the way she'll continue to ask the big questions.
For now, North has her own philosophy on what's most important — the blessing of family and friends. "At the end of the day I learn much more from the people in my life than from all the complicated theory. They're the best source of 'meaning.' And I'll take that little truth with me to Cambridge."
— Steph Yiu (J08)
Photo by Andrew Campbell