Goodwind
Saxophone doctoral student Masahito "Mas" Sugihara blows away classical stereotypes with his eclectic, edgy musical style.
---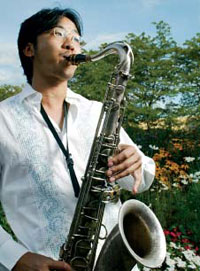 Photo by Kelvin Ma (J04)
It's 10 minutes to showtime before a recital at Chicago's Roosevelt University, and the sound system still isn't set up. The programs haven't arrived, and they're probably not going to. The audience will be coming through the door soon. What does saxophonist Masahito "Mas" Sugihara (GMu00) think about all this?
"I'm cool," he says. And he is. The 27-year-old Northwestern saxophone doctoral student is relaxed and unflappable as the big moment approaches.
"He defies the stereotype of a classical musician," says his friend Jan Berry (GMu98, 03), a Northwestern School of Music lecturer and coordinator of music opportunities for nonmusic majors. "He has the attributes of jazzers," blending great skill and dedication to music with a laid-back personal style.
At his winter 2004 recital, Sugihara played a series of daring modern pieces that required expert technique and no small amount of bravado. Long nights of work — "I practiced four to six hours a day for the first two years," he says — gave him the skill and confidence he needs. He became the first saxophonist in the United States to play French musician and composer Etienne Rolin's No Tenor Tech Out, a funk-oriented piece that had Sugihara playing along with a prerecorded track that used the sax as a drum. The climax of the recital was a performance of Hard, by contemporary composer Christian Lauba, a complex work that conjures an array of sounds ranging from metallic roars to hissing overtones. Sugihara ends the piece by pulling the horn away from his lips and screaming.
"Mas is a little bit more raw, on the edge," Berry says. "That's what gives him that exciting quality… You know that it's fresh."
Sugihara, who doubles as a lecturer, plans to teach after completing his doctorate in saxophone performance. He is also in his third year as an assistant master at Northwestern's Jones Fine and Performing Arts Residential College. His duties include organizing activities and advising the students, with whom he often dines. His sense of humor and relaxed nature make him popular with the students.
"As an instructor Mas adjusts his style according to his students," says sax performance and jazz studies student Matt Martin, a junior from Tucson. "He never talks down to his students. I believe that's one of the reasons why he is well-liked in the studio.
"Mas' popularity stems from his genuine nature. He's a good-natured person who is selfless, passionate and funny."
Like any good teacher, Sugihara is an excellent learner. His mother signed him up for piano lessons when he was 5, and he played the French horn in Japan before gravitating toward the sax. He also plays the recorder, bass guitar and medieval instruments, including the crumhorn, a curved double reed instrument. His newest challenge is the harmonica.
"Mas is an adventurous and very eclectic kind of person," explains Berry. "He loves to shock people, and that's excellent as a musician. He likes showpieces. He likes flair. And it certainly matches his personality."
Part of that personality has been shaped by travel. At age 16 Sugihara visited the United States as an exchange student at Harry S. Truman High School near Philadelphia. Intrigued by American jazz, he returned to Philadelphia to attend Temple University, where he studied the saxophone with a concentration in classical music.
His next stop was Northwestern. He came to study under Frederick Hemke, Louis and Elsie Snydacker Eckstein Professor of Music. After earning his master's in 2000, Sugihara returned to study with Hemke for a doctorate in saxophone performance.
This spring, Sugihara completed the qualifying exams for his doctorate, and he is now at work on a dissertation about the history of the saxophone in Japan, the origin of his musical talents.
Given his travels, it may be somewhat surprising that he plays with such a sense of time and place — here and now. There is an intense focus to his playing, and beyond his impressive technical skill lies an ability to get to the heart of a piece of music and find the power behind the notes.
"Mas," Berry says, "is an unpredictable and exciting performer. He can always guarantee a stellar performance."
— Marley Seaman (J04)
---