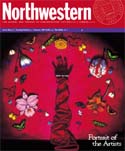 We'd Like to Hear from You
Northwestern welcomes letters from readers. We reserve the right to edit for space and style. Send
letters to
Northwestern
1800 Sheridan Road
Evanston, IL 60208
Fax: 847-491-3040
E-mail:
letters@northwestern.edu
Touché

---
The [summer 2001] issue of Northwestern with the article on fencing ["A Nice Touch"] was very nice, but I would like to make a correction. My late husband, Henry Zettelman (M31, GM32), started the first fencing team at Northwestern in 1926, way before the current team began. In fact, he was appointed coach of fencing in 1930. He had fenced at Nicholas Senn High School in Chicago and was an alternate to the Olympic fencing team. Northwestern's team was quite successful, winning many meets in the Big Ten Conference.
Elsa Oldberg Zettelman (WCAS28)
Sun City, Ariz.
Send in the Clowns

---
What a nice surprise to see an article about the Northwestern circus ["The Greatest Show on Campus," News on Campus, summer 2001]. Surprise because so seldom is there any mention of that era. I should add that I won first prize as a clown in the 1931 event.
Elaine Geidell Aschenbrener (WCAS33)
Pasadena, Calif.
Sophisticated Gentleman

---
The closeup ["Sophisticated Lady," summer 2001] of Kathryn McDonald Wimp (Mu42, GMu43) — who sang as Kay Davis for that musical genius, Duke Ellington — brought to mind what was a glorious musical happening sometime between 1948 and 1950. I was a graduate student at the University of Minnesota and was totally involved with my studies, trying to get a doctorate in two years. I simply shut out all outside diversions, but a Duke Ellington concert I just could not miss — my favorite orchestra since the late 1920s. So I was there thoroughly enjoying the concert or, as we used to say, "really digging it." I had never heard of Kay Davis. Then came Creole Love Call and her sound. It was totally unexpected, it was beautiful, it was spectacular. Thanks to Kay Davis and Duke Ellington for the most wonderful musical surprise of my life.
Stan Jacobs (WCAS36)
Niles, Ill.
In Memoriam
---
I was saddened to read of the death of one of my favorite professors, Robert Wiebe [News on Campus, summer 2001]. He was an eminent historian and commanding lecturer, but beyond that, he prompted us to challenge our as-sumptions. I will always remember how he strayed from his History of U.S. Social Structure syllabus in spring 1966 for a whole 50-minute class — unheard of at the time — to awaken us early to the atrocity in Vietnam. When the final exam failed to arrive, he simply grabbed a stick of chalk to pose the question "What is U.S. social structure?" Scribbling in our bluebooks for a mere two hours, we were able to tear apart the conventional wisdom that ours was a classless society.
Karen Kraus Cohen (WCAS67)
Walnut Creek, Calif.
Still Searching for a Cure

---
Thanks so much for the closeup ["Searching for a Cure," summer 2001] on the Parseghian family and Niemann-Pick Type C disease. Cindy Parseghian (KGSM81) received a call from Ira Sutow (J68), producer of the television show 48 Hours. He had read about the Parseghian family in Northwestern, and he may do a feature on the family for the show. We'll never know all the residuals from your article, but I'm sure there will be many, all of which may help in the battle against NP-C.
Glen Shepherd
Executive director
Ara Parseghian Medical Research Foundation
Tucson
Ultimate Victories

---
I enjoyed the article on Randy Walker ["Sky Walker," summer 2001]. Let's not forget that he's the second coach from Miami of Ohio to bring a team to Northwestern and defeat the Wildcats (in 1995) and then become Wildcat coach (in 1999). It just took him a little longer than Ara Parseghian, who got the job in 1956, a year following his victory over the team.
John F. Stewart
Chicago
More on MOCS and WOCS

---
Thanks for recognizing the Men Off Campus and Women Off Campus [in "MOCs & WOCs," spring 2001]. This commendation is conveyed by a Chicago-area MOC alumni group from the classes of 1949 to 1954 that was organized last year coincident with the class of '50 reunion. We meet quarterly for fun and fellowship. And we are planning another MOC reunion for June 22, 2002, during Commencement weekend. For more information contact me at 815-363-0441 or at longmel@hotmail.com.
Mel Long (EB50)
McHenry, Ill.