Thursday, April 29
Today's tip: We're celebrating the Class of 2021. If you're a grad-to-be, complete our brief survey for a chance to be highlighted on the Northwestern Magazine website and Northwestern social media channels.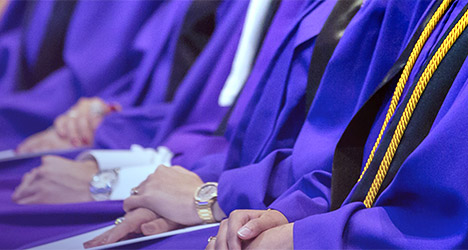 NU-Q
Northwestern Qatar graduation events May 2 & 3
Northwestern University in Qatar will celebrate the classes of 2020 and 2021 in separate events on Sunday and Monday. Both ceremonies will be virtual and broadcast on YouTube.
Faculty Accolades
Three elected to the National Academy of Sciences
Three faculty members in the Weinberg College of Arts and Sciences — psychologist Dedre Gentner, biological anthropologist Thomas McDade and chemist Michael R. Wasielewski — have been elected to the National Academy of Sciences, one of the highest honors given to a scientist in the United States.
Other News
• Golub Capital has given $3.5 million to sponsor Kellogg's Board Fellows Program and create a second Golub Capital Social Impact Lab.
• Through its Idea Incubation Process, Northwestern Buffett will support several research projects that bring together faculty from across disciplines and borders to address global challenges.
• The annual TEACHx symposium returns May 11-13 to highlight innovative experiments in remote teaching and learning at Northwestern.
On April 25 and 26, the Bienen School of Music presented its first live, in-person performances in more than a year with the world premiere of "Eclipse," a work designed to be performed in a socially distanced setting under a full moon. Photo by Shane Collins