My Tribute to Kenneth D. Hutchinson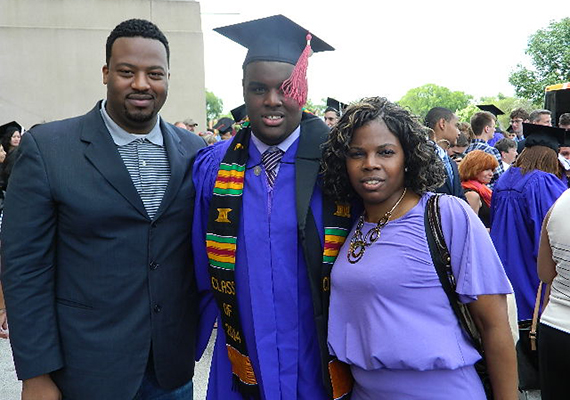 From left, Kenneth Hutchinson, Deontae Moore and Moore's mother, Rhonda, at Commencement in 2014.
I met Kenneth Hutchinson when Urban Prep Charter Academy was conducting its first Northwestern sightseeing day for its students. We got a chance to tour the University and hear from current students on what campus life was like.
Hutchinson, who at the time worked in the admission department for NU, helped orchestrate this visit and made us feel welcome on campus. A few months later, we learned that Hutchinson would be the college counselor for UP. I didn't know it back then, but Hutchinson was going to play a pivotal role in my future success.
When the news broke that Hutchinson had passed away unexpectedly on Oct. 18, I went blank. I had to drop the work I was doing and go to a quiet room to cope with the loss. Hutchison was not only my college counselor from Urban Prep, he was also my role model. He was a man who was not afraid to live by faith, he was a wonderful father to his four kids, and he was a great husband.
Hutchinson was the type of person who would always put others before himself. He took not just myself, but 883 other young, black men from poor and low-income households under his wings. He would go above and beyond to ensure our academic achievement.
Hutchinson was witty, but he loved deeply. I can recall the day I told him I wanted to go Northwestern, as I knew this sort of news would make his day. He smiled and jokingly said I wasn't going to get in. From there, he made sure he did everything in his power to get me into the University. He committed hours of his personal time to working with me to polish my early decision application for NU. And as you probably know already, it paid off.
Hutchinson was about 6-foot-3 and weighed about 275 pounds. Because I favor him in the looks department, I've been called by his name from time to time. That wasn't the only resemblance — I was following in his footsteps by going to NU.
When things got rough academically for me at NU, Hutchinson came to campus to bring me back to life. Much was on the line for me, and I certainly didn't want to disappoint him by failing. It was his consistent checking up that kept me going — even when I didn't feel I could complete the task at hand. He reminded me that if he — a guy who grew up in the Chicago's roughest South Side community, Englewood — could do it, I could do the same. And I did!
After I graduated from NU, I made it a mission to pay him back with success. I looked up to him in more ways than one. Although he is no longer with us, I'm still going to push forward with my mission in his honor.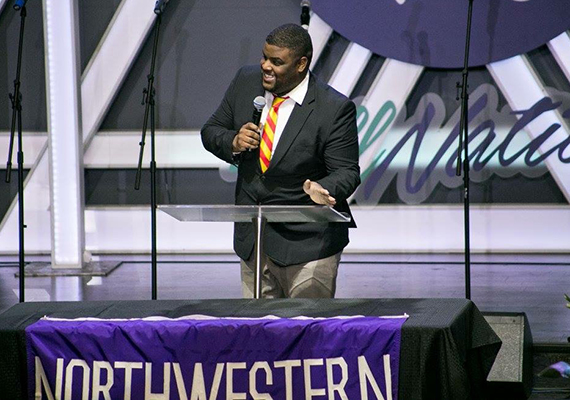 Deontae Moore delivers a eulogy at Kenneth Hutchinson's funeral.
Tell us what you think of the magazine in a short online survey by Jan. 31, and you'll be entered to win an iPad.
E-mail comments or questions to the editors at letters@northwestern.edu.