Welcome to the DOJO
Story Tools
Share this story
Four engineering majors have built a community for expression.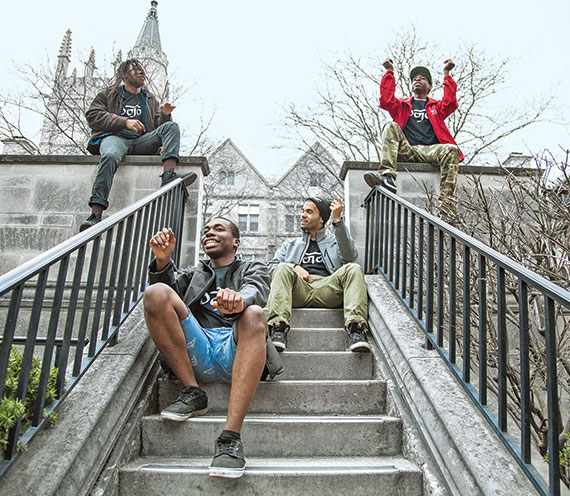 From left, DOJO founders Bomani McClendon, Steven Layne, Michael Martinez and Randall Harris. Photo by Mikhail Tsirtsan '15/North by Northwestern.
Do you rap or write poetry? Do you play an instrument or sing? If yes, or even if no, the people at DOJO want you to stop by.
DOJO is an "expression collective," an inclusive community that brings students together from across campus to speak their minds through rhyme, verse and music. Their occasional freestyle and jam sessions at Norris University Center often draw 40 people or more. You don't need any musical experience or talent, but if you show up, you're encouraged to participate. DOJO stands for Don't Only Just Observe.
The group was founded two years ago by juniors Randall Harris, Steven Layne, Michael Martinez and Bomani McClendon, four engineering majors who became friends during their freshman year through a mutual love of hip-hop and freestyle rap. That friendship blossomed into DOJO, which now has more than 50 members.
"We wanted to build a community around music and expression, a place that is open and friendly, where you can meet other people and bond," says Layne, a computer -science major from near Fort Myers, Fla. This year the group has hosted open mic nights where participants sing, read poetry, perform music or even beatbox. The group also runs on-campus workshops to teach the basics of music production software such as Ableton.
Beyond Northwestern, DOJO has created programming and workshops at Evanston Township High School for Youth & Opportunity United and will soon begin working with McGaw YMCA on programs for middle school–aged students.
Students at the University of Texas at Austin and other colleges have reached out for advice on creating a similar space for self-expression on their campuses. "We haven't finished building the community," Layne says.