The Secret of Vivian Maier
Story Tools
Share this story
Northwestern professor Pamela Bannos explores the legacy of a famed and mysterious street photographer.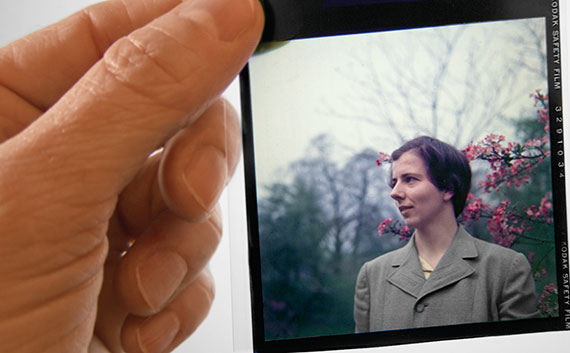 Pamela Bannos holds a vintage transparency from the Ron Slattery Collection. The image shows Vivian Maier in Central Park on April 22, 1955.
Art theory and practice professor and photography expert Pamela Bannos is working on a book that she hopes will unravel the mystery surrounding the prolific and enigmatic artist Vivian Maier. While working as a nanny in New York and on Chicago's North Shore, Maier shot more than 100,000 photos documenting life in the mid-20th century. Despite her talent behind the camera, she never showed anyone the images, and her genius went unnoticed for decades. She died in 2009.
Real estate agent John Maloof bought some of her work after the contents of five derelict storage lockers were sold at an auction in 2007. The units contained boxes of negatives and rolls of undeveloped film. Maloof went on to make a documentary on Maier. In the film, the families who hired Maier as a nanny described her as eccentric and reclusive.
But for Bannos, this didn't tell the whole story. In her eyes, Maier was first and foremost an artist, one whose legacy was crafted by people who barely knew her.
"She was a photographer before she was a nanny," Bannos says. "The people who have gotten to speak for her [in the documentary] are exactly the people she chose not to share herself with, which I think is a disservice."
With her book, Bannos hopes to give Maier a voice, explaining and demystifying her life by examining her photos and studying genealogical records and other documents. She also hopes to examine what happened to Maier's legacy after her death.
And for Bannos, that legacy is quite sad. Maier had an estranged brother, Charles. They were both born in New York City, but genealogists find no trace of Charles after the mid-1950s. After some detective work, Bannos found that he had died in the 1970s in a New Jersey psychiatric hospital. Because Maier left no known heirs, a massive copyright suit to determine who has the legal right to print and sell her photos is wending its way slowly through the Cook County courts. Owners of her negatives have been searching for any of Maier's living relatives, trying to negotiate the rights to her work.
As the search for heirs continues and the case drags on, Bannos worries Maier's artistry and persona will be all but completely removed from the picture. Bannos hopes her book will do justice to the artist, helping readers understand her beyond the copyright battle.
The book's release date is yet to be determined.