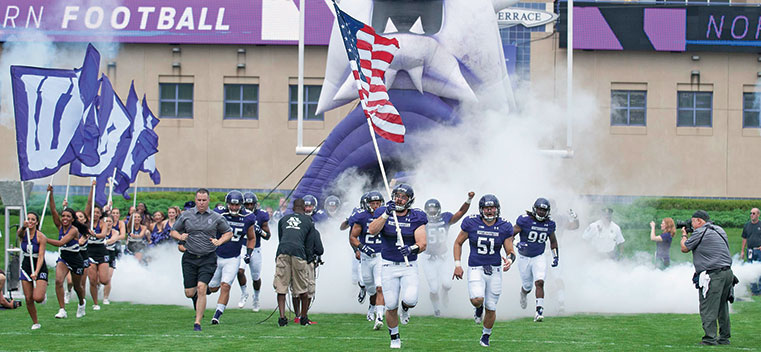 Max Chapman leads Northwestern onto the field before the Wildcats' season-opening win over Stanford. Photo courtesy of Northwestern Athletics.
Standard-Bearer
Story Tools
Share this story
Defensive lineman and team leader Max Chapman earned the Wildcats' coveted No. 1 jersey.
In the Wildcats' locker room, the guy who wears the No. 1 jersey is a man who embodies the values and character of Northwestern football — a great teammate, excellent student and influential member of the community. For 2015, the Wildcats' player-elected Leadership Council awarded the No. 1 jersey to Max Chapman '15.
He thinks he knows why. "I think I was chosen to wear No. 1 because I know I am not No. 1," says the bearded 6-foot-3, 270-pound defensive lineman and special teamer from Ponte Vedra Beach, Fla. "Jesus Christ is No. 1."
Before Northwestern's season-opening win over Stanford, Chapman led the team onto the field, carrying the Stars and Stripes. Off the field, Chapman carries the flag for Wildcats Stand Up and R.O.A.R.R., Northwestern's student-athlete–led anti-bullying campaign that works with students at local elementary and middle schools. He got involved with the program, founded by former Northwestern softball star Marisa Bast '14, because "every person deserves dignity," says Chapman, now the group's co-president.
"Max is a very special student-athlete and an amazing individual," says Maureen Palchak '08 MA, assistant athletic director for community relations. "His selflessness is inspiring and R.O.A.R.R. is just one of the many ways he continues to give back and influence young people and, really, anyone around him."
Chapman, an Academic All–Big Ten honoree, volunteered at Evanston's Connections for the Homeless and interned last winter at Catholic Charities in Chicago. He is also active at the Sheil Catholic Center and convinced the coaching staff to allow Father Kevin Feeney, Sheil chaplain and director, to celebrate mass at the team hotel on the Friday nights before home games.
Chapman, who graduated with a degree in communications studies in June, is now a graduate student in the School of Professional Studies' sports administration program. After earning his master's degree, Chapman plans to work with the Fellowship of Catholic University Students.
First, though, he and his teammates have some unfinished business on the gridiron.
"We want to be the very best we can be," says Chapman, who recorded 14 tackles in 11 games in 2014. "Right now we're enjoying pushing ourselves to the limit. The team senses we have the potential for greatness. We're just taking it one game at a time, one play at a time."