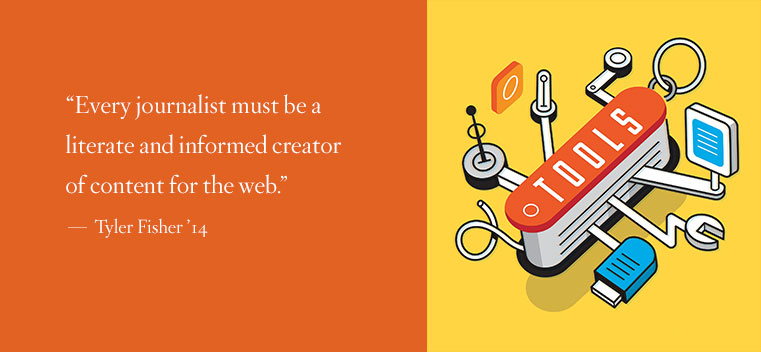 Illustration by Harry Campbell
Cool Tools
Story Tools
Share this story
Journalism and engineering students at the Knight Lab are building easy-to-use applications that help journalists tell better stories.
In July 2012 Colorado was wracked by the terrifying news that a gunman had open fired on the audience at a midnight screening of The Dark Knight Rises at a Century movie theater in Aurora. At the Denver Post, the newsroom was on high alert. With a flurry of updates and constant developments complicating the situation, the paper's staff wanted an easy way to aggregate the day's news conferences, videos and testimonials into one place for readers.
They decided to use an interactive timeline tool developed at Northwestern's Knight Lab. The staff's use of the digital reporting tool contributed to the publication's Pulitzer Prize–winning breaking news coverage of the shooting.
"We were able to use TimelineJS as a chronological landing page of stories," says Charles Minshew, a Denver Post intern at the time and now a multimedia artist at the Orlando Sentinel. "It's really helped people have a better understanding of that day."
Last spring the Daily Breeze in Torrance, Calif., won the Pulitzer for local reporting and praise from the prize committee for its "impressive use of the paper's website" in telling the story of widespread corruption in a small, cash-strapped school district. The paper also used TimelineJS to supplement their news coverage and help keep the story focused.
TimelineJS, which allows users to horizontally scroll through chronological events while accessing embedded links, videos and photographs, is just one of the innovative software tools created at the Knight Lab. The timeline is part of the Publisher's Toolbox, a set of open-source applications that also includes SoundCiteJS, which allows sound clips to be embedded in content; JuxtaposeJS, which makes image comparisons — such as before-and-after shots — easy to create and publish; StoryMapJS, which helps users embed content into maps; and twXplorer, a Twitter search tool.
The seeds of the Knight Lab were planted in 2009, when professors from the Medill School of Journalism, Media, Integrated Marketing Communications and the McCormick School of Engineering and Applied Science collaborated on a series of courses pairing journalism and computer science students. Professor Rich Gordon initiated these classes with fellow Medill professors Jeremy Gilbert and Owen Youngman and McCormick professors Larry Birnbaum and Kristian Hammond. Around the same time, the John S. and James L. Knight Foundation was looking to create a lab where the use of technology for news could be evaluated and developed.
Northwestern was a logical destination. Six years later the tools are used by more than 300,000 storytellers around the world, reaching 200 million readers and changing the face of digital media in the process.
"The Knight Lab is getting journalists to think about storytelling," says Dave Beard '81, who uses the lab's tools in his work as executive editor of PRI.org, the news hub for Public Radio International. Beard and James Edwards '08 MS, a social media producer at PRI's The World, used TimelineJS to help tell the story of immigration and education in America. When PRI did a story on flooding in Malawi, Beard used SoundCiteJS to incorporate 19 seconds of audio of rainfall in that country. 
"It's atmospheric. It's of the senses," Beard says. "It's not like, 'Here's another fact' — but it matters. That was the leading thing that people clicked on in that story.
"These are good straight-ahead journalistic weapons to increase a person's time on the site from a minute to two minutes on an article," Beard adds. "When I die, that won't be my accomplishment, that I've distracted people for an extra minute. It's that I have helped them in their thinking."
The lab's director and self-proclaimed "chief nerd" Joe Germuska, a former applications developer at the Chicago Tribune, says the Knight Lab is helping to revamp the industry by pumping out tech-savvy alumni and the innovative projects they dream up during their time at the lab. For example, Tyler Fisher '14, a journalism and music major, spent his junior year working with lab staff to build SoundCiteJS. After graduation he moved on to National Public Radio as a news applications director.
"I'm not saying every journalist must be a programmer," says Fisher, "but every journalist must be a literate and informed creator of content for the Web. Everything — print journalism, broadcast journalism, magazine journalism — touches the Web in some way."
Reported by Matt Paolelli '05, '06 MS and Lauren Caruba '15.