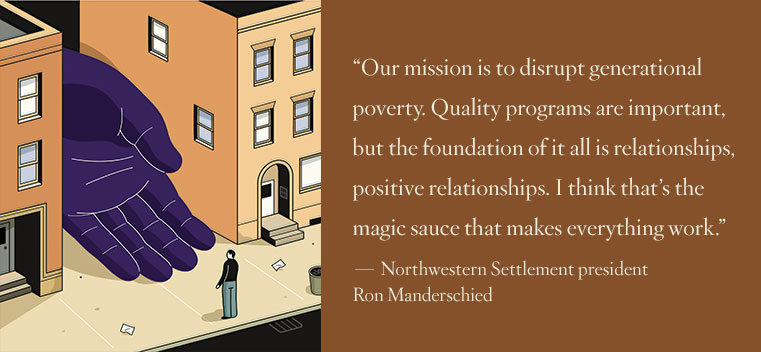 Illustration by Harry Campbell
A Good Neighbor
Story Tools
Share this story
Founded by a university president and a professor, the Northwestern University Settlement House has grown into an influential community partner on Chicago's West Side.
The Northwestern University Settlement House is abuzz on a bright early-fall morning.
In the three-story mansion's first-floor gathering space, Walgreens' clinical staffers administer flu shots in one corner while a team of AmeriCorps members meets nearby. Down the hall, Settlement neighbors — everyone who walks through the door is a neighbor, never a client — pick up necessities from the pantry, which last year distributed more than 400,000 pounds of food. In the basement, Head Start preschoolers monkey around with volunteers from Northwestern's Freshman Urban Program. And just down the street, more than 800 students at the Settlement-run charter school, Rowe Elementary, are settling in for the second day of school.
It's a vibrant scene — and one that the Northwestern founders of the Settlement would have appreciated. University president Henry Wade Rogers and his wife, Emma, along with sociology professor Charles Zueblin (class of 1887) created the Settlement in 1891 as an "experiment in neighborliness." Zueblin and other faculty, staff and students settled in Chicago's West Town, hoping to create an outpost of education and culture in a dirty, dangerous neighborhood that was home to poor German and Polish immigrants.
Today, Northwestern Settlement is an integral hub on Chicago's West Side, serving mainly Latino immigrants and first-generation Americans. The longest continuously operating settlement in the city, it reaches about 12,000 people a year through its social services and education programming. Throw in its award-winning theater offerings and the Settlement impacts 85 percent of the ZIP codes in Chicago, says Matthew Sudman '07, assistant director of institutional giving and outreach.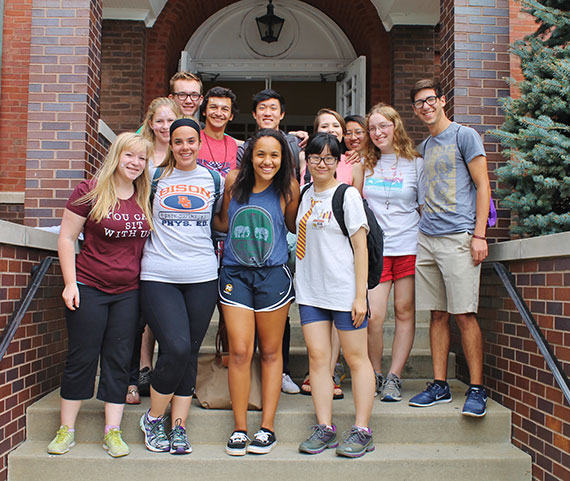 Volunteers from Northwestern's Freshman Urban Program, one of the University's pre–Wildcat Welcome programs, spent a morning at Northwestern Settlement, where they worked and played with Head Start preschoolers. Photo by Matthew Sudman '07.  
"Our mission is to disrupt generational poverty," says longtime president Ron Manderschied. "Quality programs are important, but the foundation of it all is relationships, positive relationships. I think that's the magic sauce that makes everything work."
Among its offerings, the Settlement runs social activities for seniors and afterschool programming for elementary, middle and junior high school students. It also operates a camp and outdoor education center in Delavan, Wis.
Northwestern Settlement's Adventure Stage Chicago, one of the only theaters in Chicago or beyond that exclusively targets middle school–age audiences, puts up three mainstage shows each year in the Settlement's 299-seat Vittum Theater. Those shows, which bring in 4,000 Chicago Public Schools students per run, include one original, community-sourced work developed from its Story Circles program, which turns conversations with West Town families into a script.
"Adventure Stage becomes a really important step in helping kids bridge that experience from adolescence into adulthood," says ASC founder and producing artistic director Tom Arvetis '96. "We want to help facilitate that process by sharing stories that are empowering, encouraging, inspiring, that are going to help them realize they can make a difference in their community."
In celebration of the Settlement's 125th anniversary in 2016, ASC is developing a site-specific performance that will take the audience through the institution's history. The Settlement's Evanston Woman's Board, which is open to all Evanston women and includes several retired University administrators and the spouses of current and former faculty and staff, is developing material for the play by digging into the Settlement's historical documents, which are housed at University Archives. (University archivist Kevin Leonard '77, '82 MA and professors Henry Binford and Rives Collins are on the Settlement's council of advisers.)
Though the Settlement, located just to the northwest of the Loop, was always independent of the University, Northwestern has long been an important partner. For example, as part of a course on urban reporting, journalism graduate students recently visited and reported on Settlement programs. Alumni actors turn up on the ASC stage, and recent graduates serve with the AmeriCorps program, Project YES!. Last summer Faizan Shakir, a communications junior at Northwestern University in Qatar, interned at the Settlement as part of Engage Chicago, a Center for Civic Engagement field study program.
"There is a level of deep relationship building that goes on there, a genuine caring for others," says Northwestern public policy and administration graduate student Micaela Moran, who spent four years at the Settlement, first serving as an AmeriCorps member with Project YES! and then managing the program. She now runs the Center for Civic Engagement's Jumpstart early childhood literacy program at Northwestern. "Once you have some exposure, some connection to the Settlement, and see what a beautiful organization it is, you really want to stay connected."