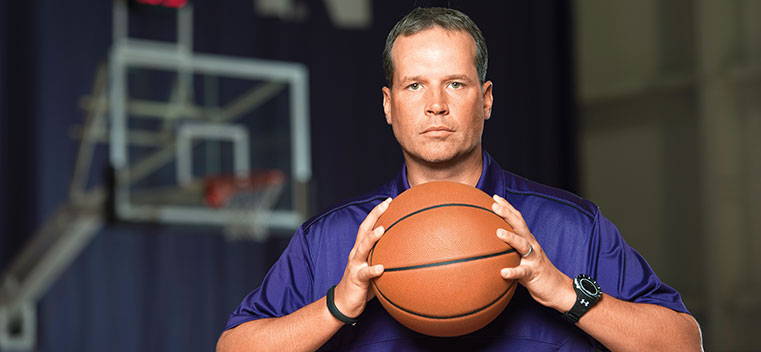 Coach Chris Collins is determined to take Northwestern basketball to the next level. Photo by Brian Kersey '99.
Game On
Story Tools
Share this story
Jeremy Woo, a senior journalism major from Chicago, is a freelance contributor to Sports Illustrated. He covers basketball at all levels and independently scouts high school prospects for college programs.
Northwestern Athletics released a seven-episode video series, "Coaches in Cars Getting Coffee," that features entertaining banter between Collins and head football coach Pat Fitzgerald '97 as they drive around the Windy City.
Tell us what you think. E-mail comments or questions to the editors at letters@northwestern.edu.
Ever wonder about those strange designations we use throughout Northwestern to identify alumni of the various schools of the University? See the complete list.
Find Us on Social Media
Coach Chris Collins hammers home a new vision as he rebuilds the Northwestern men's basketball program.
"When nothing seems to help, I go look at a stonecutter hammering away at his rock perhaps a hundred times without as much as a crack showing in it. Yet at the hundred and first blow it will split in two, and I know it was not that blow that did it, but all that had gone before." — Jacob Riis
Pound the Rock. It's become a mantra of sorts for Northwestern basketball, derived from a quote that came to prominence as motivation for the NBA's San Antonio Spurs. Chosen by Chris Collins after he took the head coaching job more than a year ago, the quote decorates one prominent wall in the entryway to the Northwestern locker room. When he learned about the tradition of the Rock on campus, the maxim felt even more fitting. And it's taken on a life of its own in Evanston.
A small, purple-painted rock sits just inside the locker-room doors at Welsh-Ryan Arena, where players give it a tap before every practice and game. The coaches now hand out a yearly "Pound the Rock" trophy to the player who best embodies the ethos. Acknowledging the proverbial stone serves as a reminder of the glaring hole in Northwestern basketball's historical résumé, and each small touch might portend things to come. There are elephants in the room, and then there is the thought of Northwestern's first-ever NCAA tournament appearance.
That goal is a substantial undertaking, and subsequently for Collins there's no such thing as a lazy day at the office. Never mind that his players are weeks away from reporting — he can't put the basketball down. Today, as he leans forward in his chair, the roundball comes in the shape of an orange and black stress reliever, which he passes almost subconsciously from hand to hand. It's difficult for him to sit still and even tougher to conceal the excitement in his voice.
"To me, it's very simple," Collins says. "We're at a great school — one of the best academic schools, in, in my opinion, the best city in the country, in the best basketball conference, with a chance to start a new program and be a part of some things that have never happened before.
"What I'm saying to any recruits coming in is the same reason why I came." He flips the ball from left hand to right. "That's why I can say it with conviction."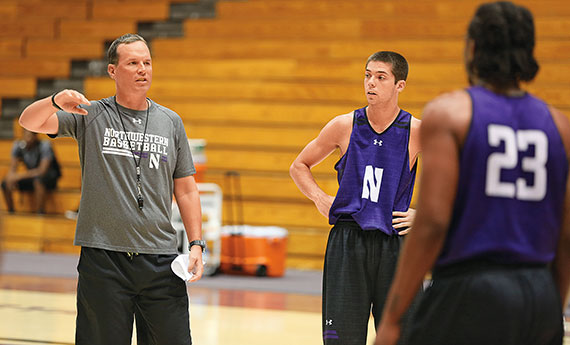 Chris Collins instructs freshman Bryant McIntosh and JerShon Cobb (23), a redshirt senior, during a fall practice session. Photo by Nick Brilowski.

The pitch has worked rather well so far, with proof in the form of the touted five-man freshman class that landed on campus in September.
When you hear the way Chris Collins talks about his program, you want to believe it's all that simple. But the flecks of gray in his stubble, making their way into a slightly receding hairline that belies a face still boyish at age 40, speak truth.
Year one, a critical challenge for any coach, was a transition campaign in which Northwestern went 14-19 on the court. Last season was quite a change from Duke, where the Blue Devils had winning records in each of Collins' 12 seasons at Mike Krzyzewski's side.
Collins, both deeply cerebral and fiercely competitive, quickly came to understand that this turnaround will take hard work and perseverance. A season that brought three blowout losses to open Big Ten play, followed by a 5-2 stretch, then a seven-game losing streak will do that for you.
This will be a long haul. Pound the Rock. And as a program, Northwestern has begun to chip away together.
"Patience is not one of my strong suits," Collins admits. "I want everything today. But in this situation, you have to sometimes understand that some of the victories we're getting aren't wins and losses."
Though learning the value of moral victories took some time, basketball always came naturally to a kid who'd spent much of his life following his father, Doug — a four-time NBA All-Star and winner of 442 regular-season games as an NBA coach — from gym to gym. From running around Doug's camps as a toddler to lacing up Michael Jordan's sneakers as a Bulls ball boy in the '80s, Collins has never known — or chosen to know — all that much else.
"I've always loved the game," Collins says, "ever since I was a little kid. My dad didn't have to push it on me."
While a senior at Glenbrook North High School in Northbrook, Ill., in 1992, Collins became Illinois Mr. Basketball and a McDonald's All-American. As his reputation grew, each game became a standing-room-only event, with fans hoping to catch a glimpse of the talented guard. Much of his on-court education came from Glenbrook North coach Brian James, now a Wildcats assistant after serving on several of the elder Collins' NBA staffs.
"The thing that I noticed about him right away was his love for the game and the respect he had for his teammates," says James, who took over at the school when Collins was a sophomore. "He was the only underclassman in the rotation — the other six were all seniors — but Chris was our best player and leading scorer. Those seniors had never won at any level prior to us getting together. Chris showed enough maturity to start the program's winning tradition."
For his college ball, Collins sought out the spotlight and headed to Duke. Under the tutelage of Krzyzewski, he became an All–Atlantic Coast Conference player and team captain, making the NCAA tournament in three of four years and guiding the team to the final in 1993.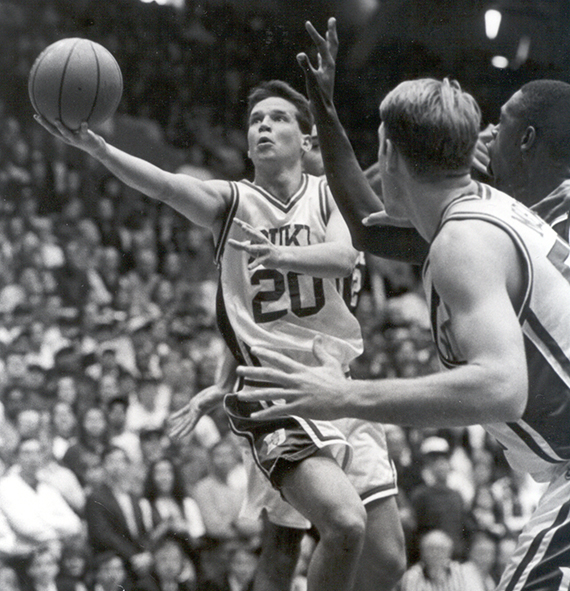 Chris Collins is his playing days at Duke. Courtesy of Duke Athletics.
"He was incredibly competitive, intense, enthusiastic," says Marquette head coach Steve Wojciechowski, one of Collins' closest friends and a Duke teammate from 1994 to 1996. (The duo later coached together on the Blue Devils' staff and on Krzyzewski's Team USA staffs.) "Chris has a tremendous joy for the game of basketball, and when you played with him, you always felt that, his competitive fire. You also felt that when he was on the court, there was no place he would rather be."
After graduating, Collins spent a year playing in Finland with an eye toward the NBA. He was one of the final cuts from the Minnesota Timberwolves prior to the 1997–98 season. His career at a crossroads, the 23-year-old Collins headed for Detroit, where Doug was head coach of the Pistons. There, Chris was presented an assistant coaching opportunity with the Detroit Shock for the team's inaugural WNBA season in the summer of 1998. With his love of the sport and understanding that his playing days were done, he quickly took to teaching the game.
"Just like anything in my life, once you jump into it, you go full blast," he says of his mentality. "You put all of yourself into it, all your passion and all your effort, and see what happens. I've never looked back."
In the fall of 1998 Collins joined former Duke assistant Tommy Amaker's staff at Seton Hall, where he'd stay for the next two seasons. In 2000 Krzyzewski called, and it was back to Durham for the foreseeable future. After two national titles with the Blue Devils and two Olympic golds and a World Championship with USA Basketball, Collins took the helm at Northwestern in 2013 possessing 16 years of coaching experience at age 38.
It didn't take Collins long to begin leaving his fingerprints on his team. Over the course of the season the Wildcats adopted a tough-minded, defense-first mentality to match their new coach's approach.
"When someone would make a big play in practice, take a charge, we'd be pretty excited, but no one more than Coach Collins," says recently graduated Wildcat Drew Crawford '13. "He'd be the first one over there picking him up, giving him a chest bump, screaming at the top of his lungs. By the end of the season, it wasn't just Coach — it was something we were doing as a team. He ignited that same passion inside of us."
"You know every day he's going to have a great practice plan, he's going to bring forth the energy," says redshirt junior Tre Demps. "He always says, 'I might make mistakes X's-and-O's-wise, but you can't ever deny my effort or how much I've prepared.'"
Off the court that zeal has translated into results on the recruiting trail. Collins moved quickly to rebrand the program, with personal connections both local and around the country. Given Chicago's reputation as a basketball hotbed, the staff has prioritized the area to early returns.
"There was a sense of enthusiasm about the program that I had never seen before, that Coach Collins emits anytime you talk with him," says Northwestern freshman Vic Law, a Chicago-area native and well-regarded prospect who became Collins' first commitment in July 2013. "He's so confident in what he's doing and what he can do that it was kind of hard not to look at Northwestern and see [that]."
"We had to put a good recruiting class together," Collins explains. "Someone has to have the courage to be the first one to jump in with you." After Law's verbal commitment, four other players, all with Midwestern roots, hopped onboard by the end of the year: Gavin Skelly, Bryant McIntosh, Scott Lindsey and Johnnie Vassar.
"There's always something special about being that first guy in the first-ever class," Law adds. "Still, I don't think it really means anything unless I perform. Coach Collins believes in me, and I can't let him down. I'm just putting in as much work as I can right now so that this 'first' thing will mean more than just being the first."
Year two will bring new hurdles, as Northwestern incorporates the untested talent to compete in an always-difficult conference. ("There are going to be nights when they look like freshmen," Collins accepts.) But on the surface, there's already positive change — Welsh-Ryan Arena boasts long-overdue improvements, including a state-of-the-art scoreboard, jumbo video screens and a new court design. Between the program and the administration, the commitment to Northwestern basketball appears mutual.
"I want to build a program that can be respected nationally, but it has to be done the right way," says Collins. "You can't skip steps. We're finding the guys who want to be a part of that, being the team that accomplishes some things maybe that have never been done here. The guys who have chosen to come, I think that's why they're here. They know that at the end of the tunnel it's incredibly exciting, but we're not near that point yet. There's a lot of work to be done, and that's the fun part. That's what's so rewarding."
Quietly but surely, the rock is beginning to crack.