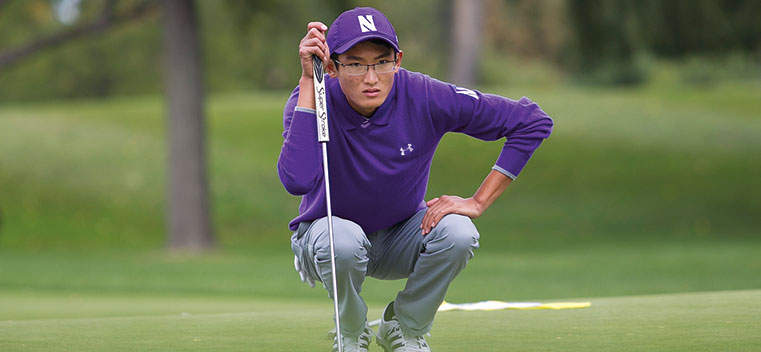 Charles Wang lines up a putt at the Windon Memorial Classic at the Evanston Golf Club. Photo by Stephen Anzaldi '10 MS.
Dynamic Duo
Story Tools
Share this story
Tell us what you think. E-mail comments or questions to the editors at letters@northwestern.edu.
Ever wonder about those strange designations we use throughout Northwestern to identify alumni of the various schools of the University? See the complete list.
Find Us on Social Media
Charles Wang and Dylan Wu make a good match on and off the course.
Freshman golfer Charles Wang's path to Northwestern has been more dogleg than straightaway.
Born in Beijing, Wang first came with his family to the United States for third and fourth grade and then moved with his family back to his homeland so he could learn more Chinese. When Wang was 12, he and his father moved back to the United States, settling in Sarasota, Fla.
Along the way Wang became an accomplished violinist. In high school he performed with the Venice Symphony for two years and was the Sarasota Christian School's orchestral concertmaster.
Wang also found time to hone his golf game, playing in small professional tournaments. He finished as the low amateur at the 2014 Florida Open and won the West Florida Golf Tour Ritz Carlton Series, a one-day professional event, as an amateur in September 2013.
Wang skipped a grade in high school and at 17 enrolled at Northwestern, where he met Dylan Wu, his golf teammate and International Studies Residential College roommate.
Wu grew up in Medford, Ore., where he was ranked No. 1 in the state. Like most competitive golfers his age, Wu gained his golf acumen by playing junior tournaments around the country. As a kid, he was also a big-time hockey player, traveling the Pacific Northwest for tournaments.
"[Wu] is full of confidence," says head coach David Inglis. "He's got a bit of a, you know, swagger. It didn't take him long to give the other guys a hard time."
"And Charles is maybe the nicest kid I've ever met," the first-year coach brags. "He's so polite."
Since arriving at Northwestern, Wang and Wu have quickly climbed the leaderboard. Wu fired a final round 1-under 71 to finish 23rd at the Rod Myers Invitational in Durham, N.C., in mid-October. The Wu-Wang duo turned in a combined 5-under par effort — including a 3-under 69 from Wang — in the final round of the Erin Hills Intercollegiate in southeastern Wisconsin in early October to push Northwestern to a fourth-place finish.