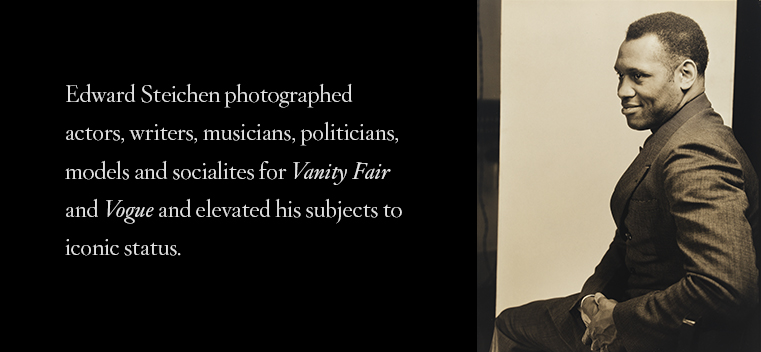 Singer and actor Paul Robeson in New York City in 1933 for a Vanity Fair story on his role as Brutus Jones in The Emperor Jones, the first film with an African American star. Steichen/Vanity Fair.© Condé Nast.
Portraits of an Artist
Story Tools
Share this story
Tell us what you think. E-mail comments or questions to the editors at letters@northwestern.edu.
Ever wonder about those strange designations we use throughout Northwestern to identify alumni of the various schools of the University? See the complete list.
Find Us on Social Media
The Block Museum's Edward Steichen photos go on view in January.
Edward Steichen is widely recognized as one of the most important photographers of the 20th century, devoting his more than 70-year career as an artist and curator to the development, exploration and promotion of photography as a fine art.
Forty-nine classic photographs by the artist now have a home at Northwestern, in the permanent collection of the Mary and Leigh Block Museum of Art. Collectors Richard and Jackie Hollander gave a gift of vintage Steichen photographs to the museum in honor of Northwestern President Morton Schapiro and his wife, Mimi. The Hollanders donated similar gifts of Steichen photographs to the Whitney Museum of American Art and the Los Angeles County Museum of Art.
Between 1923 and 1937 Steichen pioneered innovations in representing celebrities and historic figures in the worlds of fashion, culture and politics. As chief photographer for Vanity Fair and Vogue, he photographed hundreds of cultural figures, such as Clara Bow, Ethel Barrymore, Eugene O'Neill and Paul Robeson, defining public ideas of power, glamour and elegance. The Hollanders' gift to the Block comprises mostly portraits made for the Condé Nast publications but also includes fashion and advertising works as well as personal photographs, including an intimate portrait of Steichen's friend the poet Carl Sandburg.
Steichen's photographs are on view at the Block Museum this winter in Steichen|Warhol: Picturing Fame (Jan. 17–April 6), a groundbreaking exhibition exploring the role of photography in creating celebrity icons. The show pairs Steichen's work with photographs by pop artist Andy Warhol, donated to the Block by the Andy Warhol Foundation for the Visual Arts.
The exhibition of these recent gifts underscores the Block's commitment to building its photography collection as a central component of its teaching mission and stands as a testament to the Block's growing significance as a Chicago arts institution invested in mentoring the next generation of scholars and arts professionals.
Steichen|Warhol: Picturing Fame is curated by Elliot Reichert (WCAS10). Consulting with scholars, curators, and collectors in the field, Reichert has made significant discoveries about the relationship between the works of the two artists that form the basis of the exhibition.