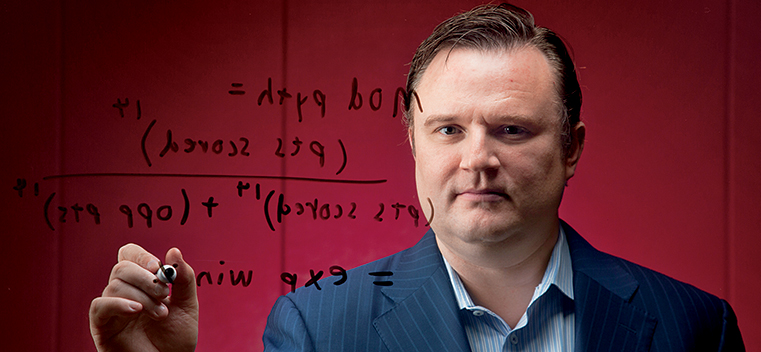 Daryl Morey jots down his basketball-modified Pythagorean theorem at the Toyota Center. Photo by Thomas Shea.
Moreyball
Story Tools
Share this story
Related Articles
William Weinbaum (J82, GJ83) is a New York–based producer for ESPN-TV and contributor to ESPN.com.
Read more about growth of the Morey-led Sloan Sports Analytics Conference, which kicks off Friday, Feb. 28.
Tell us what you think. E-mail comments or questions to the editors at letters@northwestern.edu.
Ever wonder about those strange designations we use throughout Northwestern to identify alumni of the various schools of the University? See the complete list.
Find Us on Social Media
Houston Rockets general manager Daryl Morey has remade his team while leading the analytics movement in the NBA.
On the night last November after the 76ers' James Anderson — a player Daryl Morey had cut — torched his team for 36 points in Philadelphia, the Houston Rockets were in New York to face the Knicks. Two hours before the game the self-effacing Morey (McC96), acclaimed for rebuilding the Rockets as general manager, mentioned Anderson's exploits and discussed another player he'd let go two years earlier. That other player the Rockets waived, also a guard, quickly moved on to New York and in early 2012 captivated fans at Madison Square Garden and everywhere with a magical two-month run of "Linsanity."
"Damn it," Morey said, as he recounted his reaction to Jeremy Lin's explosion for the Knicks after he had let him go. "I was happy for him, but I wish we would have figured out not to release him."
Figuring things out is what the leader of the NBA's analytics movement has been doing since his days as a computer science major at Northwestern. Now 41, Morey is transforming not just his Houston roster but also the thinking across the sport about the relevance and role of a heretofore remote realm of data.
"In many ways he's a pioneer," says NBA vice president Kiki Vandeweghe, a former general manager, coach and All-Star player.
Before the Morey era, teams hadn't developed statistics much beyond familiar and clearly defined measurements, like scoring and rebounding, assists and turnovers. Morey invents ways to decipher what others might not have considered, let alone calculated.
"He's taken it to another level," says Vandeweghe.
Each play, postulates Morey, tells myriad revelatory stories when dissected into as many illuminating components as possible. The better the action can be quantified, the better the plays and the players can be understood and evaluated for decisions on personnel and strategy. A move left or right, a dribble or a pass, a pick or a roll becomes data to retain, retrieve and ruminate over.
"His impact has been huge," says Jeff Van Gundy, who was the Rockets' coach when Morey joined the front office. "He is the face of analytics in basketball but is not seeking personal fame or glory. He's very much a team guy."
How pervasive is the Morey-led trend toward data acquisition and analysis? A Men's Journal story in December, citing his leadership, was titled "How Geeks Took Over the NBA."
The seventh-year Rockets GM broke the mold for an NBA job typically populated by ex-players and whose recent ranks have boasted Hall of Fame names like Larry Bird, Pat Riley and Joe Dumars. Morey, who received an MBA at the Massachusetts Institute of Technology's Sloan School of Management, was never a professional or collegiate player or coach.
"Start with a notion that you don't know anything and you'll get ahead," is Morey's mantra — befitting a guy dedicated to the pursuit of elusive knowledge.
He's also concise in conveying the essence of his bold approach to dealmaking as a GM: "You don't fool yourself, you take a lot of chances, you cut your losses quickly. That's all you can do."
Morey's transaction résumé reflects that management philosophy. Since 2012 the Rockets have made a dizzying dozen-plus trades, prompting the Houston Chronicle to write that he'd "remade the roster almost as many times as Sylvester Stallone remade Rocky."
Morey traded for James Harden, won the bidding for marquee free agent Dwight Howard, drafted key players like Chandler Parsons and Terrence Jones and signed free agent point guards Patrick Beverley and the returning Lin.
While most of the attention has been on the über-talented Harden-Howard duo, Morey is quick to emphasize that in an industry with a salary cap and cutthroat competition for precious puzzle pieces, "finding undervalued players is as important as pursuing superstars."
BIG BOUNCE FOR ANALYTICS
The revolution in using analytics to appraise players began with Morey's main mentor, Bill James, the sports data visionary who introduced sabermetrics to baseball nearly 40 years ago.
"All that we do in analytics is try to see the evidence clearly," says James. "You can say anything you want about analytics or numbers or statistics, but when the rubber meets the road, it is facts that give you traction."
"I'm a great admirer" of Morey, adds James, a senior adviser for the world champion Boston Red Sox, also noting that Morey has a lot of skills he doesn't have — including those of a financial analyst — "that have enabled Daryl to do a lot of things that I could never have done."
When Morey was an undergraduate at Northwestern, with a concentration in statistics, he took a part-time job at STATS Inc., the company co-founded by James.
At age 21, Morey adapted for basketball the "Pythagorean expectation" formula James had devised for baseball that predicts how many games a team will win, given its cumulative totals of runs scored and allowed.
"I didn't know he was 21 when he did that, honestly," says James. "I would never have guessed that you could adapt the Pythagorean to basketball. Basketball has very small margins, relative to the score.
"A top baseball team scores 25 percent more runs than it allows, but a top basketball team outscores its opponents by only 6 to 7 percent."
Morey calculated that by raising the points scored and allowed to about the power of 14, an instructive forecast could be made of a team's underlying strength. Then, comparisons with actual wins and losses yield enlightenment about overachieving and underachieving teams and players, enabling better-informed decisions on roster composition.
THE KNOWLEDGE GAME
After his studies at MIT, Morey remained in Boston, brokering sports team deals for the Parthenon Group. That led to a position with the new owners of the Celtics, as senior vice president of operations, allowing him to introduce analytics and technology tools for decisions ranging from ticketing to basketball personnel matters.
In 2006 Houston Rockets owner Les Alexander stunned the basketball world by hiring Morey as general manager in waiting — he was to serve a year as assistant GM under longtime Rockets executive Carroll Dawson and then take over the reins.
"I was unknown," Morey says. "Mr. Alexander grabbed me out of obscurity."
Perhaps the only thing questioned more than the new man's credentials, given his lack of a record as a player, coach or scout, was whether Alexander was out of his mind. "Daryl Morey? Are You Serious?" was the headline on hoopsworld.com.
Skepticism increased when one of the first Rockets moves Morey influenced was a trade of first-round draft pick Rudy Gay and Stromile Swift for Shane Battier of the Memphis Grizzlies, long considered a limited rather than transformative asset. But Morey's analysis was that the cerebral former Duke Blue Devil was already a natural at subtleties that elevated teams, and that he could contribute even more to winning basketball if armed with the right type of data.
To maximize Battier's productivity, Morey and company regularly provided Battier with dossiers on tendencies of opponents and teammates, positioning and other intricacies that the new Rocket embraced. With Battier, the team became a more consistent winner, even when stars Yao Ming and Tracy McGrady were injured.
"Analytics has a place in the game of basketball," says Battier, "and he [Morey] was really instrumental in making it a mainstream word and part of the game's fabric."
In 2009 the nuanced Battier effect drew the attention of Michael Lewis, author of the seminal book Moneyball that was made into the movie by the same name about Oakland Athletics GM Billy Beane's analytical bent and accomplishments in baseball. In a lengthy New York Times Magazine feature, Lewis quoted Morey extensively, including on some of Battier's deficiencies: "He can't dribble, he's slow and hasn't got much body control."
Despite that, Morey told Lewis, he called Battier "Lego," because "when he's on the court, all the pieces start to fit together. And everything that leads to winning that you can get to through intellect instead of innate ability, Shane excels in."
After Morey's elevation to the GM position, he was criticized for having put Van Gundy in public limbo before replacing him as head coach with Rick Adelman. (Kevin McHale is now the head coach.)
Six years later, Van Gundy, now an ESPN analyst, says, "He's the guy that ultimately fired me, and I consider him to be a fine person. I think most people would think, 'a numbers guy, a bright guy, he'd have a failing in that [people skills],' but he doesn't."
Morey displayed sensitivity, Battier recalls, in the wake of the dispassionate determination he made to trade Battier back to Memphis in a 2011 multiplayer deal that ended the forward's five years as a Rocket.
"He was almost apologetic," Battier says. "He knew how much Houston meant to me and I meant to Houston. When he makes a trade, he understands it's not fantasy basketball."
Battier, who has played for the Miami Heat since 2011, and Morey say they've remained friends. "I've tried to prove he made a mistake," a chuckling Battier says, adding, "I've won two championships."
An open mind and the ability to remove emotion as a factor in personnel decisions are traits often attributed to Morey. "He's incredibly intelligent and has very strong opinions," Van Gundy says, "but not at the expense of other people's opinions, and he can have a professional disagreement and not have it be personal."
"He has a unique ability to look at things in a completely objective way," according to Paulie Harraka, a 24-year-old NASCAR driver who has been counseled by Morey in his effort to bring analytics into his own sport. "He looks at the small details along the way, much more granular than 99 percent would see."
Morey's attention to seemingly small details can be very personal, and very telling, says his wife, Ellen Halleran Morey (J96, McC96). "He had to cut two players to get to 15 [on the roster], and it was a weekend," she says. "Our kids asked why he was dressed up, and he said he had to fire two people and you should be dressed up to do that."
"We're talking about people's lives, the dreams they've had since they were kids," says Morey. "We're not dealing with chess pieces."
Part of that interaction, Morey says, is to explain that he is fallible and that examples abound of players he's released who've achieved success elsewhere, like Lin.
On having cut Lin, Morey says, "We had three point guards making over $3 million [and Lin wasn't one of them]. We had reasons, but ultimately I made a mistake."
So in the summer of 2012, after the previously unheralded Harvard product became an international phenomenon, Morey signed him again, this time as a high-priced free agent.
"I had known from the start that Daryl liked me as a player but that external factors hadn't allowed him to keep me, so it was never something I held against him," Lin says. "From a personal standpoint, he's as personable a general manager as I've ever encountered."
After bringing back Lin, Morey pulled off the trade coup in October 2012 for Harden that he says was the culmination of 17 separate transactions (including trading away Battier) over six years. He had also tried repeatedly to acquire Howard, and when he finally signed the superstar center last summer as the biggest catch on the free agent market, the Rockets were immediately considered a championship contender.
Morey stresses that despite the makeover and never having a losing season, he's rightfully seen as unproven, due to the lack of a championship.
But two-thirds of teams, he says, now make significant use of analytics. And perhaps that bodes well for a broader Morey cause.
"I'm mostly focused on winning championships, but I'm pretty passionate about teaching," says Morey. "Everything would be better if people would understand how data could help decision-making."
Morey co-founded the MIT Sloan Sports Analytics Conference, which annually draws many of the industry's most innovative thinkers and biggest names. From its inception in 2007 until last year, attendance increased more than tenfold to nearly 3,000. (Read more about growth of the Morey-led Sloan Sports Analytics Conference, which kicks off Friday, Feb. 28.)
"I'm sure he'll be at the forefront of whatever is next," says Vandeweghe.
'CATS AND STATS
The 6-foot-4 Morey, who grew up in a small town near Akron playing basketball and poring over sports stats, failed a tryout for the Wildcats and recognized his route to the pros wouldn't be as a player.
"Within the first month of when we met, he said he'd own a professional sports team," his wife, Ellen, says. The Moreys met at a New Student Week picnic their freshman year at Northwestern, when she was playing volleyball and he was looking for an Ultimate Frisbee game.
They discovered many shared interests, including computers, and began dating and then working together soon after in the fantasy sports department at STATS.
"We worked at night, and both of us loved sports," says Ellen, adding, "We competed in fantasy leagues, and sometimes I won."
When Morey confided in his future wife his fantasy of running a real pro team, he assumed the only way for him to fulfill his ambition would be to somehow amass a fortune to buy one. After all, teams weren't yet hiring software engineers without athletic bona fides to be their GMs.
Working at STATS wasn't a fast track to a fortune, but it did afford Morey a formula for development, so to speak, that wasn't available elsewhere. And he ran with it.
"I remember him showing it [his version of the Pythagorean theorem for basketball] to me and saying, 'Hey, look, isn't this cool?' " recalls Ellen, who double-majored in journalism and mechanical engineering.
Some information during the Moreys' tenure on the job was not meant for public consumption. "He told me we had to pretend we weren't dating," says Ellen. "It was all men and me there — I answered calls about fantasy leagues, and a lot of guys would ask questions to test me, and I even got a marriage proposal."
When Morey decided it was time for him to pop that question, he demonstrated a flair not usually associated with a numbers guy. "I proposed in one of those stupid ways before a performance of Grease in Chicago," he says. The soon-to-be-engaged couple was called to the stage before the start of the theatrical version of Ellen's all-time favorite movie, she says, adding, "The show started late, because we were mobbed."
•••
Mob scenes and distractions at Rockets games are things Morey tries to avoid, but he actively engages fans, especially via Twitter.
A self-described intense fan, Morey sits on the opposite side of the arena from the Rockets' bench when Houston plays. At his kids' soccer games, he says he keeps his reactions under wraps by watching from the car.
Along with a burning competitive spirit and his dedication to quantification, Morey says he savors the aesthetic side of sports, calling basketball a "brilliant mix of art and science."
So when Lin was out of the mix in Houston, the man who had famously cut him could still appreciate his astonishing artistry for New York. "Even I had fun," Morey says, "and I don't even like the Knicks."