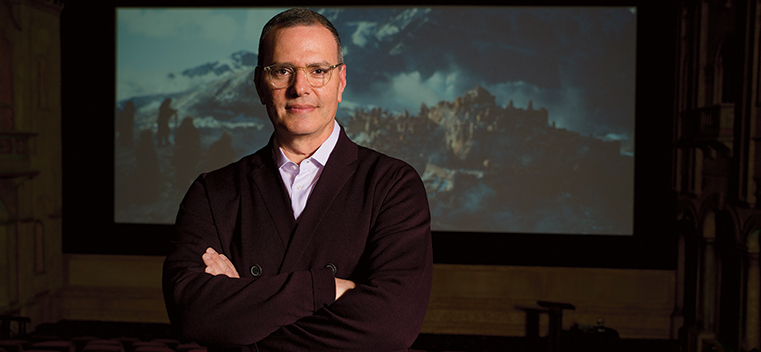 Ken Kamins in the screening room at Park Road Post, Peter Jackson's post-production facilities in Wellington, New Zealand. Photo by Louise Hatton.
Lord of the Deals
Story Tools
Share this story
Cat Zakrzewski is a junior journalism major from Maple Glen, Pa.
Tell us what you think. E-mail comments or questions to the editors at letters@northwestern.edu.
Ever wonder about those strange designations we use throughout Northwestern to identify alumni of the various schools of the University? See the complete list.
Find Us on Social Media
Ken Kamins has served like faithful Samwise to movie mogul Peter Jackson's Frodo Baggins for 21 years as the director's agent, manager and executive producer for the Lord of the Rings and Hobbit films.
If it weren't for Ken Kamins, Middle-earth fans might never have seen a single Lord of the Rings movie.
Kamins (C83) represented Peter Jackson long before the film director became a household name, when he was first pitching his Lord of the Rings screenplay based on J.R.R. Tolkien's fantasy epic around Hollywood. The project was originally set up in 1997 at Miramax Films as two movies to be shot back to back. After working on the project there for two years, Miramax co-founder Harvey Weinstein wanted to take Jackson's two-film plan and reduce it to one film, due to cost. Jackson refused, and Kamins was given three weeks to find another studio home. Most studios, however, balked at Jackson's high-budget plans and relative inexperience directing blockbusters.
But Kamins, Jackson's agent at the time, never gave up on the young director from New Zealand. "It was easy to believe in Peter because he believed in himself," he says.
Jackson had spent his own money creating a video that Kamins jokes could be called "The Making of the Making of The Lord of the Rings," in which Jackson tried to prove to the studios why it was time to take on this project and why he was the man for the job.
"His thesis was that technology had finally caught up with Tolkien's imagination," Kamins says.
Every studio turned them down until they approached New Line Cinema. After hearing Jackson and Kamins' pitch for two movies based on the Tolkien trilogy, the studio heads said they liked it, but they didn't want it to be two movies. Kamins and Jackson groaned, all too familiar with the request to shorten the plans to just one movie.
"Then they said, 'Tolkien did your job for you. It's three books, it's three movies,'" Kamins recalls.
And so The Lord of the Rings became three films, one of the largest movie projects ever undertaken. It took Jackson eight years (1995–2003) to develop and produce. The trilogy was a commercial success, earning $2.92 billion at the box office worldwide, as well as winning a total of 17 Academy Awards.
Kamins has been at Jackson's side through most of the director's successful moviemaking career, first as his agent and now as his manager and executive producer through Kamins' management company, Key Creatives. Hollywood insiders know Kamins' name primarily through his 21-year association with Jackson. They also know him through the eight movies with which he has been involved as an executive producer, including Valkyrie, District 9, The Lovely Bones and Steven Spielberg's The Adventures of Tintin.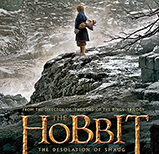 Most recently Kamins has been an executive producer on Jackson's series The Hobbit, a three-film adaptation of Tolkien's book of the same name, which follows the adventures of Bilbo Baggins as he joins 13 dwarves on a quest to reclaim the Lonely Mountain from the dragon Smaug, under the watchful eye of Gandalf the wizard. The second film, The Hobbit: The Desolation of Smaug, will be released Dec. 13.
Originally Jackson was only planning to write and produce the Hobbit movies, but he later came on board as director when Guillermo del Torro dropped out of the project in 2010 because of production delays.
Just as he helped navigate the thorny path from the Weinsteins to New Line for Jackson on the Lord of the Rings movies, Kamins was essential to making the Hobbit movies, says former Warner Bros. president and current Walt Disney Co. chairman Alan Horn. (Warner Bros. Pictures and MGM are distributing the Hobbit films.)
Horn says Kamins navigated negotiations between Jackson, Warner Bros. and MGM (which was going through bankruptcy at the time) in a complicated situation where Jackson had originally been happy with his deal to serve only as a writer and producer.
Horn says that even though it was clear Kamins was Jackson's representative, he seemed to have everyone's best interests in mind. "He took the drama out of it," he says. "He was very straight-forward, very direct."
The first movie in the series, The Hobbit: An Unexpected Journey, was released in December 2012 and has grossed more than $1.02 billion.
Throughout both the Lord of the Rings and Hobbit movies Kamins has had the challenging task of acting as a liaison between Jackson and the studios, which is not always an easy feat when Jackson is working in New Zealand and the studio is located in Los Angeles.
"That's a 6,500-mile distance, and there has to be someone in between whom both sides can talk with, to make everybody feel better about that distance," Kamins says.
As an executive producer on the Hobbit films, Kamins navigates between Jackson — who at one point oversaw a crew of more than 3,000 people — and the 12 different departments of Warner Bros. that touch these films: marketing, distribution, home entertainment, merchandising, publicity and video games, to name a few.
Friends say that Kamins, who lives in Los Angeles with his wife, Judy, remains a down-to-earth family man. Although the father of three keeps a low profile, he was at Jackson's side when The Return of the King, the final film in the Lord of the Rings series, swept the Academy Awards in 2004.
Before the awards ceremony Kamins went to Jackson's hotel, the Four Seasons, in Beverly Hills, where the director had a Maori group perform the "haka"— a traditional tribal war dance — to get the cast and crew pumped for the night. Then they all headed to the Kodak Theatre in Hollywood, where Kamins had the thrill of parading down the red carpet. Excited to share his moment in the spotlight, he phoned his mother.
"I called her and said, 'Hey, Mom, I'm on the red carpet. Can you see me?' And she said, 'Yes. Lose the gum,' " he remembers, laughing.
•••
Kamins says his rise to manager for some of the film industry's biggest moguls began at Northwestern. After working for WNUR as a freshman (where he once hosted a 72-hour radio marathon for muscular dystrophy), he applied for the chairmanship of A&O Productions his sophomore year.
Although he had never worked for the student-run events programming organization, he got the job and soon developed a talent for entertainment management. Kamins became known around campus for creating a student entertainment fee that allowed A&O to bring in more popular, mainstream acts.
Although Kamins had been accepted as a radio/TV/film major, he switched to communication studies after his first quarter.
"I didn't want to be a director," he explains. "I wanted to be on the business side in communications. So I thought, correctly as it turned out, that classes in argumentation, persuasion and rhetoric would be more appropriate for me."
After graduation Kamins returned home to New York and used his experience as A&O chairman to land a job with MGM/UA in the non-theatrical department, renting 16 mm prints to college film programs. Then RCA/Columbia Pictures Home Video hired him as eastern regional sales manager.
"It wasn't the highest end of the film business, but it didn't matter to me," Kamins recalls. "I was in the film business on the business side, where I wanted to be."
He was eventually promoted to national sales manager, which prompted his relocation to Los Angeles. Kamins decided after a few years that he wanted to become more involved with the creative side, so he moved into acquisitions, where he was exposed to contracts and the global film business. Once, when he passed on a movie, the agent pitching it invited him to lunch to find out why.
The meal marked a turning point for Kamins. His host suggested that Kamins might make a good agent.
"Not dissimilar to my A&O experience, where they wanted an outsider, this guy wanted an outsider too," Kamins says. "At that time, people became agents only by going through the traditional route — mailroom, assistant, then agent. I didn't do that. I was hired as an agent due solely to my experience in distribution and acquisitions."
Kamins became an agent at InterTalent and soon met Jackson, who became his client in 1992. They've had a close working relationship ever since.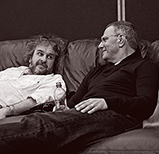 "We've functioned on a handshake, which is unbelievably rare in this business," Kamins says.
Six months after Kamins joined InterTalent, the company folded. Kamins was one of 13 InterTalent agents who joined International Creative Management, a large talent and literary agency. He worked as an agent at ICM for 11 years, representing filmmakers such as Robert Altman, John Frankenheimer, John Boorman, Norman Jewison, Sidney Lumet and Ed Zwick.
In 2004 Kamins left ICM to form Key Creatives, a management-production company.
"When you work at a big agency, even though you have clients of your own, you still have responsibility for the agency's entire list. I didn't think that I could do my best work if I had to be responsible for hundreds of clients," explains Kamins. "I really wanted to zero in and focus on a small handful of clients as their manager."
Agents in California are regulated. They can solicit work for clients, negotiate deals and troubleshoot when there's a specific deal problem, says Kamins. Managers, however, are not regulated, which means they can produce their clients' work and offer strategic guidance.
"I'm not looking for 'jobs' for Peter," Kamins explains. "I'm helping him plan the next three years, the next five years. I'm helping strategize not just about his and his partner Fran Walsh's careers as writers, directors and producers. I'm also on the board of Weta Digital, their digital effects company, and involved in the long-term plan for that. Those are things that I can do as a manager that I really couldn't do as an agent."
•••
Kamins marvels at the responsibility Jackson carries. "He is not just a filmmaker; he is a human flag of New Zealand," says Kamins. "The facilities he's built have made the country a destination for the world's great filmmakers.
"Jim Cameron will be moving there and shooting the next installments of Avatar. The increase in tourism as a result of the country's association with Middle-earth is enormous. There is no other filmmaker in the world who, when you hear his or her name, your immediate association is with an entire country. Queen Elizabeth II recognized this, which is why she knighted him in 2010." (New Zealand is part of the British Commonwealth of Nations.)
Kamins has also been moved by Jackson's charitable efforts. He says Jackson and Walsh's work to free the West Memphis Three went unknown until the men were released from prison. Jackson and Walsh funded the documentary West of Memphis, which Kamins executive produced. The film makes a case for the innocence of the three West Memphis, Ark., teenagers who were tried and convicted in the brutal deaths of three young boys but had their convictions called into question by new forensic evidence, which Jackson and Walsh also funded.
Kamins says Jackson has a huge interest in all things World War I and World War II. He has one of the largest collections of entertainment memorabilia in the world, filling warehouses with treasures that include the original Chitty Chitty Bang Bang car and props from The Sopranos.
"The public knows more about him, or at least his persona, than they do about most other people in his position," Kamins says. "He's up to more than a million followers on Facebook, which is unusual for a film director. He's always made it his business to interact with his fans."
When the Hobbit movies wrap up, Kamins says that Jackson will likely take some time to find his next project. He notes that Jackson has now spent almost a quarter of his life working on The Lord of the Rings and The Hobbit.
Kamins says his own plan for the future is simple — sleep. His hours are irregular due to the 21-hour time difference between New Zealand and Los Angeles. He says he is constantly on call, and he even brings a Wi-Fi hotspot with him to Dodgers games so he doesn't miss anything with the Dodger Stadium's spotty cellphone reception.
Kamins will also continue working with his other clients. He also represents screenwriter Christopher McQuarrie, who won an Academy Award for The Usual Suspects screenplay and also wrote and directed Jack Reacher. McQuarrie will next direct actor Tom Cruise in the fifth Mission Impossible film.
Kamins will also make some time to enjoy The Desolation of Smaug. He says his favorite Lord of the Rings film is the second installment, The Two Towers, which is why he is so excited about the second Hobbit film.
"The first movie and the third movie in a trilogy have burdens," he explains. "The first film has to spend time establishing the world, the characters and the geopolitics. The last film has to wrap up all the various storylines.
"But the second movie is a bridge that has to take you from the end of the first movie and catapult you into the beginning of the third movie. In many ways, the second is the hardest movie to make and yet creatively for me has the potential to be the most satisfying. It's like playing three-dimensional chess."