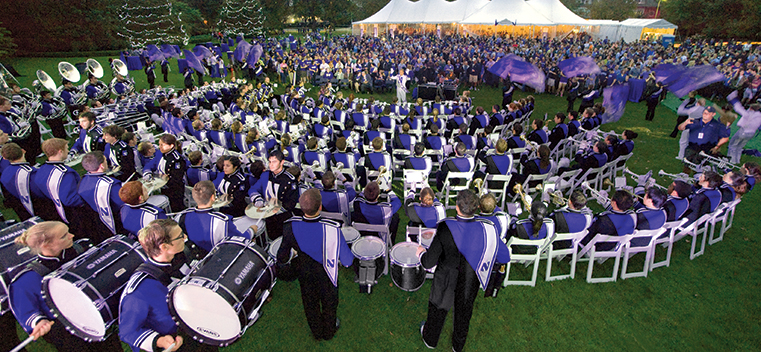 The Wildcat Marching Band performs for a large crowd on Deering Meadow during the Homecoming pep rally.
All Eyes on Evanston
Story Tools
Share this story
A record crowd of alumni turned out for Homecoming and Reunion Weekend.
Homecoming and Reunion Weekend always brings a special buzz to the Northwestern campus, but October's celebration also brought something else — the national spotlight. Attracted by a Homecoming football game featuring nationally ranked Northwestern and powerhouse Ohio State, the popular ESPN pregame show College GameDay made an appearance on the lakeside campus, giving 2,500 purple-clad faithful a chance to put their spirit (and creative signs) on display for a national television audience.
The weekend festivities, which more than doubled a Homecoming and Reunions record by attracting 17,081 alumni and friends, were a spectacle from the start. On Friday, Mike Greenberg (J89) hosted his ESPN Radio show Mike & Mike in front of an enthusiastic crowd on Deering Meadow before serving as grand marshal of the Homecoming parade down Sheridan Road that evening. Later that night alumni fanned out across Evanston, Chicago and the North Shore for lively class parties.
On Saturday, neither a heavy downpour nor the Wildcats' heartbreaking 40-30 loss to the Buckeyes could put a damper on the outpouring of Northwestern pride. At halftime, co-chairs of the 13 reunion classes presented President Morton Schapiro with a check for $53.5 million to support the University. The class of 1968 led all classes by giving $17.5 million — a record for a 45th-reunion class — while the class of 1963 had the highest giving participation, as 41 percent of the class made a gift.
The classes of 1954, 1959, 1964, 1969, 1974, 1979, 1984, 1989, 1994, 1999, 2004, 2009 and 2013 and all young alumni classes will celebrate Reunion 2014 Oct. 17–19.