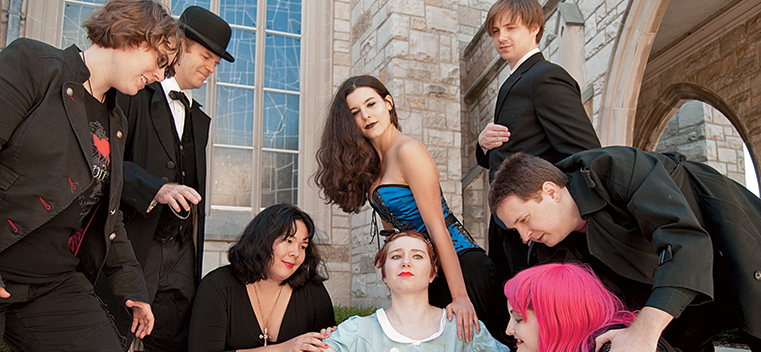 Photo by Jeremy Shaver
Vampires of Northwestern
Story Tools
Share this story
Tell us what you think. E-mail comments or questions to the editors at letters@northwestern.edu.
Ever wonder about those strange designations we use throughout Northwestern to identify alumni of the various schools of the University? See the complete list.
Beware — there are bloodthirsty, supernatural beings roaming the Northwestern campus.
Ten times a year the 30 or so students in Dead City Productions convene a meeting of "vampires" for a five-hour live-action role-playing (LARP) game in Parkes Hall. Participants create different character roles in what members describe as interactive improvisational theater. Although a storytelling team plans a general plot for the yearlong game, DCP president Rebecca Way says the players' improvisations take the game in many different, and sometimes strange, directions.
The storytellers act as narrators and use a system of rule books to ensure that the game is fair and balanced. The setting shifts to a new location every year. Players dress up to complement their characters. Some sew elaborate costumes by hand.
DCP also runs weekly board game nights at Norris University Center and tabletop role-playing game sessions, playing games such as Dungeons & Dragons. Since Jack Graham (WCAS96) formed DCP nearly 20 years ago, the group has attracted a variety of participants — from Northwestern students and alumni to Chicago-area gamers.
Carly Ho (McC11), who joined DCP as a first-year student and has stayed involved with the LARP games, most recently working as a storyteller last year, says the best thing about DCP is the community. "I'm an introverted person, and I've always had a little bit of trouble meeting people," she says. "But I connected with [the people in DCP] really easily. When you get a bunch of nerdy people together, it's always fun."