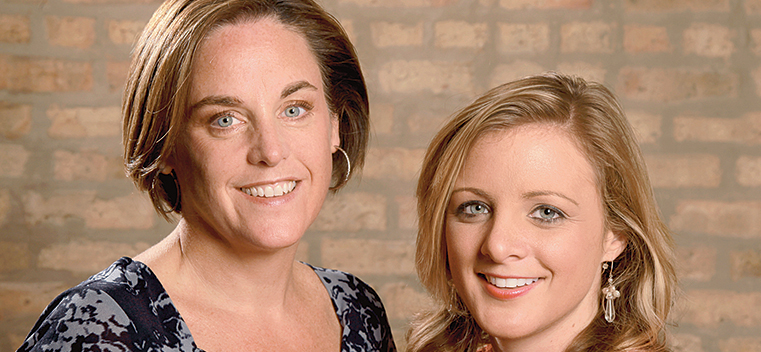 Feinberg School of Medicine professor Mary Mulcahy, left, and Chicago journalist Randi Belisomo. Photo by Joel Lerner.
Final Wishes
Story Tools
Share this story
Watch Randi Belisomo and Mary Mulcahy talk about the importance of having end-of-life discussions with your loved ones on WTTW's Chicago Tonight.
Tell us what you think. E-mail comments or questions to the editors at letters@northwestern.edu.
Ever wonder about those strange designations we use throughout Northwestern to identify alumni of the various schools of the University? See the complete list.
Find Us on Social Media
Professor and alumna create resources for end-of-life discussions.
When Chicago journalist Randi Belisomo's husband, CLTV journalist Carlos Hernandez Gomez, was dying of colon cancer, they never had the hard conversations about his final days. He died at age 36 in 2010.
"My husband and I were professional communicators — we made a living talking to people — but we couldn't talk about his dying," says Belisomo (GJ06). "I thought if we can't do it, a lot of people can't. I want to help people think about this ahead of time so they won't be making decisions in an emotional time of a crisis."
 Northwestern professor Mary Mulcahy, who was Hernandez Gomez's doctor, and Belisomo launched Life Matters Media, a website to provide information and support for those involved in end-of-life decisions. The portal includes personal patient stories, medical research, expert columns and other resources.
The initiative began after Belisomo bumped into Mulcahy at the gym after Hernandez Gomez's death, an encounter that led to a frank discussion about how to talk about the end.
"We want to stimulate conversations so this topic is no longer taboo," Belisomo says.
In an initiative with the city of Chicago's Senior Services Area Agency on Aging, Belisomo and Mulcahy are presenting "Starting the Conversation" at all 22 of the city's senior centers this fall and winter.
Mulcahy, an associate professor of hematology and oncology and a member of the Robert H. Lurie Comprehensive Cancer Center of Northwestern University, hopes to increase and normalize end-of-life discussions.
"It is the greatest gift you can give to a loved one if you die," she says, "to give them the certainty that they are making the right decision on your behalf."