All Fired Up
Story Tools
Share this story
Sean Hargadon is senior editor of Northwestern magazine.
Tell us what you think. E-mail comments or questions to the editors at letters@northwestern.edu.
Ever wonder about those strange designations we use throughout Northwestern to identify alumni of the various schools of the University? See the complete list.
Find Us on Social Media
Poetry alum Will Butler rocks in the indie act turned mega-band Arcade Fire.
Clare Cavanagh recalls the day that Will Butler came to her after class and politely asked if he could skip the next session. "He said, 'I'm in a band, and we're gonna be on Conan,'" says Cavanagh, a Slavic languages and literatures professor who remembers Butler as a very good student in her seminar on modern poetry. "I kind of did a double take. But it was Will, and even if it hadn't been, the story alone would have been worth an absence."
A few weeks later Butler again approached Cavanagh after class with a copy of Rolling Stone that featured Butler's band, Arcade Fire. "He said, 'I just wanted to show you it was true. We were on Conan. It's in Rolling Stone.'"
"He never broadcast any of this," she adds. "He was a low-key, modest guy. He's the best kind of student Northwestern comes up with — really wide-ranging and serious and thoughtful and nice."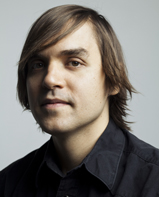 William Pierce Butler (WCAS05), the once-quiet poetry student, is now a full-time, modern-day rock star with the ultra-popular indie rock sensation Arcade Fire. He plays a variety of instruments — now mainly synthesizers and bass guitar as well as piano, guitar and tambourine — and, perhaps more important, acts as the onstage catalyst who ignites audiences with his energy and antics. He's been known to scale light stands, pounding on a drum while hanging high above the stage. At a show at Dalhalla in Rättvik, Sweden, he splashed into a moat that separated the crowd from the performers. He once set fire to bandmate and sister-in-law Régine Chassagne's hair. "It was all for show," Butler says. "It might have been singed. It might have smelled like burnt hair. There was no danger."
Described by the press as a jokester and rabble-rouser, Butler embodies joyful exuberance. "If you see them in action, he's really the crazy part of the performance," says Eric Tal (C05), Butler's four-year Northwestern roommate. "He understands that part of music. People are there to watch something, and he eats that up.
"That came through when we were in [the Northwestern student band] Citizens on Patrol. We'd play in these small venues. He used to ­ramble on about being in the belly of a whale then fall down on the ground and slide on his back across the stage and out into the audience.
"Half the time we were performing we were laughing at the absurdity of it all."
Performance comes naturally for Butler, who was born into a musical family. His grandfather, Alvino Rey, was a famed guitar virtuoso and big band leader who worked with the King Sisters, a vocal quartet that included Rey's wife, jazz singer Luise King. Their daughter and Butler's mother, Liza Rey Butler, performed with the family band on The King Family Show, an ABC Saturday night variety show in the 1960s.
Born in California, Will Butler grew up in Texas. Before high school he listened to a variety of music but was mostly interested in classical — particularly Russian composer Dmitri Shostakovich (H73). Later Butler immersed himself in the Talking Heads, Radiohead and Bjork. Will and his older brother, Win, both attended Phillips Exeter Academy in New Hampshire and also played music together. By 2001 Win had launched a band in Montreal with Chassagne, his future wife, while studying at McGill University.
Butler enrolled at Northwestern, which he chose relatively randomly because the University has a strong academic reputation, a beautiful campus near Chicago and an excellent theater scene. He lived at Shepard Residential College for two years with Tal and then with two other roommates in an apartment at 1619 Ridge Ave. that they dubbed "the Discovery Zone." They painted the walls vibrant colors and hosted potlucks and sing-alongs. "It was really satisfying," Butler says.
Butler joined Citizens on Patrol when the group needed a bassist. The bandmates bonded as regulars at Marigold Bowl, a former bowling alley on Chicago's North Side.
Butler left Northwestern during spring quarter of his sophomore year in 2003 and spent six months playing with Win's band, Arcade Fire. "I knew it wasn't a cockamamie idea," Butler says of his decision to take a break from his studies. "For most people who would leave college to play in a band, I would say that's a straight-up bad idea. I knew this wasn't."
The band's current lineup — seven members who play more than 15 instruments, everything from guitar and glockenspiel to harp and hurdy-gurdy — came together during that summer of 2003. When the band toured the Northeast that year, "we kind of knew we had something," Butler says.
He returned to Northwestern for junior year. On a lark he applied for and received an Undergraduate Research Grant during the summer before senior year to study 1980s rock 'n' roll under communist rule in the Czech Republic. Then, during senior year, Butler was poetry editor for the literary magazine Helicon and worked at WNUR, where he was a disc jockey and programming director.
Following the release of Funeral in the fall of his senior year, Butler set up independent studies and wrote his papers on the bus after European tour stops. Back on campus, for his English honors thesis he penned a collection of poems, The Ocean that Rises, partially inspired by his paternal grandfather, a sailor. "It was all sea shanties and things he was playing with," says English senior lecturer Brian Bouldrey (WCAS85), who used a quote from Butler's poem "A Man Leaves the Sea" in his book Honorable Bandit. "Will said, 'I wanted to write something that my grandfather would read and feel proud.' I thought it was very sweet."
When Arcade Fire's debut — on the North Carolina–based independent label Merge Records — quickly earned commercial success and critical praise, Butler says, "we knew we could easily make a living at this."
Chicago Tribune music critic Greg Kot admits he wasn't blown away by Funeral (listen to his 2011 interview with Butler for WBEZ's "Sound Opinions"). "I was not totally onboard [with the buzz about Arcade Fire] until I saw them play live," says Kot, who watched the band win over a skeptical crowd at the 2005 Coachella Valley Music and Arts Festival in California. "That was pretty eye-opening. I hadn't seen a band deliver that kind of exuberant performance in quite a while. They weren't afraid to show their passion, to wear it on their sleeve.
"Will, in particular I thought, brought an element to the show — sort of this zany, mad-cap quality — that was very endearing and fun, and kind of balanced Win's very serious lyrics and intensity in a cool way."
Butler remembers that show, too.
"It was sunset in the desert," he recalls. "We were still pretty punk rock at that stage. That was the first time we really played to a sea of people. That was one of the first times that we knew the band had ­obviosuly made it to the next level."
In 2005 the band bought and refurbished a former church in Farnham, Quebec, a small town southeast of Montreal (perhaps chosen because the town shares Win Butler's middle name). There they recorded their second effort, Neon Bible, which debuted at No. 2 on the Billboard Top 200. The third album, The Suburbs, debuted at No. 1 and shocked the music world by winning the 2011 Grammy for Album of the Year, beating out Eminem, Katy Perry and Lady Gaga.
"I didn't even consider them as a possibility," says Kot. "A band like Arcade Fire just doesn't win the album of the year award. It was unprecedented. I remember the reaction on Twitter was, 'Who are these guys?' "
Since rapidly rising from club act to arena rockers, Arcade Fire has shared a stage with U2, performed with their rock 'n' roll role models Bruce Springsteen and David Bowie and entertained at the inauguration of President Barack Obama (H06). Butler, who lives in Montreal, also performed during a seventh-inning stretch at Wrigley Field.
He says the success and notoriety are nice but have not affected the band's focus — making art for the long haul.
"It's almost been 10 years, which is kind of rare," Butler says, ­"especially with a band as large as ours. And it's really a band. It's not just a lead singer and a bunch of anonymous people. It's a lot of artistic egos all scrapping with each other" in an atmosphere of productive conflict.
"We're all willing to put the song above anything personal."
Despite his poetry background, Butler says he doesn't contribute to the song lyrics at all (though he did recently publish a piece about his literary preferences in Poetry magazine). Win and Chassagne handle the songwriting duties, but everyone in the band helps develop the music for each track. During live shows they embelish the instrumentation with obscure sounds such as pages being torn from a book or drumming on a bandmate's helmeted head, as well as chants and yelps.
Each track on the band's albums contributes to a larger theme, a rare accomplishment when most bands are focused on creating singles for playlist-shuffling listeners, Kot says. Arcade Fire's songs complement one another. The Suburbs album, for instance, speaks to the Butler brothers' experience growing up in The Woodlands, a master-planned community outside of Houston.
 "We had a great childhood but also very consciously knew that there was something a little sad about growing up in suburban Houston," Butler says. "The album was born of trying to be very honest and accurate."
Butler knows that life experiences will continue to affect the ­direction of Arcade Fire's music.
"We're not always going to be able to play high-octane shows," he admits. "We're going to have to not pretend to be young rebels our whole lives. That dynamic will have to change — not that we're that rebellious or that young, anyway."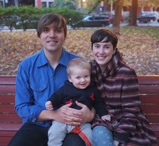 That may be the voice of fatherhood speaking. Butler and his wife, Jenny Shore (C03), have a soon-to-be 1-year-old son, Alvin. (Tal introduced Butler and Shore, who studied dance at Northwestern, and the couple got to know each other when Butler auditioned as a dancer for a show that Tal choreographed. Arcade Fire band members played an impromptu set at the couple's St. Louis wedding reception in 2007.)
Butler and the band are working on their next album after touring for most of 2011, "but we're never on a schedule," he says. "We tend to make no commitments." When that album eventually drops, Butler's Northwestern fans will surely be ready for its release. So far his peers and professors say they're impressed, though not surprised, with how he has handled fame.
"You might expect there to be a big ego that goes along with his success," says Tal, who occasionally gets to hang out with his old Northwestern roommate. In one conversation during the band's rapid rise in the late 2000s, "he talked about the travel and how they jumped to all these cities," Tal remembers. "And I said, 'That must be tough.' And he said, 'Yeah, it's hard. But it's hard to complain when things are going so well.' He seems to be humbled by the blessings that have come their way."