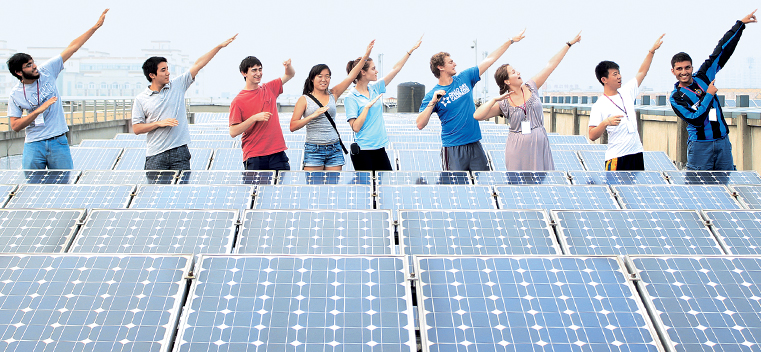 The Wanxiang Fellows on the roof of the Wanxiang solar-cell manufacturing center in Hangzhou
Sustainabilty Studies
Story Tools
Share this story
Tell us what you think. E-mail comments or questions to the editors at letters@northwestern.edu.
Ever wonder about those strange designations we use throughout Northwestern to identify alumni of the various schools of the University? See the complete list.
Find Us on Social Media
Wanxiang Fellows explore language, culture and green energy.
Nine Northwestern students spent six weeks learning about sustainable energy last summer in China. The undergraduate students — a mix of engineering, computer science, environmental science and theater majors — toured a lithium ion battery factory, solar cell manufacturing plant and natural gas power plant in Hangzhou, China, as well as Tiananmen Square in Beijing and the Great Wall, as part of the inaugural Wanxiang Fellows Program.
Bridget Calendo (SCS98, KSM12), director of operations and outreach at the Initiative for Sustainability and Energy at Northwestern, said the intensive immersion program allowed students to compare U.S. and Chinese approaches to energy issues. China, the world's top carbon dioxide emitter, is also one of the leaders in solar and wind energy. 
The students in the competitive fellowship program took classes — including an intensive Chinese language course and studies of public health or economics — in Beijing at Peking University and then spent two weeks at Hangzhou Wanxiang Polytechnic and worked with clean energy engineers at Wanxiang Group in Hangzhou, a city in eastern China south of Shanghai. Working in teams, the students studied and prepared reports on energy storage, solar photovoltaics and hydropower. The program's sponsor, China's Wanxiang Group, manufactures solar panels, batteries and auto parts.
To prepare the students for the China experience, adjunct professor Mark Petri, a member of the Farley Center for Entrepreneurship and Innovation's NUvention: Energy advisory board, offered a "whirlwind education on climate change, oil, natural gas, coal, nuclear, wind, solar, geothermal and hydropower" at Northwestern last spring.
Petri, the technology development director in the Energy Sciences and Engineering Directorate at Argonne National Laboratory, said he didn't know what to expect in China, but he was impressed by the openness shown to the Northwestern delegation. "The instructors gave a balanced portrayal of the range of options and choices that China is taking in the energy field," he said.
Karey Fuhs (WCAS03), assistant director of the Office of International Program Development, highlighted the important connections that students made in the United States and China. Calendo and Petri hope the students, armed with the knowledge they acquired abroad, will take an active role in the search for sustainable energy technologies at home.
"I hope they have a personal stake in environmental sustainability now," Petri said, "and that they can analyze the options themselves." 
This was the first year of a five-year program and part of President Obama's "100,000 Strong Initiative" to encourage more U.S. students to study in China.