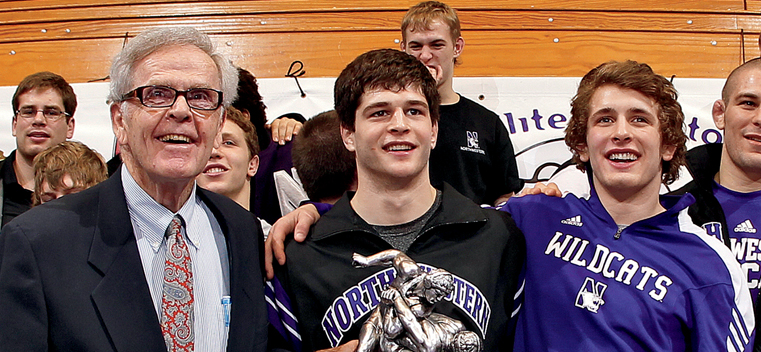 From left, Ken Kraft and wrestlers Lee Munster and Kaleb Friedley celebrate the Wildcats' second-place finish at the 2011 Ken Kraft Midlands Championships. It was the team's best finish in tournament history. Photo courtesy of Northwestern Athletic Communications.
Midlands Milestone
Story Tools
Share this story
Tell us what you think. E-mail comments or questions to the editors at letters@northwestern.edu.
Ever wonder about those strange designations we use throughout Northwestern to identify alumni of the various schools of the University? See the complete list.
In December 1962 head wrestling coach Ken Kraft (SESP57, GSESP59) and his two assistants gathered the entire squad into three station wagons and headed to the Wilkes Open, the annual holiday tournament hosted by Wilkes University in Wilkes-Barre, Pa.
Somewhere along the 700-mile ride back to Evanston, he hatched an idea to avoid the lengthy commute. Northwestern should host a similar invitational tournament based in the Midwest. Kraft invited the best wrestling squads in the area to compete, and in 1963 the tournament was born.
Now, 9,562 competitors and 326 champions later, the Midlands Championships will celebrate its 50th year when the tournament is held Dec. 29–30 in Evanston.
After hosting the first tournament out of a local YMCA in the nearby suburbs, Northwestern moved the event to Lyons Township High School in La Grange, Ill., for eight years. It then became so large, with eight active wrestling mats at a time, that it moved to Welsh-Ryan Arena, where it is one of the oldest traditions in Northwestern athletics.
The tournament is now named the Ken Kraft Midlands Championships, in honor of the National Wrestling Hall of Fame member. Kraft, who retired in 2004 after 51 years as a Northwestern athlete, coach and administrator, is tournament director.
The golden anniversary will have some special moments. All 10 champions from the first Midlands in 1963 are alive, and Kraft has discussed having each of them return for the 50th anniversary to present trophies to the new champions.
If the Wildcats are lucky, the 50th tournament might also bring their first team victory. The Midwest is deep with wrestling talent, and Northwestern is still hoping for its first team tournament championship.
"We've not been selective so that Northwestern could win the title," Kraft said. "We try to be selective in getting the best wrestling personnel into our tournament and let them decide who wins. But I do think we've got a real shot in the relatively near future."
Northwestern will send a talented group to the mat at this year's midlands. Senior Jason Welch and sophomore Mike McMullan will look to defend their midlands titles. Welch and McMullan, along with senior Levi Mele and sophomore Lee Munster, made trips to the 2012 NCAA championships in their respective weight classes.