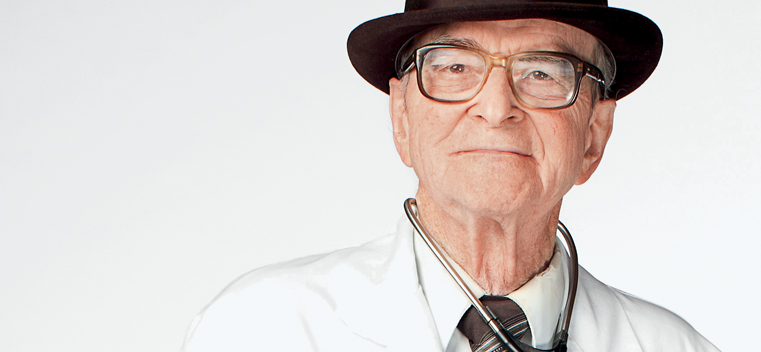 Photo by Callie Lipkin
Russell Dohner: The Good Doctor
Story Tools
Share this story
"I always just wanted to be a doctor to help people with their medical problems and that's all it's for," Russell Dohner recently told NBC News. "It was never intended to make a lot of money." Check out the full interview.
Tell us what you think. E-mail comments or questions to the editors at letters@northwestern.edu.
Ever wonder about those strange designations we use throughout Northwestern to identify alumni of the various schools of the University? See the complete list.
Skyrocketing medical costs will never be a problem for residents of Rushville, Ill., as long as Russell Dohner (FSM53) is the doctor on call. Dohner has served as a physician in Rushville since 1955, when he says doctors in the town charged only $2 per office visit. Fifty-seven years later, Dohner still charges just $5. Practicing medicine his way has made Dohner, 87, a celebrity in Rushville, a town of 3,200 residents that is 60 miles west of Springfield. Lines form in his office, particularly during flu season, but he insists on seeing everyone — on a first-come, first-served basis — and patients wait as long as they have to in order to get checked by Dohner, for many the only doctor they've known since birth. Dohner expected his time in Rushville to be short but stayed out of a sense of obligation to its citizens after another doctor left town. He has now spent a lifetime helping others without a thought to profits. And as he approaches 90, he has no plans of slowing down. "I'll keep it up as long as I can," he says.