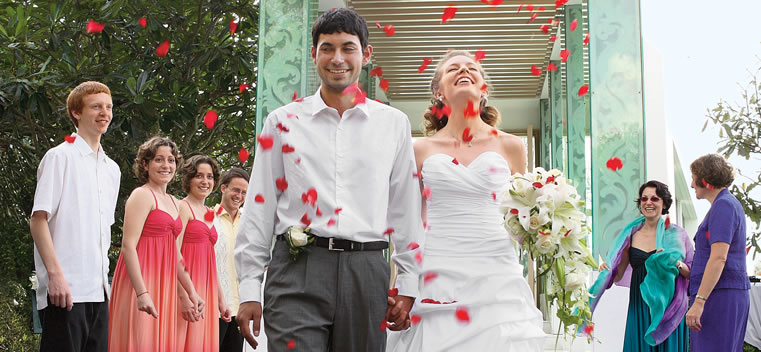 Chris Briner and Allyson Boe at their wedding in Bali
Student Unions
Story Tools
Share this story
Between Thanksgiving and New Year's Eve in 2009, then-seniors Allyson Boe (BSM10) and Chris Briner (WCAS10) got married on three different continents. Boe and Briner celebrated their legal marriage with his family in Switzerland on Nov. 28, had a reception in Seattle with her family on Dec. 18, held the official wedding Dec. 28 in Bali, where they honeymooned, and returned to Evanston just in time for the start of winter quarter on Jan. 5.
The couple first met in the Alice Millar Chapel Choir during their freshman year and soon after became partners on the competitive dance team. Briner proposed during the summer before senior year. Boe said marriage did not drastically change her college experience. "I found marriage much easier than dating. No one was really shocked," she said, "except the freshmen. Of course I would have been shocked then, too!"
While rare, there are a small number of Northwestern undergraduates who marry during college. Alexandra H. Solomon, a licensed clinical psychologist with the Family Institute at Northwestern and a lecturer for the Marriage 101 class, said while married students may feel socially isolated on campus at times, the shared college experience is likely to enrich who they are as a couple.
Levi Mele, a sophomore from Vernal, Utah, and a Northwestern wrestler, lives with his wife, Shanna, and their newborn son, Wyatt, in a graduate housing dorm. After high school, Mele served a two-year mission for the Mormon church and then married Shanna, his longtime friend but girlfriend of only a few months. When Mele was recruited for the Wildcat wrestling team, his wife came along and enrolled at Oakton Community College.
During Wildcat Welcome, Mele remembers introducing himself as a married student to the other freshmen in his peer group. "Everyone looked at me with big eyes," he said. "They told me, 'That's so interesting. I've never met anyone like you on campus.'"