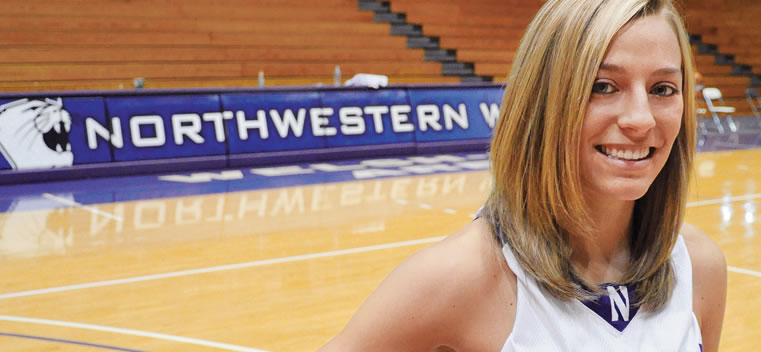 Photo by Katie Tang (J12)
Undefeatable
Story Tools
Share this story
Fifth-year senior point guard Beth Marshall (C10) shows no signs of the two season-ending leg injuries that have cut her Wildcat basketball career short. The loss of her father, however, is a pain that will never heal.
It all began in 2008 with a phone call. The Wildcats were preparing for a road game against Michigan. Marshall, a sophomore at the time, traveled with the team even though she had suffered a season-ending femur fracture. Her father, Tim, called to tell her that his doctors had discovered a brain tumor. Marshall flew from Detroit to St. Louis to be with her father who, the family learned, had stage IV glioblastoma — terminal brain cancer.
During winter and spring 2008 she commuted between Evanston and the family home in Fishers, Ind., spending every moment she could with her father while maintaining her enrollment at Northwestern. He died in August 2008.
"My injury was a blessing in disguise," Marshall said. "Being able to take those months to spend with my dad wasn't easy, but you realize everything happens for a reason."
A few weeks after her father died, Marshall was back in Evanston. She had rehabbed her leg and prepared to return to the court for her junior season. But just five days after being cleared to play after the fractured femur, Marshall tore her anterior cruciate ligament in her left knee while playing pickup basketball at Welsh-Ryan Arena.
She spent the redshirt year learning new coach Joe McKeown's system and coaching her teammates. McKeown, who had only seen tape of Marshall before arriving at Northwestern in June 2008, said she brings a "calmness, a certain mental attitude the team needs."
Last season Marshall saw her first real action since her freshman year. She led the conference and finished sixth in the nation in assist-to-turnover ratio (2.43). She led the team in steals (47) and drained 61 3-pointers, including eight triples in a 67-55 win over Arkansas. Beyond the statistics, she also led the team through her poise and leadership on the court, guiding her team to several close victories.
"She has this tremendous presence," McKeown said. "She has overcome so many life-changing, difficult circumstances that she handled with unbelievable character. It really has inspired our team: to know you can overcome obstacles in life and move forward."