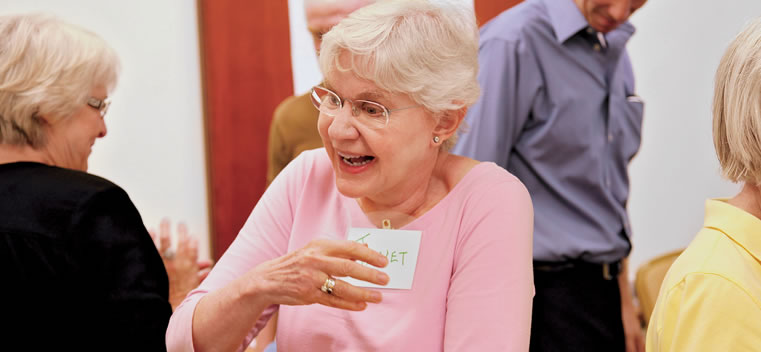 Memory Ensemble member Janet poses during an exercise where participants "sculpt" each other to express emotions.
Acting Out
Story Tools
Share this story
A name badge, a child's toy breadbasket and a water bottle lie scattered on the floor. One by one, Memory Ensemble members bring those everyday items to life as a baseball, a baby, even an astronaut's rocket booster backpack. After each member acts out the object and announces what it is, the other members affirm, "Yes, it is!"
It's all part of a spontaneous imagination exercise that encourages abstract thinking for members of the Memory Ensemble, a weekly meeting of men and women with early-onset symptoms of dementia and Alzheimer's disease who use improvisational theater techniques to stimulate creativity and cognitive thinking.
"I like to say we do a lot of hard work that feels like fun," said Christine Mary Dunford (C87, GC09), an ensemble member at the Lookingglass Theatre Company and Memory Ensemble co-facilitator who works to "create a secure space where people can come together and learn new skills and talk about common concerns."
Lookingglass collaborated with the Feinberg School of Medicine's Cognitive Neurology and Alzheimer's Disease Center on the seven-week pilot program, the first of its kind for the recently diagnosed. Data collected from the pilot suggests that participants' quality of life improved as a result of the program. The participants found the program cognitively stimulating and felt more confident, less depressed and less isolated.
"Improvisational theater is the perfect fit for people with memory loss, because what happened yesterday doesn't matter and we're not going to get too anxious thinking about the future," said Mary O'Hara, a CNADC researcher and the Memory Ensemble co-facilitator. "Let's be in the moment, and there's no right or wrong — well, I guess it's all right."
The participants enjoy the experience. Memory Ensemble member Janet said the sessions make her feel normal. "It's nice to feel that you're not alone," she said.
"It's the most fabulous stress reliever I've ever seen," said Richard, a participant who began suffering Alzheimer's symptoms three years ago. "Ten minutes of this and you can go back and laugh at all the struggles you were going through."
The organizers hope to find funding to continue the program in the spring. For more information contact Mary O'Hara at 312-503-0604 or m-ohara@northwestern.edu.