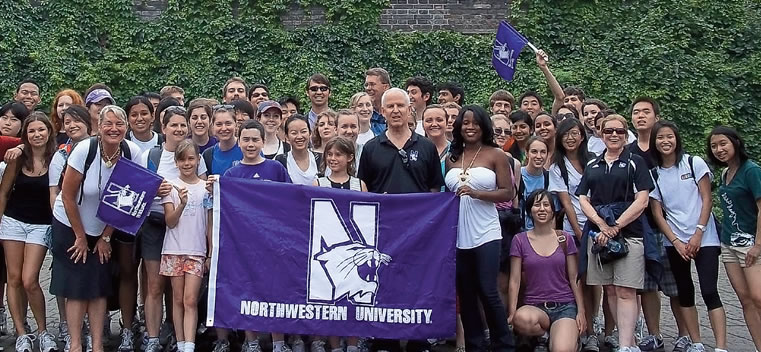 Northwestern President Morton Schapiro and students display the Northwestern flag at the Great Wall of China.
Northwestern Goes To Asia
Story Tools
Share this story
Alumni, current students and new students who entered Northwestern last fall crowded into events in four Asian cities last summer to meet Northwestern President Morton Schapiro and learn more about the University.
The president's 14-day swing through Tokyo, Beijing, Shanghai and Hong Kong included alumni events in each city, as well as meetings with individual alumni and interviews with Chinese media. A highlight of the trip was a visit to the Great Wall of China with approximately 50 undergraduate students who were studying in two Northwestern programs in Beijing last summer. The students, President Schapiro and his family, and Northwestern trustee Kip Kirkpatrick (WCAS94, KSM97) and his family clambered up and down towers and on the top of the centuries-old fortification along a relatively remote section of the wall. 
In Shanghai the Northwestern delegation was welcomed to the World Expo 2010 by three Northwestern alumni who were working at the huge event, which attracted millions of visitors. Jill Hellman (KSM07), managing director for China for the Thayer Lodging Group, and Sammy Semwangu (WCAS06) and Hannah Bolder (WCAS10), who worked at the U.S. pavilion at the expo, provided a special tour for the Northwestern group.
The Northwestern event in Shanghai also provided a wonderful moment when several current students who attended the event welcomed approximately a dozen local students who entered Northwestern as first-year students this fall and their parents. After the formal program ended, the new students rushed to their older counterparts to get the scoop on such things as which dining halls had the best food, where to go in Evanston and Chicago and other tips on life at Northwestern.
All four alumni events attracted crowds of more than 75 people who enthusiastically welcomed President Schapiro and urged Northwestern to increase its presence in Asia. From the first event in Tokyo, which drew alumni from throughout Japan, to the final event in Hong Kong, which attracted many alumni of the Kellogg School of Management's joint executive MBA program with Hong Kong University of Science and Technology, alumni greeted the president, exchanged business cards and shared stories of their Northwestern experiences.
In addition, in Beijing and Shanghai, President Schapiro did a series of interviews with both English- and Chinese-language media outlets. The interviews, which received wide distribution in China, covered a range of topics on higher education in both the United States and China.